Best Leaf Blowers of 2023
Mastering lawn care in 2023 demands the best tools, and leaf blowers are at the forefront of this quest. In an ever-evolving market, we bring you an exclusive, in-depth look at the most outstanding leaf blowers of the year. From the robust power of gas models to the eco-friendly efficiency of battery-powered units, and the consistent performance of corded electric options, our comprehensive guide dives into the features, performance, and user experiences of the top contenders. Whether you're a professional landscaper or a dedicated homeowner, discover the perfect leaf blower that aligns with your lawn care needs and elevates your outdoor maintenance to the next level.
Top 9 Best Leaf Blowers of 2023 List:
Best Gas-Powered Leaf Blowers
1. Husqvarna 350BT
Best All-Around Performer
The Husqvarna 350BT is a powerhouse in the realm of gas-powered backpack blowers, designed for both professional landscapers and homeowners with extensive land areas. This blower features a 50.2-cc, 2.1-HP X-Torq engine, delivering an impressive airflow capacity of 692.17 CFM and a maximum speed of 180 MPH. Notably, it reduces emissions by up to 60% and increases fuel efficiency by 20%, making it both powerful and environmentally conscious.
Ergonomics is a key focus of the 350BT. The harness and controls are designed for ease of use and high capacity, including an ergonomic harness system and adjustable offset handle that helps control blow forces without straining the arm. The integration of LowVib technology significantly reduces vibrations, adding to the comfort during long hours of use. Additionally, the air purge system ensures trouble-free starting.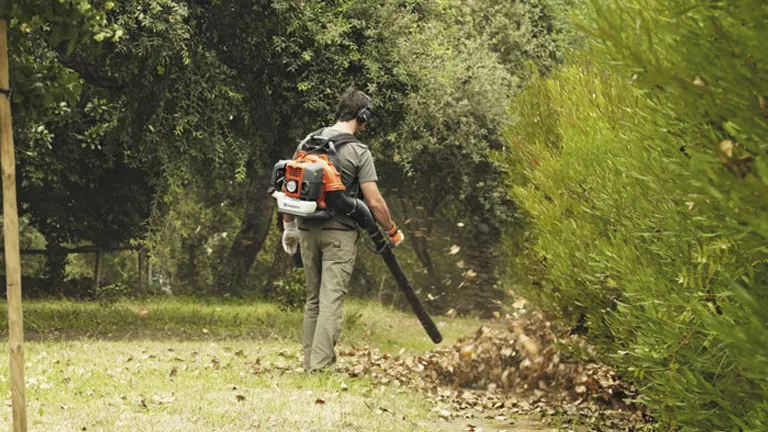 Weighing at 22.5 pounds, the Husqvarna 350BT is a well-balanced tool, designed for performance and comfort. Its high-volume fuel tank and cruise control function allows for extended use without frequent stops, making it ideal for tackling large areas. The combination of power, ergonomics, and environmental efficiency makes the 350BT a top choice for extensive yard maintenance.
---
2. Stihl BR 800 C-E Magnum
Most Powerful
The Stihl BR 800 C-E Magnum, recognized as the most powerful backpack blower in the STIHL line, is specifically crafted to handle large properties and heavy debris. With 20% more power than the BR 700, it features a substantial blowing force of 41 Newtons and an air volume at the nozzle of 912 cfm, combined with a maximum air velocity of 239 mph.
This blower excels in user-friendly features, including the Easy2Start™ system for effortless starting and a multi-function control handle for easy access to all controls. The anti-vibration system and adjustable support harness significantly reduce operator fatigue, making it comfortable for extended use. Additionally, it offers eco-friendly attributes with its reduced-emission engine technology.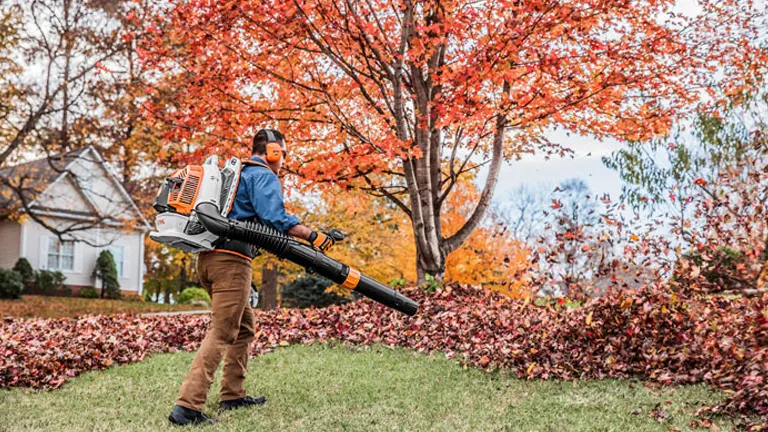 Weighing 25.8 pounds, the Stihl BR 800 C-E Magnum is a robust tool designed for serious landscaping work. Its power and user-centric design make it ideal for professional landscapers who require a durable and high-performing blower. Its environmental consciousness is an added advantage for those seeking a powerful yet eco-friendly solution for their landscaping needs.
---
3. Echo PB-580T
Best for Comfort
The Echo PB-580T emerges as a top contender in the gas-powered backpack blower market, especially for professional use. It boasts a 58.2 cc professional-grade, 2-stroke engine that provides outstanding performance and durability. With an air volume at a nozzle of 517 CFM and a maximum air speed of 216 mph, it's well-suited for a variety of challenging tasks.
Comfort is a highlight of the PB-580T, featuring a vented back pad and padded shoulder straps for all-day comfort. The tube-mounted throttle with cruise control offers convenience and ease of operation. Moreover, the design includes a metal ring on the lower pipe to reduce wear and a pleated, automotive-style air filter for extended engine life.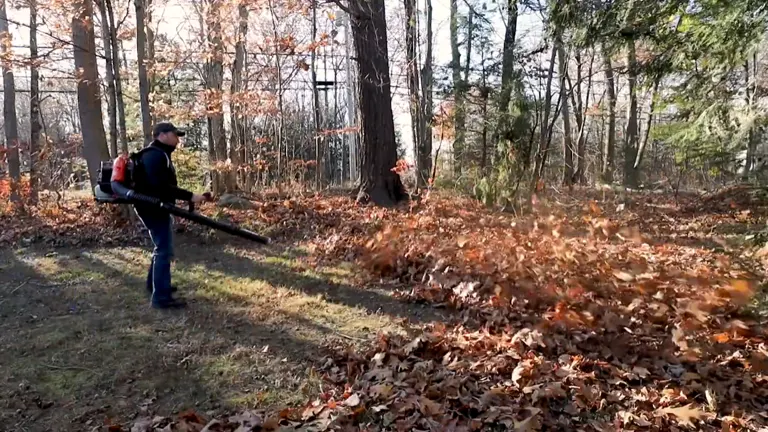 The Echo PB-580T, weighing 22.7 pounds, strikes a balance between power and comfort, making it an ideal choice for professionals facing long, exhaustive tasks. Its combination of power, durability, and user comfort, along with features like the leaf guard and Posi-loc™ pipes for a secure connection, renders it an excellent tool for extensive and demanding yard maintenance.
Best Battery-Powered Leaf Blowers
4. EGO Power+ LB5804
Top Cordless Pick
The EGO Power+ LB5804 blower is revolutionizing the cordless blower market with its advanced design and features. This blower, fueled by turbine fan engineering inspired by aeronautics technology, delivers an exceptional 580 CFM of airflow, surpassing many gas-powered models in efficiency and power. Its high-efficiency brushless motor not only ensures extended run times but also significantly reduces vibrations and prolongs motor life, making it both powerful and durable.
This blower's variable-speed control, offering a range of 225-580 CFM, adds versatility, making it suitable for various tasks from light yard work to heavy debris clearing. The Turbo Boost function provides a substantial power increase, efficiently moving debris. EGO has also prioritized ergonomics and user comfort with a design that minimizes fatigue during prolonged use. Its compatibility with all EGO POWER+ ARC Lithium™ batteries enhances its appeal, offering flexibility and extended run times.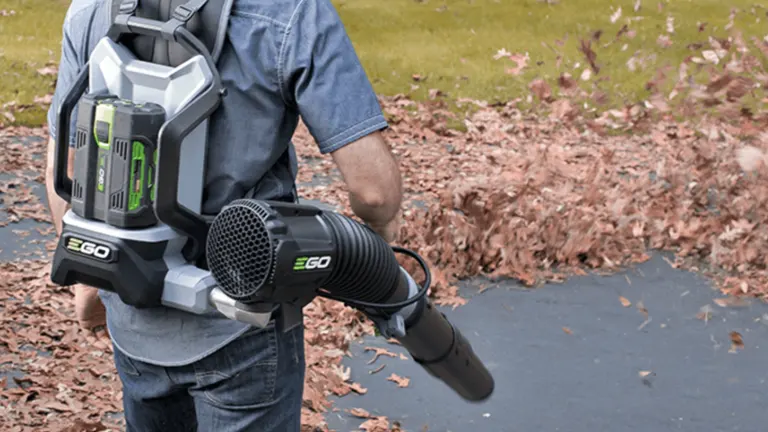 Given its performance, ergonomic design, and eco-friendliness, the EGO Power+ LB5804 is an excellent choice for anyone seeking a powerful, efficient, and environmentally responsible leaf blower.
---
5. Greenworks Pro 80V BL80L2510
Eco-Friendly Choice
The Greenworks Pro 80V BL80L2510 stands out in the handheld blower category, offering high-velocity air speeds of up to 145 MPH and an airflow of 580 CFM. This capability makes it adept at handling challenging tasks, such as clearing wet, heavy leaves and stubborn debris. Its efficiency is enhanced by the brushless motor, which provides increased torque and a quieter operation compared to gas-powered models.
Weighing 20% less than similar gas-powered blowers, the BL80L2510 reduces user fatigue and improves maneuverability. Key features like the variable speed trigger and turbo button offer precise control over the blower's output, while the cruise control function is a convenient addition for maintaining consistent speed. Additionally, Greenworks has focused on user experience, evident in the cushioned overmold grip and quiet operation, making it ideal for noise-sensitive environments.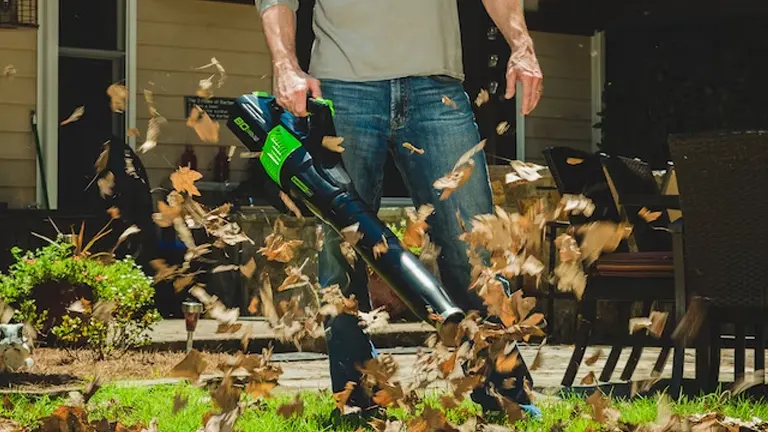 The Greenworks Pro 80V BL80L2510 is an excellent choice for those seeking a powerful, lightweight, and user-friendly cordless blower. Its combination of performance, ease of use, and quiet operation positions it as a top contender in the battery-powered blower market.
---
6. DeWalt Flexvolt 60V Max Handheld Blower DCBL772X1
Best for Versatility
Part of DeWalt's high-powered Flexvolt range, the DeWalt Flexvolt 60V Max Handheld Blower DCBL772X1 is a testament to performance and efficiency. Capable of delivering up to 600 CFM of air volume and 125 MPH, it rivals many gas-powered blowers in terms of power, making it suitable for a variety of demanding yard tasks.
The brushless motor is a highlight, offering high efficiency and power, contributing to longer runtime – a crucial factor for extensive jobs. The variable speed trigger and speed lock provide excellent control, allowing for easy adjustments during use. Designed for heavy-duty usage, it combines durability with a reasonable weight of 9.1 pounds.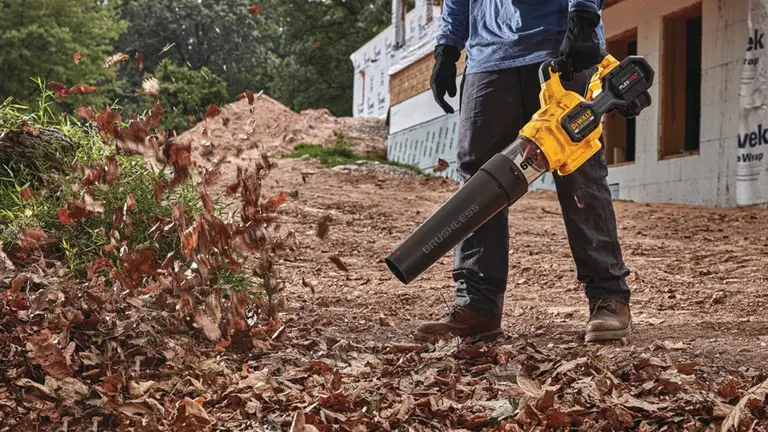 A significant advantage of this blower is its compatibility with the DeWalt Flexvolt battery system, making it a versatile tool for users already invested in the DeWalt ecosystem. The included 60V MAX* 3Ah battery enhances its appeal, offering compatibility with a range of 60V and 20V MAX* DeWalt tools.
The DeWalt Flexvolt 60V Max Handheld Blower DCBL772X1 is a robust, efficient, and versatile tool, ideal for those needing a powerful, cordless solution for comprehensive yard clean-ups. Its blend of power, efficiency, and versatility make it a valuable addition to any tool collection.
Best Corded Electric Leaf Blowers
7. TORO Leaf Blower F700
Best Budget-Friendly
The TORO PowerJet F700 is a formidable player in the electric blower market, boasting the highest CFM in its category with up to 725 CFM. This impressive air volume, combined with an airspeed of up to 140 MPH, makes it adept at handling large piles of leaves and tackling tough lawn clean-up tasks, including lifting heavy, wet leaves. The PowerJet F700 is not only about power but also about performance, with a design that balances both effectively.
A notable feature of the PowerJet F700 is its variable speed dial, which allows you to tailor the power to the task at hand, be it delicate work around landscaping or more robust jobs like clearing debris from crevices. Despite its powerful performance, the blower is lightweight at only 7 pounds, enhancing maneuverability and reducing user fatigue. This, along with the extension cord retainer that ensures continuous operation, makes the F700 a practical tool for prolonged use.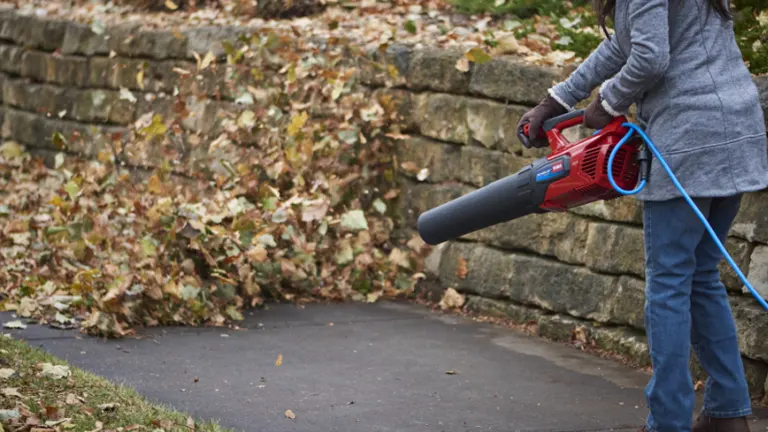 The TORO PowerJet F700 stands out as a top choice for anyone seeking a powerful, versatile, and easy-to-use electric leaf blower. Its combination of high power, lightweight, and variable speed control positions it as a premier tool for efficient and effective yard maintenance.
---
8. BLACK+DECKER LB700
Lightweight Champion
The BLACK+DECKER LB700 is a compact and efficient corded blower, suited for light to medium yard tasks. Powered by a 7 Amp motor, it offers a blowing performance of up to 180 MPH and 180 CFM, making it ideal for clearing debris from lawns, driveways, sidewalks, and decks. This blower is designed for ease of use and efficiency, with features tailored for convenient yard maintenance.
One of the LB700's most user-friendly features is its lightweight design, weighing just 4.4 pounds, which facilitates easy one-handed use. This makes it especially convenient for quick cleanups and for users who prefer a lighter tool. Additionally, the built-in cord retention feature is a thoughtful inclusion, preventing interruptions during use by keeping the cord securely in place.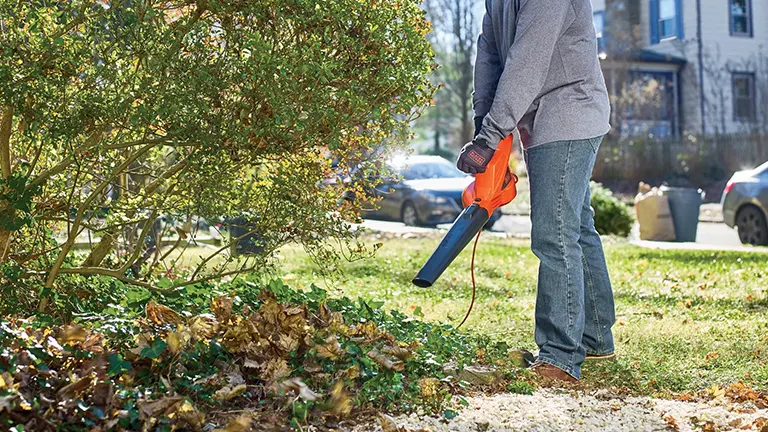 The BLACK+DECKER LB700 stands out for its simple yet efficient design, making it a practical choice for those needing a straightforward tool for regular yard cleanups. Its combination of power, lightweight design, and ease of use make it an ideal blower for routine lawn and garden maintenance.
---
9. WORX WG520 Turbine 600 Electric Leaf Blower
Best Electric
The WORX WG520 Turbine 600 is an innovative leaf blower that integrates advanced technology to offer a powerful and efficient cleaning experience. With turbine fan technology, it provides a high-capacity air volume of 600 CFM, which is effective for clearing large areas quickly. This technology, combined with a 110 mph air speed, allows the WG520 to perform tasks typically reserved for professional-grade gas blowers.
The blower is designed for versatility and ease of use, featuring two-speed settings to cater to different jobs – slower for precision tasks and faster for more open areas. Despite its powerful output, it's surprisingly lightweight at 6.6 pounds, making it manageable for one-handed operation. The ergonomic design, which includes a hyper-stream air nozzle for concentrated airflow, further enhances its usability.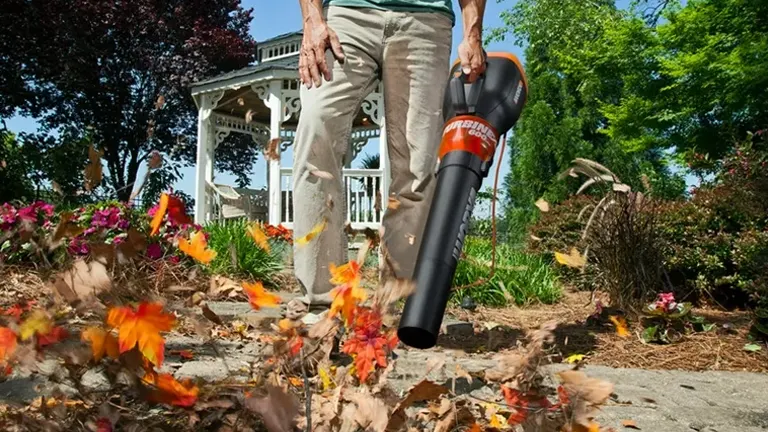 The WORX WG520 Turbine 600 is a strong contender in the electric leaf blower market, offering cutting-edge technology, power, and user-friendly features. Its ability to deliver high-capacity air volume efficiently and comfortably makes it an excellent choice for those seeking a reliable, powerful, and easy-to-use electric leaf blower for various outdoor cleaning tasks.
Comparison Table
| Feature | Husqvarna 350BT | Stihl BR 800 C-E Magnum | Echo PB-580T | EGO Power+ LB5804 | Greenworks Pro 80V BL80L2510 | DeWalt Flexvolt 60V Max DCBL772X1 | TORO Leaf Blower F700 | BLACK+DECKER LB700 | WORX WG520 Turbine 600 |
| --- | --- | --- | --- | --- | --- | --- | --- | --- | --- |
| Type | Gas-Powered Backpack | Gas-Powered Backpack | Gas-Powered Backpack | Battery-Powered Handheld | Battery-Powered Handheld | Battery-Powered Handheld | Corded Electric Handheld | Corded Electric Handheld | Corded Electric Handheld |
| Power Source | Gas | Gas | Gas | Battery | Battery | Battery | Electric | Electric | Electric |
| Engine/Motor Power | 2.1 HP, 50.2 cc | 4.4 bhp, 79.9 cc | 58.2 cc | Brushless Motor | Brushless Motor | Brushless Motor | N/A | 7 Amp Motor | Turbine Fan Tech |
| Air Flow Capacity (CFM) | 692.17 | 912 | 517 | 580 | 580 | 600 | 725 | 180 | 600 |
| Maximum Air Speed (MPH) | 180 | 239 | 216 | 145 | 145 | 125 | 140 | 180 | 110 |
| Weight (Pounds) | 22.5 | 25.8 | 22.7 | Varies with Battery | 8.3 | 9.1 | 7 | 4.4 | 6.6 |
| Special Features | X-Torq Engine, Anti-Vibration | Easy2Start, Anti-Vibration | Tube-Mounted Throttle, Comfort Backrest | Turbo Boost, Variable Speed | Turbo Button, Variable Speed | Variable Speed Trigger, Speed Lock | Variable Speed Dial, Light Weight | Lightweight, Easy Start | Two Speeds, One-Handed Operation |
| Noise Level (dB) | 104 | 78 | 70 | Quieter than Gas | 90.4 | Not Specified | 70.1 | Not Specified | Not Specified |
| Warranty | 2 Years | Not Specified | 5 Years Consumer / 2 Years Commercial | 5 Years | 4 Years | Not Specified | 2 Years | Not Specified | Not Specified |
Corded Electric Leaf Blowers
Corded electric leaf blowers are the top pick for most due to their lightweight and cost-efficient nature. They provide unlimited run time as they're tethered to an outlet, although this can limit maneuverability. These blowers require almost no maintenance and are much quieter than their gas-powered counterparts, making them less disruptive. Moreover, they are environmentally friendly, emitting zero emissions. Another impressive aspect is their power – the best-corded models can compete with, or even outperform, many gas blowers, making them a practical choice for a variety of yard sizes and tasks.
Cordless Battery-Powered Leaf Blowers
Cordless battery-powered blowers are known for their power and maneuverability, allowing more freedom as there's no cord to restrict movement. They are generally the quietest among all types of leaf blowers, which is a significant advantage in residential areas. However, their run time can be a limitation, with the best models topping out around 30 minutes and most offering 20-25 minutes per charge. This often means frequent starting and stopping due to charging times, although this can be mitigated by purchasing additional batteries or buying into a particular brand's ecosystem for battery interchangeability. These blowers are heavier than corded models due to the battery's weight.
Gas-Powered Leaf Blowers
Gas-powered leaf blowers are becoming a less favored option. Traditionally recommended for large properties, the rising capabilities of battery-powered blowers are making gas models less appealing. They require more maintenance and are noisier, which can be a significant drawback, along with their emissions and overall mechanical complexity. Furthermore, a quality gas backpack blower can be as costly as a battery-powered model when considering the additional expense of spare batteries. With these factors in mind, the gas blower's utility, especially for residential use, is decreasing.
General Consideration: Airflow Stats
When considering leaf blowers, it's important to not put too much stock in the airspeed (MPH) and air volume (CFM) ratings as there is no standardized way to measure these stats across manufacturers. Some companies measure these numbers from the end of the blower tube, while others do so directly off the motor, which can inflate the figures. Therefore, these specifications should be viewed as starting points for comparison rather than definitive indicators of performance.
The choice between these types of leaf blowers should be guided by specific needs and preferences. For most users, corded electric leaf blowers offer an ideal balance of power, convenience, and environmental friendliness. Battery-powered models are suitable for those prioritizing mobility and noise reduction, while gas-powered blowers are increasingly being overshadowed by advancements in battery technology.
Conclusion
After evaluating the nine different leaf blowers across gas-powered, battery-powered, and corded electric categories, here's an all-encompassing conclusion:
Gas-Powered Leaf Blowers (Husqvarna 350BT, Stihl BR 800 C-E Magnum, Echo PB-580T): These blowers are the powerhouses of the group, ideal for large properties and heavy-duty tasks. They offer the highest air flow capacities and speeds, with the Stihl BR 800 C-E Magnum standing out as the most powerful. However, they are also the heaviest and loudest, and they emit exhaust fumes. They are best suited for professional landscapers or homeowners with large, challenging outdoor spaces.
Battery-Powered Leaf Blowers (EGO Power+ LB5804, Greenworks Pro 80V BL80L2510, DeWalt Flexvolt 60V Max DCBL772X1): These models offer a balance of power and convenience, with the EGO Power+ LB5804 providing impressive CFM output. They are quieter and more environmentally friendly than gas-powered models, without the need for fuel or cords. Battery life and power are considerations here, making these models ideal for medium-sized yards and those prioritizing ease of use and lower noise levels.
Corded Electric Leaf Blowers (TORO Leaf Blower F700, BLACK+DECKER LB700, WORX WG520 Turbine 600): These are the lightest and most user-friendly models. The TORO F700 offers the highest CFM in this category. They provide consistent power without the need for battery recharging, but their range is limited by the length of their cords. These models are well-suited for small to medium yards where maneuverability and low noise are desired.
Overall Conclusion: The choice between these leaf blowers should be guided by the specific needs of the user:
For extensive, heavy-duty work: Gas-powered models are the best fit.
For a balance between power and user convenience: Battery-powered blowers are ideal.
For light-duty tasks and ease of use: Corded electric models are recommended.
Each type offers unique advantages, whether it's the raw power of gas models, the eco-friendliness and convenience of battery-powered options, or the lightweight and simplicity of electric blowers. Your specific yard size, type of debris, noise level considerations, and personal preference for convenience versus power will determine the best choice for your leaf-blowing needs.
FAQs
What's the difference between CFM and MPH in leaf blowers, and which is more important?
CFM (Cubic Feet per Minute) measures the volume of air a leaf blower expels, while MPH (Miles Per Hour) measures the speed of the air. Both are important: CFM affects the blower's ability to move debris, and MPH impacts how forcefully it can move it. Ideally, you want a balance of both for efficient leaf blowing.
Can I use a leaf blower for tasks other than blowing leaves?
Absolutely! Leaf blowers can be used for a variety of tasks, such as clearing snow from walkways, drying cars after a wash, and even dislodging gutters' debris.
Are gas leaf blowers significantly more powerful than electric ones?
Traditionally, gas leaf blowers have been more powerful than their electric counterparts. However, advancements in technology have significantly narrowed this gap, with many electric models now offering comparable power.
How do I maintain my leaf blower to ensure its longevity?
Regular maintenance includes checking and replacing the air filter, spark plug, and fuel filter (for gas models), ensuring proper lubrication, and cleaning the unit after each use. Always refer to the manufacturer's guide for specific maintenance instructions.
Are there any environmental concerns associated with using leaf blowers?
Yes, gas-powered leaf blowers emit pollutants and can be noisy. Electric models are more environmentally friendly, offering quieter operation and no emissions. Consider the environmental impact when choosing a leaf blower.
What safety precautions should I take when using a leaf blower?
Always wear protective gear like goggles, ear protection, and gloves. Be aware of your surroundings, especially people and pets, and never point the blower nozzle at anyone. Also, be cautious of blowing debris towards roads or into neighbors' yards.
Is it worth investing in a backpack leaf blower over a handheld model?
Backpack leaf blowers are typically more powerful and better suited for larger areas or heavy-duty tasks. They are also more ergonomic for prolonged use. Handheld models are more suitable for smaller yards and lighter work.
Can leaf blowers be used in wet conditions?
While some leaf blowers can handle damp leaves, using them in wet conditions is generally not recommended, especially for electric models. Wet debris is heavier and harder to move, and there are increased safety risks.
Are there noise regulations for leaf blowers?
Many cities and neighborhoods have noise regulations that limit the use of loud leaf blowers. It's important to check local ordinances before purchasing or operating a leaf blower.
How do I choose the right leaf blower for my yard size?
For smaller yards, electric handheld blowers are often sufficient. For larger areas, or where there are more leaves, a gas-powered or high-powered battery model, possibly a backpack blower, would be more efficient.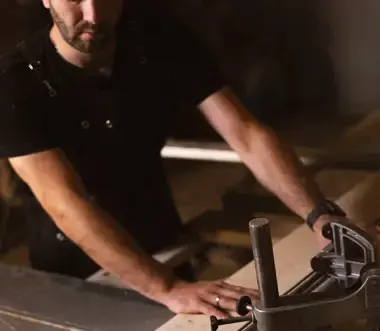 Forestry Author
I'm David Murry, a forestry equipment specialist with a focus on chainsaw operation. With over 13 years of experience, I've honed my skills in operating and maintaining a wide range of machinery, from chainsaws to log splitters. My passion for the outdoors and commitment to sustainable forestry drive my work, which emphasizes safety, efficiency, and staying updated with industry advancements. Additionally, I'm dedicated to sharing my expertise and promoting environmental awareness within the forestry community.
Recent Posts