DEWALT 60V MAX Brushless Cordless (DCCS672B) Chainsaw Review
Today, I bring you an insider's look at the DCCS672B 60V MAX* Brushless Cordless 18 in. Chainsaw—a tool that has truly elevated my yard work experience. I'm thrilled to share my hands-on review of this fantastic machine with you.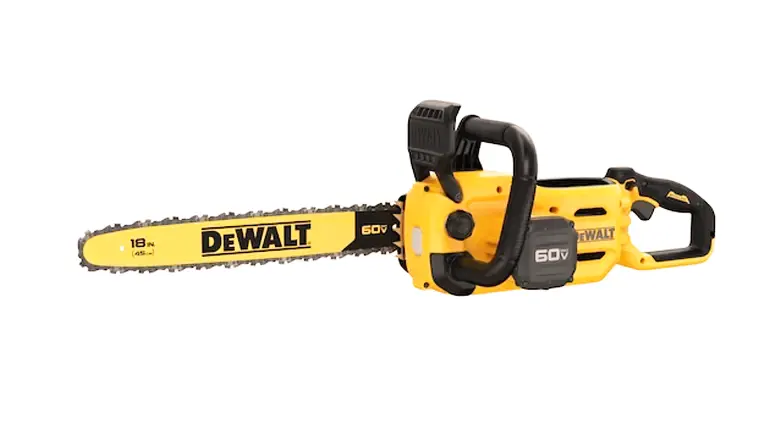 Product Specifications
Power Source: 60V MAX
Bar Length: 16 inches
Chain Speed: 0-7500 SPM
Chain Pitch: 3/8 inches
Chain Gauge: 0.043 inches
Weight: 14 pounds
Features: Brushless motor, auto-oiling system, tool-free chain tensioning, and chain brake
My Personal Experience
You see, I'm a person who loves to keep their yard pristine. It gives me a sense of fulfillment, and let's be honest, it's a great way to keep fit. One essential tool in my yard work arsenal is the chainsaw. And when it comes to chainsaws, the DCCS672B 60V MAX* Brushless Cordless 18 in. Chainsaw holds a special place in my heart.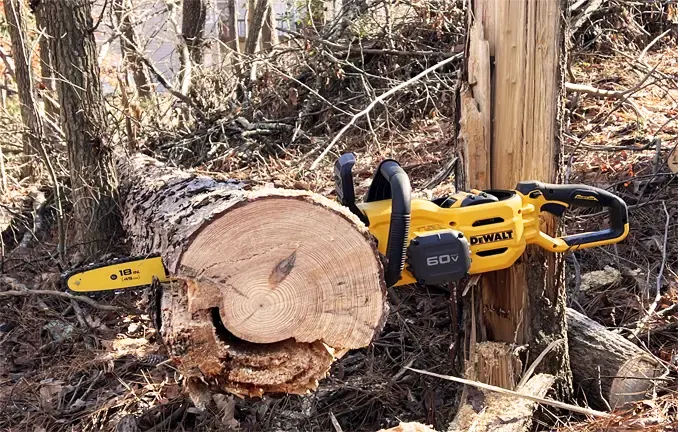 The first time I held the DCCS672B, I could immediately feel its balanced weight distribution. It didn't feel heavy or unwieldy, which was a big relief. Over the years, I've dealt with chainsaws that would give me a muscle ache within minutes of usage, but the DCCS672B was different—it felt comfortable and balanced.
It's one thing to feel good in the hand, but what about the performance? Well, let's just say it didn't disappoint. I had an old maple tree stump in my yard that I'd been meaning to get rid of, and I decided to put the DCCS672B to the test.
The chainsaw cut through that stump as if it were a hot knife slicing through butter—smooth and effortless. The power was evident from the get-go, and the way it operated silently was a pleasant surprise. The days of waking up in the entire neighborhood with my noisy gas chainsaw were a thing of the past!
What sets the DCCS672B apart for me is its convenience. The tool-free chain tensioning and bar tightening knob make adjustments on the go a breeze, saving me a lot of time and frustration. Additionally, the automatic oiling system ensures continuous lubrication, which enhances the lifespan of the chainsaw and maintains optimal performance.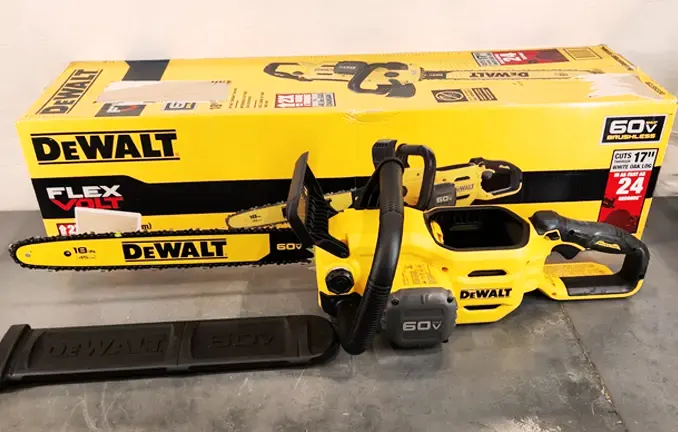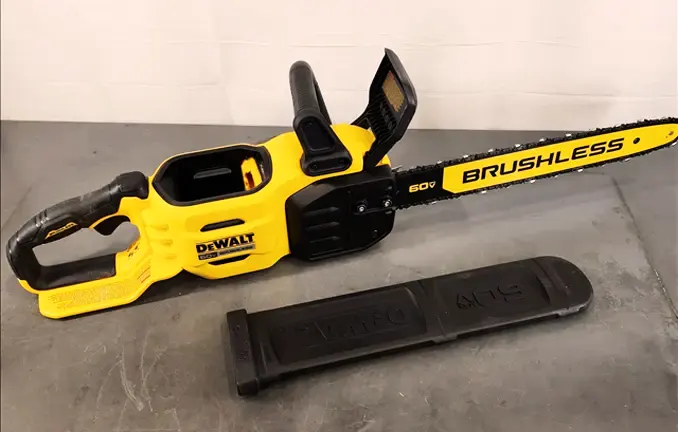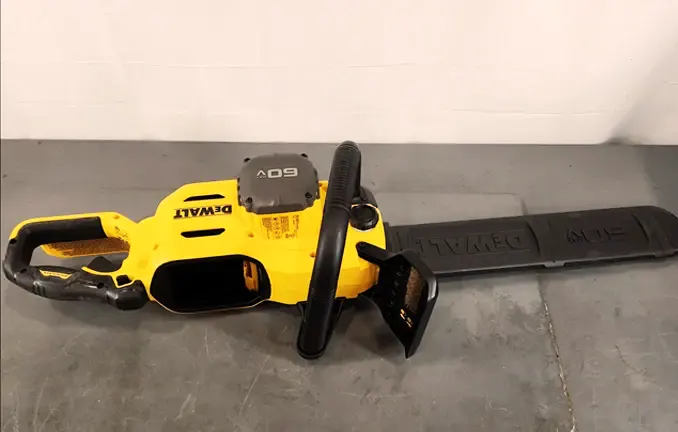 But, it wasn't all perfect. The chainsaw didn't come with a battery and charger, which meant I had to shell out a few extra bucks. But given that I could use the same battery across other DEWALT 60V tools, it felt more like an investment that would pay off in the long run.
In short, the DCCS672B 60V MAX* Brushless Cordless 18 in. Chainsaw has not just been a tool for me—it's been a reliable companion that makes my yard work more enjoyable and efficient. From its powerful cutting ability to the convenience it offers, it's an absolute powerhouse that I would gladly recommend to any fellow yard enthusiasts.
Innovative Design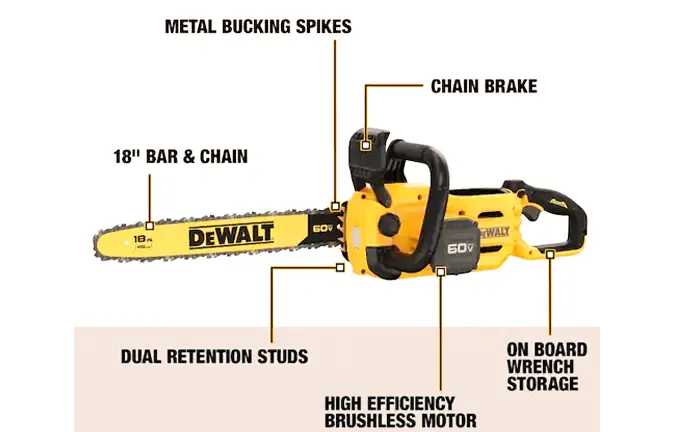 Where this chainsaw really stands out is in its design choices. Its tool-free chain tensioning and bar tightening knob allows for proper bar clamping force, a feature that saves you precious time and energy in the field. The ergonomic design and well-balanced weight distribution of the DCCS672B result in reduced user fatigue—a godsend for those extensive wood-cutting sessions.
Comparing the Competition
When stacked against rivals, such as the Husqvarna 120i or EGO Power+ CS1604, the DCCS672B holds its ground firmly. While the competitors offer similar cutting power, the battery longevity and user-friendly features of the DCCS672B are hard to surpass. Plus, the automatic oiling system ensures continuous lubrication, enhancing the chainsaw's longevity—a feature missing in some counterparts.
Pros and Cons
Like any tool, the DCCS672B has its pros and cons. On the plus side, the chainsaw offers powerful performance, ease of use, less maintenance, and excellent battery life. The brushless motor ensures an efficient, quieter operation—a big plus for noise-sensitive neighborhoods.
On the downside, the chainsaw comes without a battery and charger—you'll need to purchase those separately. However, if you already own other DEWALT 60V tools, you can use those batteries interchangeably—a perk in the long run.
The Verdict
Transitioning from other chainsaws to the DCCS672B was not just a change of tool—it felt like an upgrade in my overall woodworking lifestyle. This chainsaw has given me the power to overcome challenges that were once daunting and have transformed these tasks into an enjoyable experience.
The brushless motor technology utilized in this chainsaw, paired with a high-capacity 60V battery, doesn't just enhance the tool's performance—it completely revolutionizes it. The power and runtime delivered by this combination are nothing short of impressive. And the fact that the motor offers a long life expectancy and virtually no maintenance requirement is just the cherry on top.
The DCCS672B also gets an A+ in my book for safety features. The chain brake, which is a critical safety feature in any chainsaw, is well-positioned and easily accessible, providing peace of mind during operation.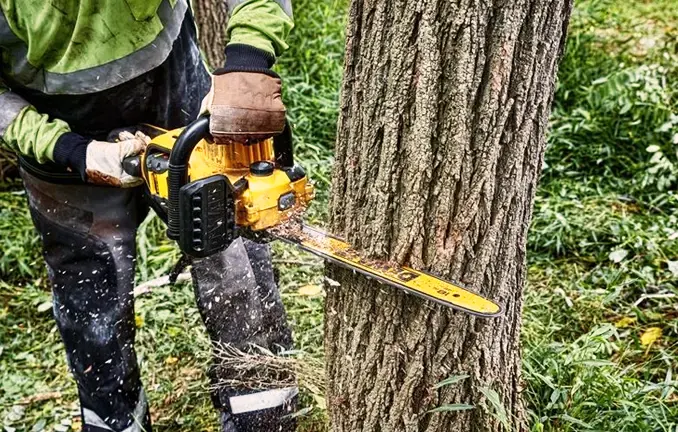 I have to say, the ergonomic design is another commendable aspect. The chainsaw's comfortable grip and balance, coupled with its low kickback 18-inch Oregon bar and chain, significantly reduced fatigue during prolonged usage, making it an ideal choice for more demanding tasks.
Even after months of rigorous use, the DCCS672B has remained consistent in its performance. It's a testament to the quality of its construction and the thought that's gone into its design.
Wrapping up, it's clear that the DCCS672B 60V MAX* Brushless Cordless 18 in. Chainsaw has made a substantial difference in my yard work and logging tasks. It's more than a tool—it's a partner that understands the job and delivers every time. If you're on the hunt for a chainsaw that offers a blend of power, reliability, and user-friendliness, this chainsaw certainly deserves a spot on your shortlist.
So, as a friend sharing this journey with you, I strongly recommend the DCCS672B 60V MAX* Brushless Cordless 18 in. Chainsaw. I've experienced the power, convenience, and reliability it offers, and I'm confident you'll appreciate these qualities as well. It's a chainsaw that doesn't just meet expectations—it exceeds them. And who wouldn't want that kind of performance in their toolkit?
Happy woodworking, friends! I'll catch you in the next review.
Frequently Asked Questions
What type of battery does the DEWALT 60V MAX Brushless Cordless chainsaw use? DEWALT 60V MAX Brushless Cordless chainsaws typically use a 60V MAX lithium-ion battery.
How long does the battery last? Battery life can depend on the specific tasks being performed, but on average, you might expect anywhere from 30 minutes to several hours of use on a single charge.
How long does it take to charge the battery? Charging time can vary based on the specific battery and charger, but typically it can take a few hours to fully charge a 60V battery.
Is the chainsaw compatible with other DEWALT 60V tools? Most DEWALT 60V tools and batteries are part of the FLEXVOLT system, meaning the batteries are interchangeable between tools.
What is the cutting capacity of the chainsaw? The cutting capacity or bar length of a chainsaw can vary by model. Check the product specifications for exact measurements.
Does the chainsaw come with a warranty? DEWALT typically offers a limited warranty on their tools, which often covers defects in materials or workmanship. The exact length and terms of the warranty can vary, so check the product documentation or DEWALT's website for specifics.
How should I maintain my DEWALT 60V MAX Brushless Cordless chainsaw? Regular maintenance typically involves cleaning the chainsaw, checking for wear and tear, and regularly oiling the chain for smooth operation.
What safety features does the chainsaw have? Many DEWALT chainsaws include safety features like a chain brake, a low kickback chain, and a safety lock on the trigger.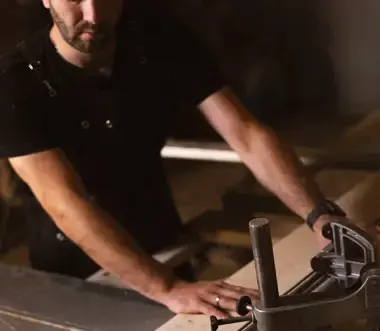 Forestry Author
I'm David Murry, a forestry equipment specialist with a focus on chainsaw operation. With over 13 years of experience, I've honed my skills in operating and maintaining a wide range of machinery, from chainsaws to log splitters. My passion for the outdoors and commitment to sustainable forestry drive my work, which emphasizes safety, efficiency, and staying updated with industry advancements. Additionally, I'm dedicated to sharing my expertise and promoting environmental awareness within the forestry community.
Recent Posts