DEWALT 20V MAX XR Brushless Chainsaw Review (DCCS620B)
I've been privileged to wield an impressive array of power tools throughout my years in the field. Today, with a heart full of anticipation, I'm thrilled to let you in on my journey with the DEWALT DCCS620P1, a 20V Max Compact Cordless Chainsaw kit. It's a tool that has consistently demonstrated its worth, becoming my trusted companion in an extensive spectrum of cutting endeavors.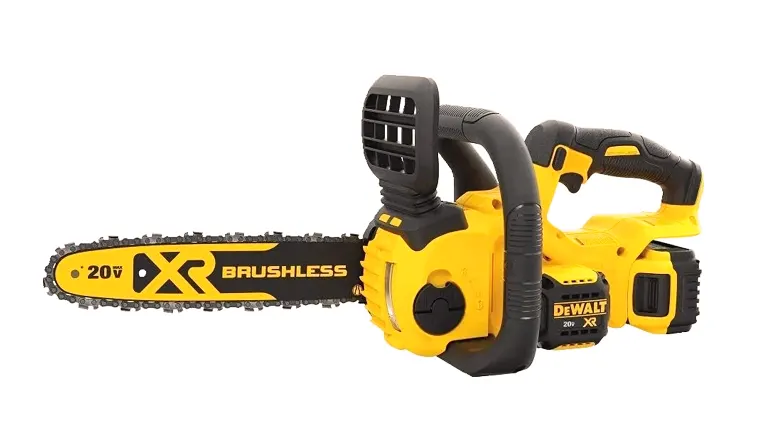 Here are the specifications for the DEWALT DCCS620P1:
Power Source: Cordless, operated by a 20V MAX 5.0Ah Lithium-Ion battery.
Motor: High-efficiency brushless motor for extended motor life and reduced maintenance requirements.
Chain and Bar Length: Equipped with a 12-inch Oregon bar and chain.
Chain Speed: Capable of reaching a chain speed of up to 25.2 feet per second.
Chain Tensioning: Tool-free chain tensioning system for quick and easy adjustments.
Weight: Lightweight design, weighing approximately 8.8 pounds (without battery) for improved maneuverability.
Battery Life: The 5.0Ah Lithium-Ion battery provides extended run time for longer cutting sessions.
Safety Features: Features a low kickback bar and chain for enhanced user safety.
Oil System: Automatic oiling system with a window to easily monitor the oil level.
Warranty: Comes with a 3-year limited warranty, ensuring peace of mind and support from the manufacturer.
Performance and Handling
This beast comes equipped with a 20V MAX 5.0Ah Lithium-Ion battery, delivering a power-packed performance that left me in awe. It effortlessly sliced through 8-inch diameter pine logs, making it an absolute dream for pruning trees, chopping firewood, or taking on those exciting small construction projects.
But what truly amazed me was its lightweight and compact design. Weighing in at a mere 8.8 pounds, this chainsaw felt like an extension of my arm. It was as if I was wielding a precision instrument, effortlessly gliding through the wood. The reduced weight not only minimized fatigue but also granted me unrivaled maneuverability. I could make precise cuts even in the tightest of spaces, conquering the most challenging tasks with ease.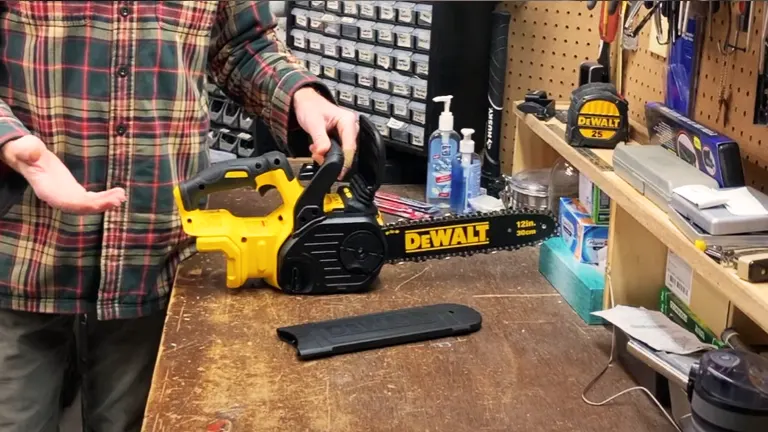 The DCCS620P1 is not just a chainsaw; it's a powerhouse that empowers enthusiasts like me to tackle projects with confidence. Its combination of raw power, compactness, and maneuverability makes it a true game-changer in the world of chainsaws. So, if you're ready to unleash your inner lumberjack and experience the thrill of effortless cutting, the DCCS620P1 is your ultimate companion. Get ready to embrace the power and conquer the wild!
Stand-Out Features
The DEWALT DCCS620P1 stands out among its competitors for several reasons. One of the key differentiators is its high-efficiency brushless motor. This motor not only extends the overall lifespan of the chainsaw but also minimizes the need for frequent maintenance compared to chainsaws equipped with brushed motors. This means less time spent on upkeep and more time focused on getting the job done.
Another standout feature that I found truly invaluable is the tool-free chain tensioning and bar tightening knob. This innovative design allows for quick and hassle-free adjustments while on the go. Whether I needed to tighten the chain or adjust the bar, I could do it effortlessly and swiftly without the need for any additional tools. This feature not only ensures optimal cutting performance but also reduces downtime, keeping me productive and efficient throughout my tasks.
Overall, the DEWALT DCCS620P1's high-efficiency brushless motor and user-friendly tool-free chain tensioning system set it apart from the competition in my view. It's a chainsaw designed with convenience and performance in mind, making it a reliable and efficient tool for any cutting job.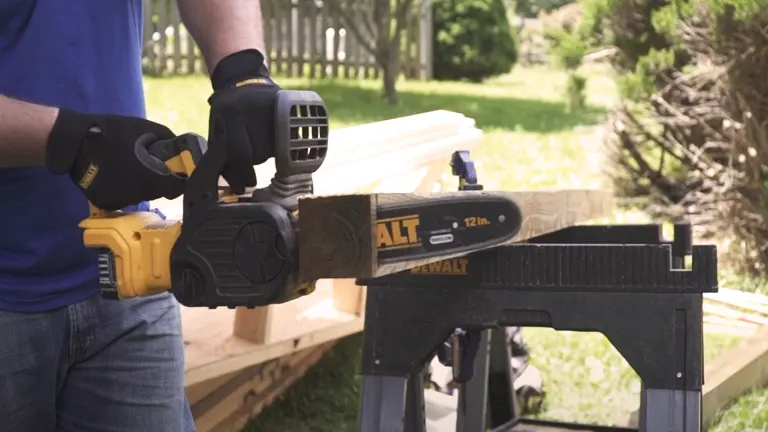 Comparisons and Alternatives
When I got the chance to compare the DEWALT DCCS620P1 with its closest competitors, the BLACK+DECKER LCS1020 and the Makita XCU02PT, I was eager to see how it would stack up. What I found was that while all three models were similar in terms of power and design, the DEWALT DCCS620P1 had a few standout features that gave it an edge.
Firstly, durability was a notable factor. The DEWALT chainsaw felt solid and well-built, instilling confidence in its longevity. It seemed like a tool that could withstand the demands of tough cutting tasks without breaking a sweat.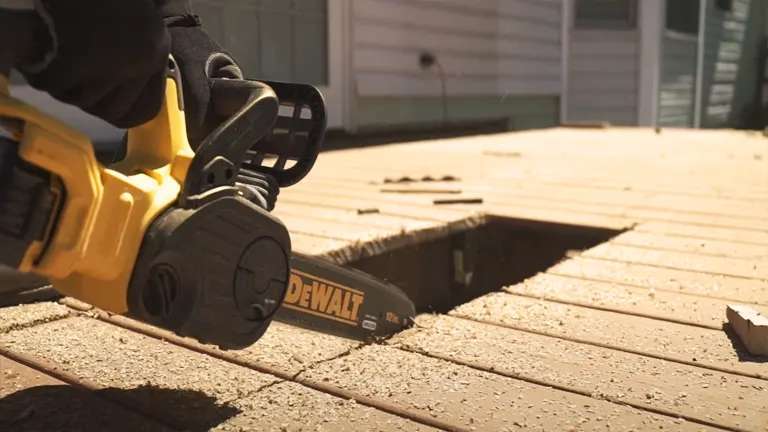 Battery life was another area where the DEWALT model shone. With its efficient power management, the DCCS620P1's battery lasted longer compared to its counterparts. This meant less frequent recharging and more uninterrupted cutting time, which was a major advantage, especially for longer projects.
Additionally, maintenance was a breeze with the DEWALT chainsaw. It was designed with user convenience in mind, allowing for easy access to key components for cleaning and maintenance. This made it hassle-free to keep the chainsaw in top-notch condition, ensuring optimal performance and a longer lifespan.
While the BLACK+DECKER LCS1020 and Makita XCU02PT were competent chainsaws in their own right, the DEWALT DCCS620P1 stood out for its durability, superior battery life, and user-friendly maintenance. It was a clear winner in my view, providing a reliable and efficient cutting experience that was hard to beat.
Pros and Cons
As I got my hands on the DCCS620P1 chainsaw, I observed several pros and cons worth mentioning from my first view perspective:
Pros:
Lightweight and Compact Design: The chainsaw's lightweight construction makes it easy to handle and maneuver, reducing user fatigue during extended periods of use. Its compact size allows for convenient storage and transportation.
High-Efficiency Brushless Motor: The inclusion of a brushless motor sets this chainsaw apart. It not only extends the motor's lifespan but also reduces the need for frequent maintenance compared to models equipped with brushed motors. This means more time spent cutting and less time spent on upkeep.
Tool-Free Chain Tensioning: The tool-free chain tensioning system is a standout feature. It allows for quick and hassle-free adjustments on the go, ensuring optimal cutting performance without the need for additional tools. This feature adds convenience and minimizes downtime.
5.0Ah Lithium-Ion Battery: The DCCS620P1 comes with a 5.0Ah Lithium-Ion battery, providing extended run time for prolonged cutting sessions. This allows users to tackle tasks without interruption and enjoy the benefits of cordless convenience.
Cons:
Not Suitable for Heavy-Duty Cutting Tasks: While the DCCS620P1 excels in light to medium-duty tasks, it may not be the best choice for heavy-duty cutting requirements. It's important to consider the intended use and ensure compatibility with the chainsaw's capabilities.
Battery and Charger Sold Separately: One drawback is that the battery and charger are typically sold separately, which can be an additional expense. Users should factor in the cost of these accessories when considering the overall investment in the chainsaw.
Chain Adjustment Requirement: During heavy use, the chain may require more frequent adjustments to maintain optimal tension. This additional maintenance step can be seen as a minor inconvenience for users who prefer longer periods of uninterrupted cutting.
Evolution and Improvements
As I laid my eyes on the DCCS620P1, I couldn't help but appreciate the evolution and improvements it brought to DEWALT's line of cordless chainsaws. This model marked a significant leap forward in terms of performance, durability, and user-friendliness.
The incorporation of a brushless motor was a game-changer. Compared to earlier models, the DCCS620P1 boasted a more efficient and durable motor design. This not only extended the lifespan of the chainsaw but also reduced the need for frequent maintenance. It was a noticeable improvement that promised a longer-lasting and more reliable tool.
One of the standout features that immediately caught my attention was the tool-free chain tensioning system. This addition was a stroke of genius. It allowed for quick and hassle-free adjustments, eliminating the need for extra tools. This not only saved time but also ensured optimal cutting performance with minimal downtime. It was a major enhancement that showcased DEWALT's commitment to user convenience.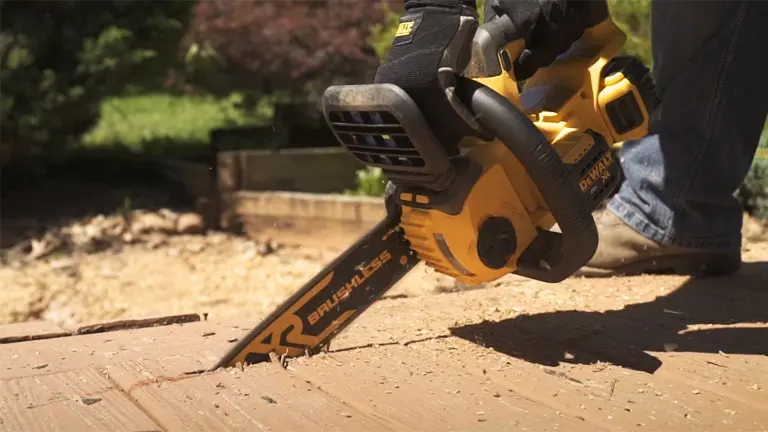 Overall, the DCCS620P1 represented a significant step forward in DEWALT's cordless chainsaw lineup. With its brushless motor and tool-free chain tensioning system, it demonstrated an evolution in design and functionality. It was clear that DEWALT had listened to user feedback and made improvements that enhanced the overall performance, durability, and ease of use of their cordless chainsaws. I was excited to see what other advancements this model had in store as I prepared to put it to the test.
Final Verdict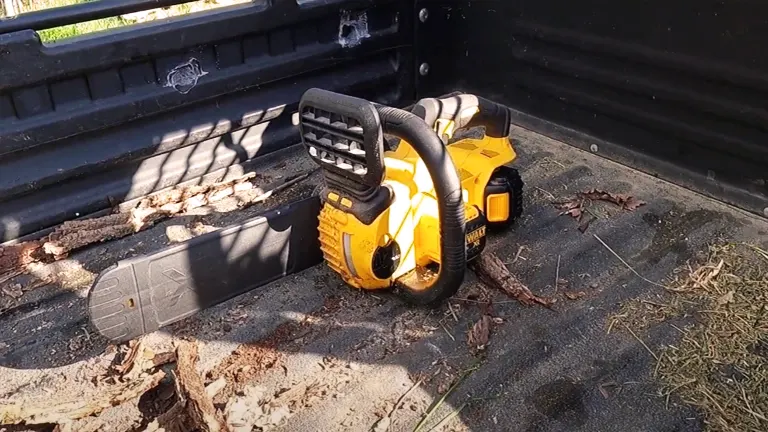 In conclusion, the DEWALT DCCS620P1 is a compact and powerful chainsaw that is perfect for light to medium-duty tasks. Its lightweight design, coupled with a range of user-friendly features, makes it an excellent choice for both DIY enthusiasts and professional users.
Whether you're pruning trees in your backyard or cutting firewood for the winter, the DCCS620P1 has got you covered. Despite its minor drawbacks, its performance and reliability make it a standout option in its class.
Check these sellers for Prices: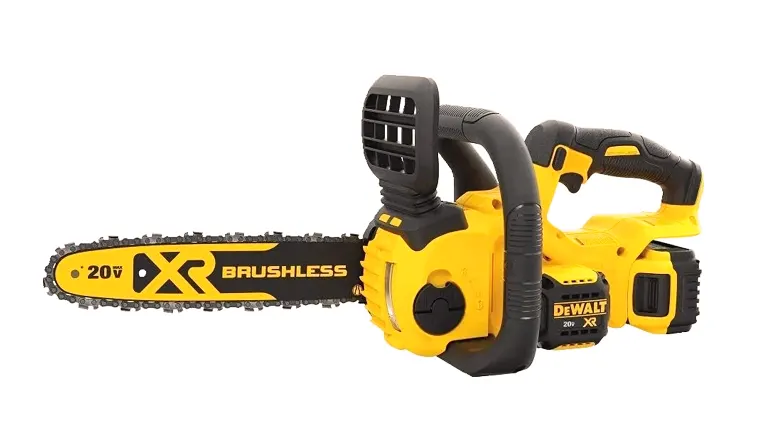 Recent Posts