Husqvarna 14 Inch 120i Cordless Battery Powered Chainsaw Review
In the sphere of outdoor power tools, chainsaws hold a position of unrivaled importance. Traditionally, these powerful machines have been loud, gas-guzzling beasts, demanding equal parts strength and skill to wield effectively. They've been a symbol of raw power, an essential tool in the repertoire of any self-respecting handyman or outdoorsman.
However, as we move further into the 21st century, the landscape of power tools is experiencing a significant shift. The world around us is evolving at a breakneck pace, and it's clear that technology is leading the charge. This transformation is evident in every aspect of our lives – including the tools we use.
Enter the era of cordless, battery-powered chainsaws – a radical departure from their gas-guzzling predecessors. These new-age tools bring with them a slew of benefits: they're quieter, lighter, and far more user-friendly, not to mention significantly better for the environment.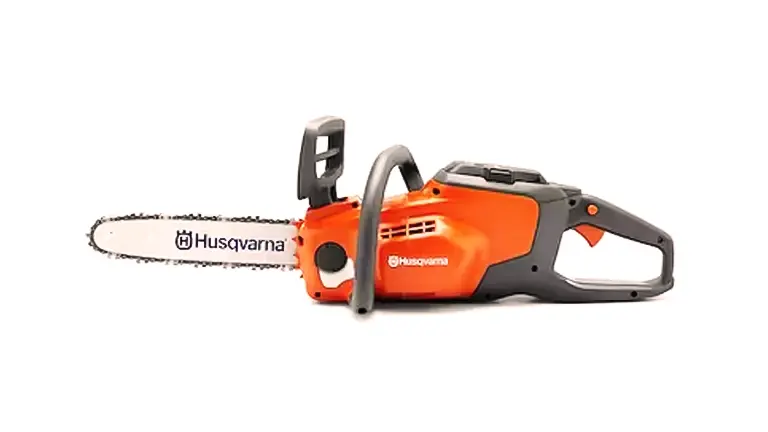 Leading the charge in this new generation of chainsaws is the Husqvarna 14 Inch 120i Cordless Battery Powered Chainsaw. This device brings together the best of technology and convenience, marking a significant step forward in the world of outdoor power tools.
In this review, we'll take a deep dive into this innovative product, examining its features, performance, pros, and cons. We'll also compare it with other similar products on the market, review user testimonials, and provide a final verdict on its overall value. Whether you're a seasoned pro in search of a new tool or a novice exploring options for your first chainsaw, this article is for you. Read on as we delve into the future of chainsaws with the Husqvarna 14 Inch 120i.
What is the Husqvarna 14 Inch 120i Cordless Battery Powered Chainsaw?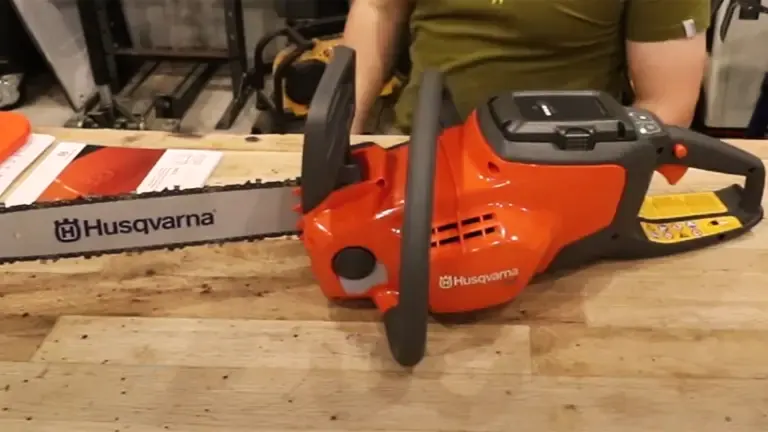 The Husqvarna 14 Inch 120i Cordless Battery Powered Chainsaw is not just another chainsaw; it's a testament to Husqvarna's commitment to embracing technology and crafting solutions that are in tune with the needs of the modern world. It's a tool designed for those who value convenience, power, and sustainability, encapsulating these attributes into one compact, portable package.
As its name suggests, the 120i comes with a 14-inch guide bar – a size that is ideal for a wide range of cutting tasks. This could be anything from trimming and pruning to cutting firewood or even felling smaller trees. It makes the chainsaw highly versatile, thereby enhancing its appeal to a broad range of users, from homeowners maintaining their yards to professionals needing a light-duty tool for various tasks.
The highlight of this chainsaw, though, is its cordless, battery-powered operation. This design feature eliminates the need for a constant power source, making the chainsaw truly portable. Whether you're working in your backyard or in a remote location, the 120i is ready to go wherever you need it.
Features
The Husqvarna 120i is equipped with a 14-inch bar, ideal for light-duty work like pruning, cutting firewood, or handling small to medium-sized trees. It also comes with a powerful brushless electric motor that performs as well as its gas-powered counterparts.
| Feature | Description |
| --- | --- |
| Cordless Design | Offers mobility and flexibility, with no need for a constant power source. |
| 14-Inch Guide Bar | Ideal size for a wide range of tasks, including trimming, pruning, cutting firewood, and felling small trees. |
| Lithium-Ion Battery | Provides ample power for most residential tasks and runs quieter than gas-powered chainsaws. |
| Battery Level Indicator | Allows you to keep track of the remaining power. |
| SavE™ Mode | Optimizes power consumption, extending battery life during lighter tasks. |
| Brushless Electric Motor | Ensures high torque over a wide rpm range, leading to improved cutting efficiency. |
| Chain Tensioning | Tool-free chain tensioning for quick and easy adjustments. |
| Safety Features | Includes features like an inertia-activated chain brake to prevent accidental injuries. |
| Lightweight | Weighing just over 10 pounds, the chainsaw is easy to handle, reducing user fatigue. |
| Zero Emissions | As it runs on battery power, the chainsaw is an environmentally friendly choice. |
Performance
From the moment I first held the Husqvarna 14 Inch 120i Cordless Battery Powered Chainsaw in my hands, I could tell that this tool was something special. The design alone is sleek and modern, making it obvious that this is a chainsaw built for the present age. But the real magic happened when I got to experience the performance of this cutting-edge tool firsthand.
Upon pressing the intuitive keypad, the chainsaw came to life with a quiet hum, a stark contrast to the loud roar I had become accustomed to with traditional gas chainsaws. It was easy to see that the power was there, but the noise was not, and I was immediately impressed.
One of the first things I noticed about the 120i was its high chain speed. There's a palpable difference when you slice through a log with this chainsaw. The cuts are smooth, fast, and effortless. The efficiency of this tool was more than enough to make short work of most tasks I threw at it, from trimming branches to cutting down small to medium-sized trees.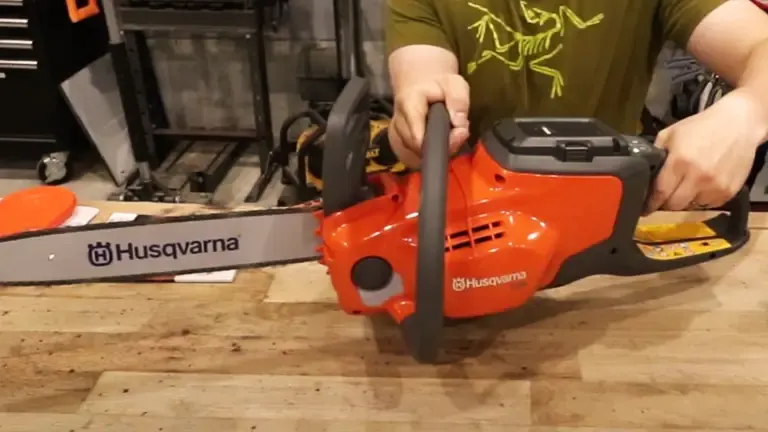 I was also impressed by the Save™ mode feature of the 120i. This nifty little feature ensures optimal runtime by adjusting the power output according to the work at hand. I found this to be incredibly beneficial during lighter tasks where I didn't need the full power of the chainsaw. Not only did this feature help prolong battery life, but it also helped me get the job done more efficiently.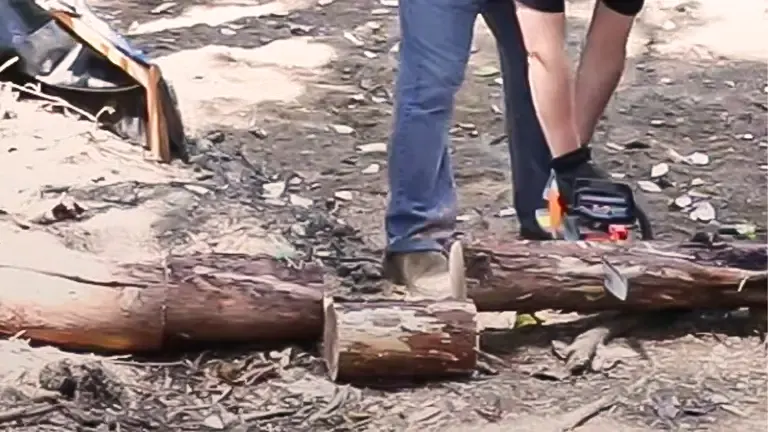 During my time with the 120i, I used it in various conditions, testing its versatility. Whether I was pruning trees in my backyard or cutting firewood at a remote campsite, the 120i consistently performed admirably. The freedom of not being tethered to a power source, combined with the impressive performance of this chainsaw, made every task much more manageable.
Battery Life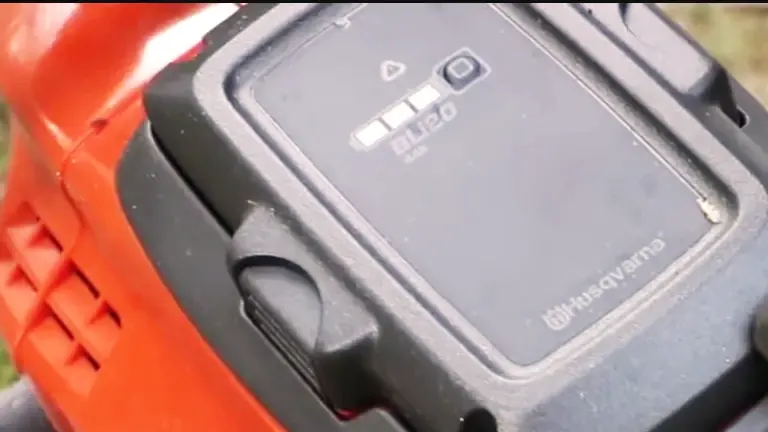 Equipped with a Li-ion battery, the 120i provides ample runtime for most residential tasks. A notable aspect is the battery level indicator, which keeps you informed about the remaining power.
Pros of the Husqvarna 14 Inch 120i
Easy to Use
There's no mixing gas and oil or worrying about spark plugs with this chainsaw. Just charge the battery, insert it, and you're ready to go.
Light and Portable
Weighing in at just over 10 pounds, the 120i is lightweight and designed for ease of use, making it a favorite among users who need a chainsaw for light duties.
Environmentally Friendly
With zero emissions, the 120i is a great choice for environmentally-conscious users. You can say goodbye to the smoky exhaust of traditional chainsaws.
Cons of the Husqvarna 14 Inch 120i
Limited Cutting Ability
While excellent for light duties, it might struggle with more demanding tasks due to its 14-inch bar and electric motor.
Battery Life
The 120i's battery life, while decent, may not be sufficient for long tasks. You might need an extra battery for continuous work.
Comparison to Other Similar Products
In today's market, there are several cordless chainsaws that could compete with the Husqvarna 14 Inch 120i. One of the more notable ones is the Greenworks 16-Inch 40V Cordless Chainsaw. As an owner and user of the Husqvarna 120i, I found it beneficial to draw comparisons between the two products to understand their relative strengths and weaknesses.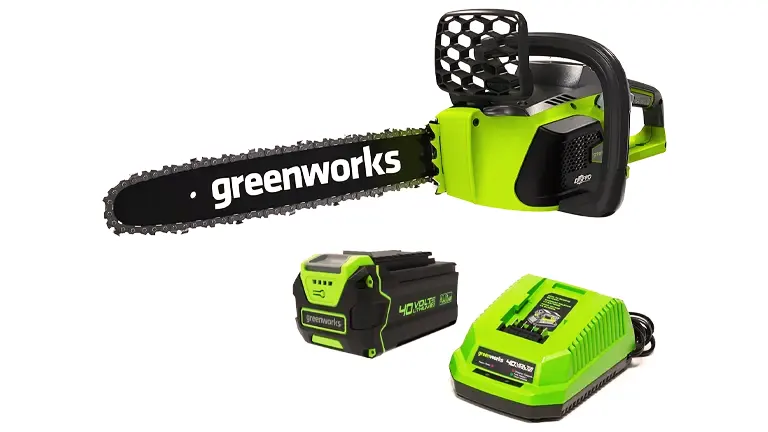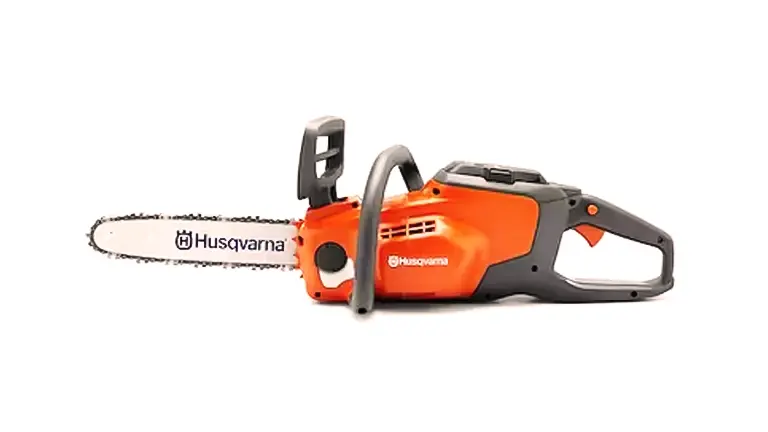 Firstly, in terms of size and cutting capability, the Greenworks model offers a 16-inch bar length compared to the 14-inch bar on the Husqvarna 120i. While this might suggest a slight edge to the Greenworks model, especially for larger cutting tasks, it's important to remember that longer isn't always better. The smaller bar on the Husqvarna can offer superior control and maneuverability, particularly for precision tasks or in tighter spaces.
When it comes to power, both chainsaws operate on a 40V system, which is sufficient for most homeowner tasks. Performance-wise, they are relatively on par, with both chainsaws capable of handling similar cutting tasks. However, Husqvarna's SavE™ mode gives the 120i an edge by offering an adaptive power system that extends battery life during lighter tasks.
In terms of brand reputation, Husqvarna stands tall. With a history dating back over three centuries, the company has built a solid reputation for quality and performance. While Greenworks is a respected name in the cordless power tool sector, it does not yet have the same depth of heritage and proven reliability.
The Husqvarna 120i also benefits from a user-friendly design, with features like the intuitive keypad and tool-free chain tensioning system. While the Greenworks model also has some user-friendly features, the Husqvarna's superior design is more streamlined and efficient.
Ultimately, while both the Husqvarna 14 Inch 120i and the Greenworks 16-Inch 40V Cordless Chainsaw offer robust performances, each has its unique advantages. The Husqvarna 120i, with its renowned brand name, compact size, adaptive power system, and user-friendly design, makes a strong case for being the more versatile and reliable option.
User Reviews and Testimonials
Users appreciate the 120i for its ease of use, portability, and efficiency. The only common complaint is the battery life, especially when used for extended periods.
Final Verdict
The Husqvarna 14 Inch 120i Cordless Battery Powered Chainsaw is an excellent option for anyone looking for a lightweight, easy-to-use, and environmentally friendly chainsaw. While it may not replace a gas-powered chainsaw for heavy-duty work, it is perfect for homeowners with light to medium duties.
FAQs
Q1: How long does the battery last on the Husqvarna 120i?
A: It depends on the task, but generally, you can expect around 35-40 minutes of continuous use.
Q2: Can I use the Husqvarna 120i for heavy-duty work?
A: The 120i is best for light to medium tasks. For heavy-duty tasks, a gas-powered chainsaw may be more suitable.
Q3: How do I maintain the Husqvarna 120i?
A: Maintenance is minimal – just keep the chain sharp, and clean the unit after use.
Q4: Is the Husqvarna 120i safe to use?
A: Yes, it comes with safety features like an inertia-activated chain brake to prevent accidental injuries.
Where to buy?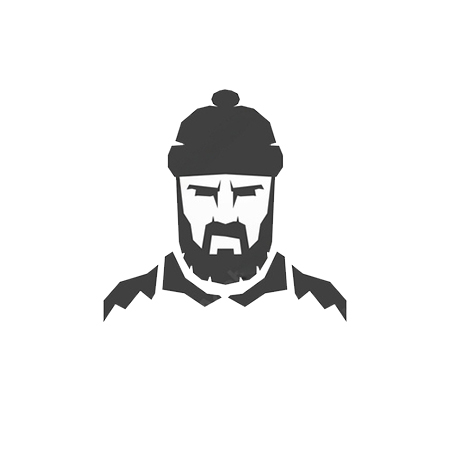 Forestry Author
The beauty of logging isn't just about felling trees. It's about understanding nature, mastering the art of chainsaws, and respecting the environment. I believe in sharing my experiences and knowledge, ensuring that we move towards a sustainable future together.
Recent Posts