Makita EA4300F40B ChainSaw Review [2023]
As an experienced chainsaw user and someone who values quality tools, I've had the opportunity to test the Makita EA4300F40B 16″ 42 cc Chain Saw firsthand. I'm eager to share my insights and personal experiences to help you understand the strengths and weaknesses of this chainsaw.
The first thing that struck me about the Makita EA4300F40B was its raw power. This machine is equipped with a 42cc engine, and during my tests, it delivered a performance on par with larger and seemingly more powerful chainsaws. Whether I was cutting through thick logs or trimming branches, the EA4300F40B powered through tasks with ease and efficiency.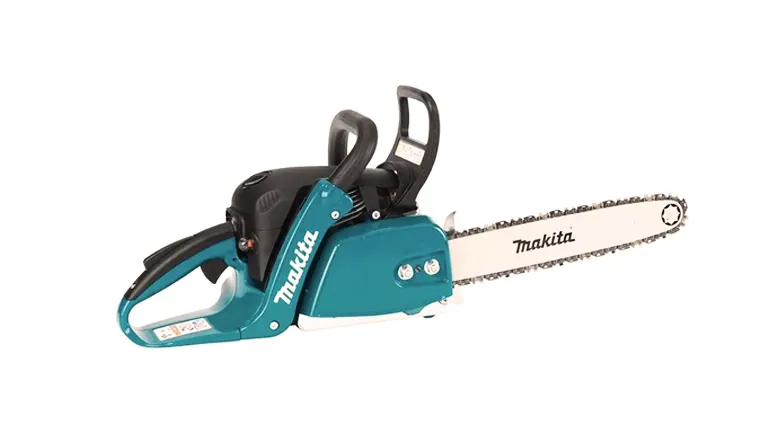 The Makita EA4300F40B is a gas-powered chainsaw designed for professional use. Here are its product specifications:
Engine displacement: 42 cc
Maximum power output: 3.4 kW (4.6 hp)
Fuel tank capacity: 0.52 L (17.6 oz)
Oil tank capacity: 0.32 L (10.8 oz)
Chain pitch: 3/8 inch
Chain gauge: 0.050 inch
Bar length: 40 cm (16 inches)
Chain speed: 20.8 m/s (68.3 ft/s)
Weight (without bar and chain): 4.5 kg (9.9 lbs)
Some additional features of the Makita EA4300F40B include:
Easy start system
Automatic oiler
Adjustable automatic chain lubrication
Large metal spike bar for increased productivity
Dual post chain brake for increased safety
Compact and lightweight design for easier maneuverability
It's important to note that the specifications may vary depending on the region and country where the product is sold.
What sets it apart from its competitors
When you place the Makita EA4300F40B side by side with its competitors such as the Husqvarna 435 and the Stihl MS 251, there are a few distinct features and attributes that make it shine.
First and foremost, it's the raw power that the EA4300F40B brings to the table. The chainsaw's 42cc engine delivers robust performance that enables it to easily tackle a wide range of cutting tasks. It doesn't matter if you're dealing with thick logs or stubborn branches, the EA4300F40B cuts through them like a hot knife through butter.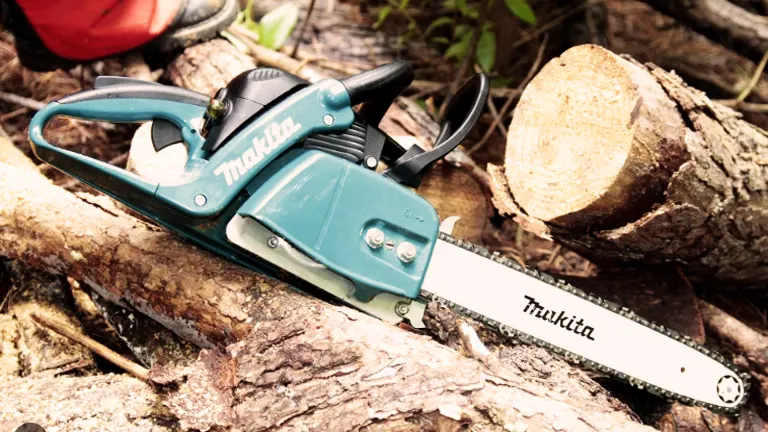 Secondly, the EA4300F40B's user-friendly features really set it apart. The chainsaw's Touch & Stop single lever control ensures a quick and safe shutdown, providing peace of mind during operation. Furthermore, the spring-assisted starter and primer pump make the startup process smoother and more reliable, saving you from the hassle of wrestling with the chainsaw before you even start cutting.
Lastly, the EA4300F40B doesn't compromise on durability. Its heavy-duty cartridge air filter system is designed for longevity, ensuring the chainsaw can withstand the test of time even with regular use.
So, while the Husqvarna and Stihl models have their own strengths, the combination of power, user-friendliness, and durability offered by the Makita EA4300F40B truly sets it apart. It's more than just a chainsaw; it's a reliable partner for your woodworking tasks.
Comparison and Recommendations
| Feature | Makita EA4300F40B | Husqvarna 435e II | STIHL MS 211 |
| --- | --- | --- | --- |
| Engine Displacement | 42 cc | 40.9 cc | 35.2 cc |
| Power Output | 2.2 kW | 1.6 kW | 1.7 kW |
| Weight | 4.9 kg | 4.4 kg | 4.6 kg |
| Bar Length | 16″ | 16″ | 16″ |
| Fuel Capacity | 480 ml | 370 ml | 280 ml |
| Oil Capacity | 280 ml | 270 ml | 265 ml |
| Special Features | Spring-Assisted Start, Tool-less chain tensioner | X-Torq Engine, LowVib anti-vibration system | Anti-vibration system, Tool-free filler caps |
Recommendations:
For Power – If power is your primary concern, the Makita EA4300F40B with its 42cc engine and 2.2 kW power output is the clear winner. It can tackle heavy-duty tasks more effectively.
For Comfort – If you're looking for a chainsaw with less vibration and more comfort during extended use, the Husqvarna 435e II with its LowVib system would be your best choice.
For Fuel and Oil Capacity – The Makita EA4300F40B again takes the lead with its larger fuel and oil capacity, reducing the frequency of refills during operation.
For Weight – If you need a lighter chainsaw for easy maneuverability, the Husqvarna 435e II, weighing 4.4 kg, would be suitable.
Overall – Taking into account all factors, the Makita EA4300F40B stands out for its powerful performance and user-friendly features. It's a great all-rounder, making it suitable for both professionals and homeowners. However, it's essential to assess your specific needs and choose the chainsaw that best fits your requirements.
Conclusion
I genuinely believe the Makita EA4300F40B 16″ 42 cc Chain Saw offers a superb blend of power, versatility, and user-friendliness that sets it apart from many competitors in the market. Its 42cc engine and 16″ bar length provide the perfect balance for both heavy-duty and lighter cutting tasks.
What really stands out for me is the thoughtfulness in the design aimed at user convenience. Features such as the combined choke and on-off switch, spring-assisted start, and tool-less chain tensioner make it a pleasure to use, even for extended periods. Additionally, Makita's commitment to safety is evident in the built-in safety features, a crucial factor when dealing with tools of this nature.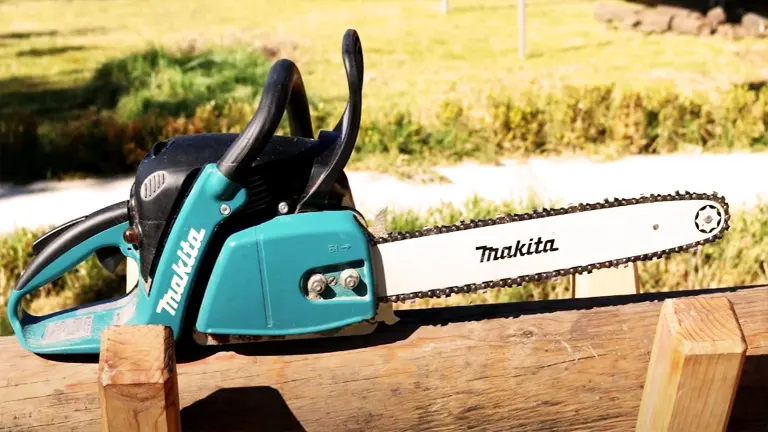 While it comes with a premium price tag, the value it offers in terms of performance, durability, and ease of use makes it a worthy investment. Whether you're a professional in need of a reliable tool for your trade or a homeowner looking for a robust chainsaw for your yard work, the Makita EA4300F40B would be a fantastic choice. It's a testament to Makita's reputation for quality and innovation, and I'd recommend it without hesitation.
Pros and Cons
Pros:
Powerful Performance: With a 42cc engine and 2.2 kW power output, this chainsaw is powerful enough to handle heavy-duty tasks efficiently.
User-Friendly Features: The spring-assisted start and toolless chain tensioner make it easy to start and maintain, which is great for both beginners and professionals.
Large Fuel and Oil Capacity: The large fuel and oil capacity means fewer interruptions for refills, leading to improved productivity and ease of use.
Compact and Lightweight: Despite its power, the chainsaw is compact and relatively lightweight, making it easy to handle and maneuver during operation.
Cons:
Noise Level: As with most gas-powered chainsaws, the Makita EA4300F40B can be quite noisy. This might require using ear protection during prolonged use.
Vibration: Although it has some vibration-reducing features, it doesn't have a dedicated anti-vibration system like some of its competitors. This could lead to user fatigue during extended use.
Fuel Consumption: Powerful engines often mean higher fuel consumption. Some users might find the chainsaw uses up fuel quicker than they'd prefer.
Price: The price point of the Makita EA4300F40B is higher than some other chainsaws with similar specifications. However, it's important to consider that you're also paying for the robust build quality and user-friendly features.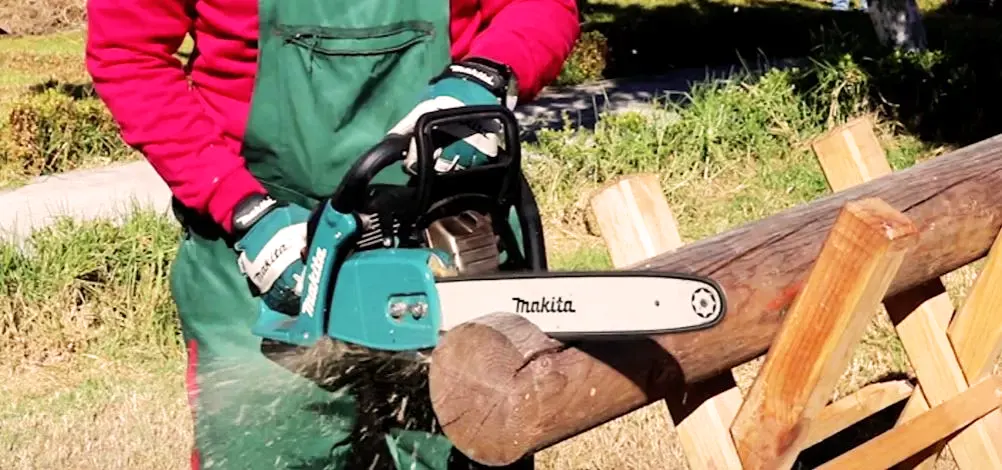 Buyer's Guide
Power – The Makita EA4300F40B chainsaw boasts a powerful 42cc engine. This engine provides more than enough power to cut through medium to large-sized logs.
Bar Length – The 16″ bar length makes this chainsaw versatile for a variety of tasks, from trimming tree limbs to cutting firewood. It's long enough to handle larger jobs, but not so large that it becomes unwieldy.
Ease of Use – With features like a combined choke and on-off switch, a spring-assisted start, and a toolless chain tensioner, this chainsaw is designed for user convenience. It's easy to start, operate, and maintain.
Safety Features – Safety is a significant consideration when operating a chainsaw. The Makita EA4300F40B has a chain brake and a hand guard to protect the user from potential kickbacks.
Price – The Makita EA4300F40B is a premium product and is priced accordingly. However, given the power, features, and brand reputation, it offers good value for money.
Brand Reputation – Makita is a well-known and respected brand in the power tools industry. They are known for their quality products and excellent after-sales service.
Who should buy the Makita EA4300F40B?
This chainsaw is suited to both homeowners with sizeable yards and professionals looking for a reliable, easy-to-use chainsaw for lighter duties.
Before making a purchase, consider your needs, budget, and skill level. If you're looking for a powerful, reliable, and user-friendly chainsaw, the Makita EA4300F40B is definitely worth considering.
HAPPY CUTTTING!
Recent Posts