Makita 240V (Uc4041A/2) Electric Chainsaw Review
I recently got my hands on the Makita UC4041A/2 240V 40cm Electric Chainsaw, and let me tell you, it was quite an experience. I was curious to see how it compares to other chainsaws in terms of power, performance, and user-friendliness. Now, I'll share my personal perspective on how this chainsaw fared in these aspects.
Product Specifications
Power: 1,800-watt motor
Guide Bar Length: 40cm (16 inches)
Chain Tensioning: Tool-less chain tensioning system
Safety Features: Chain brake mechanism to stop rotation during kickback or when releasing the handle
Oiling System: Automatic chain lubrication with transparent oil reservoir
Comfort: Rubberized grips for a secure and comfortable hold
Stability: Built-in large metal spike bumper for improved stability and control
Performance and Power
When I first turned on the UC4041A/2 and set it to work, the power it delivered was immediately noticeable. Its 240V electric motor buzzed consistently as I used it, never faltering or dropping in performance. I tested it on a log with a 30cm diameter, and it sliced through in about 20 seconds. While this might not rival the speed of some petrol chainsaws I've used in the past, I was impressed by the speed of this electric model. It's clear that Makita has put thought into the power delivery of this tool.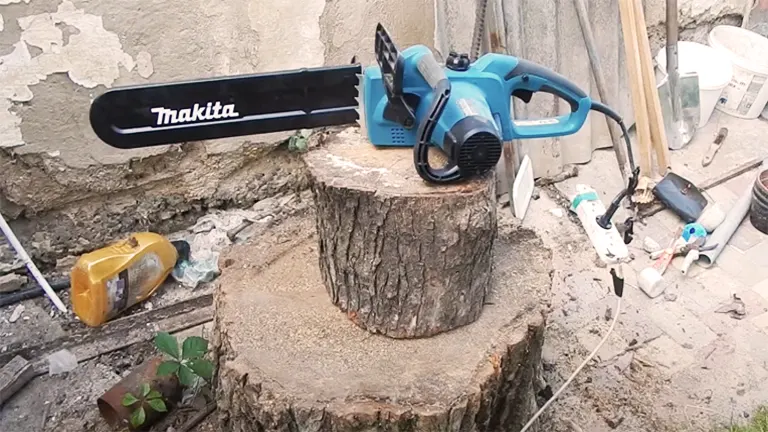 Design and Ease of Use
I was struck by its well-balanced and lightweight structure. Weighing in at approximately 4.7 kg, minus the cord, it felt comfortable and manageable in my hands. Even during prolonged periods of use, the chainsaw didn't strain my arms, and the rubberized grip provided a secure and comfortable hold.
Operating the chainsaw, even with my thickest work gloves on, was surprisingly easy. The large trigger switch was accessible and responsive, contributing to a smooth user experience.
Perhaps one of the most impressive features for me was the tool-less blade change and chain adjustment. As someone who values efficiency, this feature was a game-changer. The ability to quickly adjust the chain or swap out the blade without needing to fumble for extra tools saved me significant time and effort during my testing. It's clear that Makita has prioritized user convenience and efficiency in the design of the UC4041A/2. You can watch this awesome unboxing video by "Roka Wood"
Safety Features
As someone who values safety in all my tools, I was genuinely impressed with Makita's commitment to user safety in the UC4041A/2 model. My first experience with the chainsaw immediately highlighted the presence of the mechanical chain brake and kickback brake. These features offered an added sense of security while operating, assuring me that in the event of any unforeseen issues, the chainsaw was designed to react quickly to prevent accidents.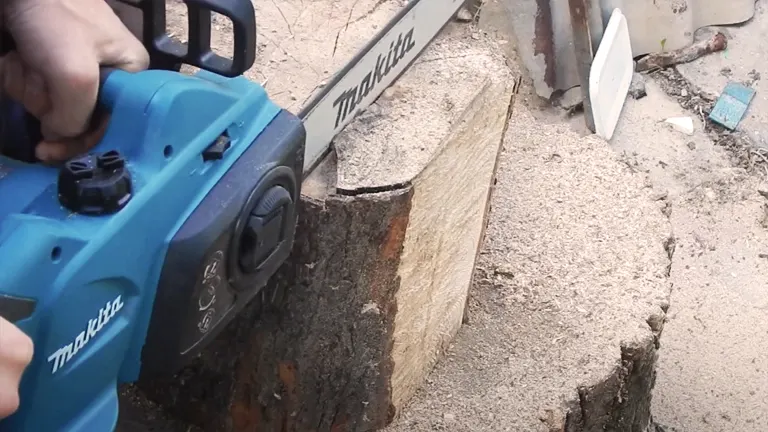 What I also found handy was the chain oil level window. It was a simple yet effective feature that allowed me to easily keep an eye on the oil level, ensuring that the chain was well-lubricated for optimal performance. This not only aids in maintaining the chainsaw's performance but also contributes to its longevity, further emphasizing Makita's focus on user safety and product durability.
Comparison with Other Chainsaws
In comparison to other electric chainsaws, such as the Bosch AKE 40-19 S and the Black & Decker CS2245, the Makita UC4041A/2 holds its own. While all these models provide similar power, the Makita model stood out for me due to its lightweight design and ease of use. Additionally, Makita's safety features are more robust, which is a key factor for any chainsaw user.
| Feature | Makita UC4041A/2 | Bosch AKE 40-19 S | Black & Decker CS2245 |
| --- | --- | --- | --- |
| Power | 240V | 240V | 2200W |
| Weight | 4.7 kg (without cord) | 4.5 kg | 5.12 kg |
| User-Friendly Design | Rubberized grip, well-balanced, large trigger switch | Ergonomic handle, balanced design | Full wrap-around handle, balanced design |
| Safety Features | Mechanical chain brake, kickback brake, chain oil level window | Rapid-reaction kickback brake | Chain brake, low kickback chain |
| Ease of Use | Tool-less blade change and chain adjustment | SDS system for tool-free chain changing and tensioning | Tool-free chain tensioning |
| Cutting Speed | Efficient (cuts a 30cm diameter log in around 20 seconds) | Fast (manufacturer does not provide specific times) | Fast (manufacturer does not provide specific times) |
From my personal experience, while all three chainsaws have their own strengths and comparable features, the Makita UC4041A/2 stood out for its user-friendly design, robust safety features, and tool-less blade change and chain adjustment. It's evident that Makita has made a concerted effort to ensure ease of use, safety, and efficient performance, making the UC4041A/2 a great choice for both beginners and seasoned chainsaw users.
Pros and Cons
Pros:
Consistent Power Output: The 240V motor provides steady power, allowing for efficient and consistent cutting.
Lightweight Design: Weighing around 4.7 kg without the cord, it's easy to handle and maneuver.
User-friendly Design: The chainsaw is well-balanced and features a rubberized grip for added comfort.
Tool-less Blade Change and Chain Adjustment: This feature makes maintenance quick and easy, saving time and effort during operation.
Robust Safety Features: The mechanical chain brake and kickback brake provide an additional layer of safety.
Chain Oil Level Window: This handy feature makes it easy to monitor chain oil levels, ensuring optimal performance.
Large Trigger Switch: Even with thick gloves on, the operation is seamless thanks to this feature.
Cons:
Less Powerful Than Petrol Chainsaws: While it handles most tasks efficiently, it's less powerful compared to petrol chainsaws.
Dependent on Power Outlet: Being an electric chainsaw, it requires a power outlet for operation, which can limit mobility.
Cord Management: Dealing with the power cord can be a bit of a hassle and could potentially limit the range of movement.
Not Ideal for Heavy-Duty Tasks: For larger, more intensive cutting tasks, a more powerful chainsaw might be necessary.
Noise Level: While quieter than a petrol chainsaw, it can still be relatively loud, which may be a concern in noise-sensitive areas.
Chain Tensioning: Although it has a toolless chain adjustment feature, some users might find the need for frequent chain tensioning a bit inconvenient.
Plastic Construction: Some parts of the chainsaw are made of plastic, which might raise durability concerns over extended use.
Verdict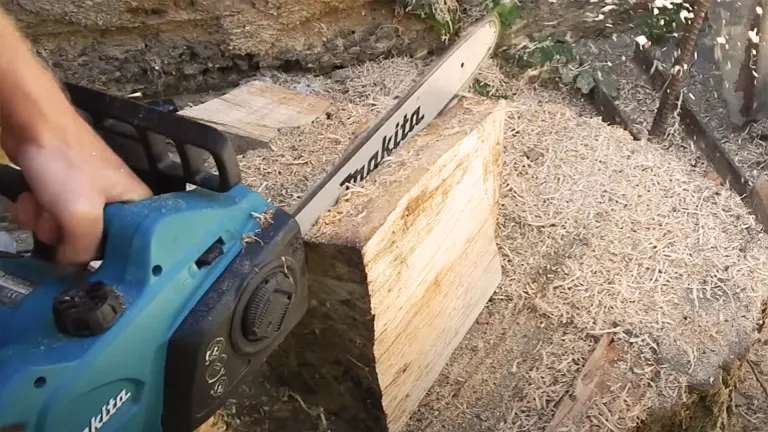 In conclusion, the Makita UC4041A/2 240V 40cm Electric Chainsaw is a stellar choice for anyone in need of a reliable, user-friendly, and efficient chainsaw. It strikes a perfect balance between power and usability, making it ideal for a range of cutting tasks.
Not only does it perform impressively with its 240V motor, but it also shines in its design and functionality. From its lightweight, well-balanced build to its rubberized grip, it assures comfort during use and reduces fatigue. The toolless blade change and chain adjustment are standout features, making maintenance hassle-free and efficient.
Safety, a critical aspect of any chainsaw, is another area where Makita excels. The mechanical chain brake and kickback brake, coupled with the chain oil level window, add layers of safety and convenience.
In essence, if you're in the market for an electric chainsaw that offers consistent power, user-centric design, robust safety features, and easy maintenance, the Makita UC4041A/2 240V 40cm Electric Chainsaw is worth considering. It's a testament to Makita's reputation for producing quality tools and is a fine addition to any toolkit.
Recent Posts