Makita XCU04CM 36V Chainsaw Review [2023]
There's a certain thrill in finding a tool that just 'fits'. That's exactly how I felt when I first picked up the Makita XCU04CM 36V. I've been putting this chainsaw through its paces for a while now, and I'm eager to share the insights and observations I've garnered from my time with this hardy piece of machinery.
Product Specification
Battery voltage: 36V
Battery type: Lithium-ion
Bar length: 16 inches
Chain speed: 3,940 feet per minute (FPM)
Chain pitch: 3/8 inch
Chain gauge: 0.043 inch
Oil tank capacity: 200 ml
Weight (with battery): 11.7 pounds
Sound pressure level: 88 dB(A)
Sound power level: 100 dB(A)
Vibration level: 2.5 m/s²
Chain brake: Yes (mechanical)
Kickback brake: Yes (inertia-activated)
Automatic oiling system: Yes
Tool-less chain adjustment: Yes
Performance and User Perspective
My first encounter with this chainsaw left a strong impression. The sturdy, professional feel of the Makita XCU04CM, combined with its 16″ bar length, was just right in my hands. Perfectly balanced, it handled medium-duty tasks with ease, be it trimming the branches of an old oak or tackling stubborn hickory.
But let's get down to the nitty-gritty – the performance. This chainsaw runs on two 18V LXT® lithium-ion batteries, delivering a combined 36V of power that keeps it humming for about an hour of continuous use. Now, that might not sound like much, but in the world of cordless chainsaws, it's an endurance run. It's got a Makita-built outer rotor BL™ Brushless Motor direct-drive system that gives you the kind of power you'd expect from a 32cc gas chainsaw.
The power is there, and so is the portability. The freedom to roam away from a power source without sacrificing performance sets it apart from the competition. It's a game-changer, and it sure makes a difference when you're out there wrestling with nature. Here's the video of Makita XCU04CM 36V ChainsawReview by "Tool Show"
Why you should buy Makita XCU04CM 36V Chainsaw?
Power and Efficiency – The 36V LXT system delivers power equivalent to a 32cc gas chainsaw. The brushless motor provides high power efficiency equivalent to a gas chainsaw but without the hassles of dealing with gas or oil.
Long Battery Life – Running on two 18V LXT Lithium-Ion batteries, this chainsaw provides extended run time. The kit includes four 4.0Ah batteries, so you can always have a spare pair charged and ready to go.
Top Handle Design – The top handle design offers improved balance and ease of use, which is especially beneficial for climbing or overhead use.
Tool-less Chain Adjustment – The tool-less chain adjustment allows for convenient operation and maintenance, saving time and effort.
Built-in Lock-Off Lever – This feature helps prevent the chain from accidentally engaging, enhancing safety.
Front Hand Guard – The front hand guard is designed to actuate the chain brake when engaged, providing additional user safety.
Brushless Motor – Brushless motors run cooler and more efficiently for longer life, which means less wear and tear on your tool.
Quiet Operation – At just 100dB(A), it's quieter than many gas-powered models, making it more comfortable to use for extended periods and less likely to disturb your neighbors.
Zero Emissions – As a battery-powered chainsaw, the XCU04CM produces zero emissions, making it a more environmentally friendly choice.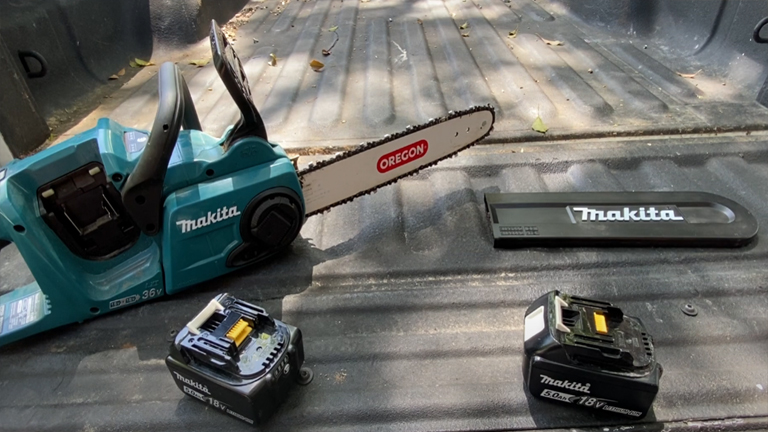 Evolution and Improvements
I've seen Makita tools evolve over the years, and the XCU04CM is no exception. It's apparent that Makita has taken note of user feedback and made some noteworthy improvements. The brushless motor provides more power and longer run time, and it requires less maintenance compared to brushed counterparts.
The tool-less chain adjustment and improved dust and water resistance (thanks to the Extreme Protection Technology (XPT™)) are clear signs that Makita is committed to making a chainsaw that's not just powerful, but user-friendly and durable too.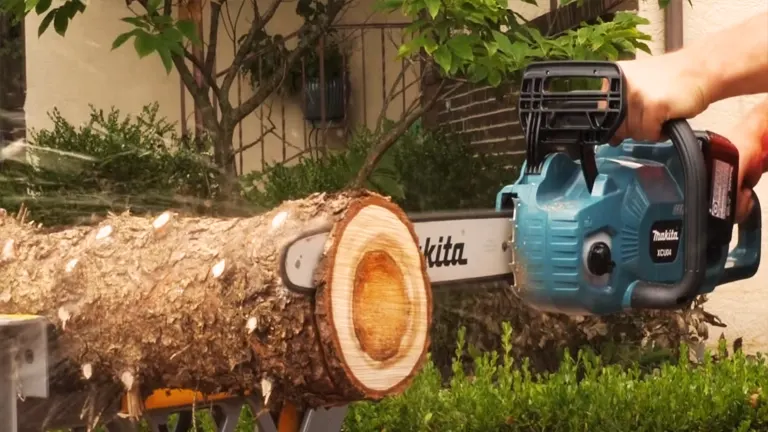 Decision-making Factors
When you're out in the field, a chainsaw needs to be reliable, efficient, and have enough power to get the job done. On these fronts, the Makita XCU04CM delivers. The tool-less chain adjustment makes for easy operation and maintenance. The power and run time, thanks to the dual batteries, meaning you can work longer without worrying about running out of juice. And finally, the build quality and water and dust resistance mean it can stand up to the rigors of outdoor work.
Conclusion
This chainsaw features a brushless motor that delivers the equivalent power to a 32cc gas chainsaw. With a 16″ guide bar and a chain speed of 3,940 FPM (Feet Per Minute), it offers fast cutting and efficient operation. The toolless chain adjustment provides convenient operation and maintenance, which is a significant advantage for both professional and residential users.
Another key feature is its BL Brushless motor, which is electronically controlled to optimize battery energy use for up to 50% longer run time per charge. It also uses Makita's innovative Extreme Protection Technology (XPT™), which is engineered for improved dust and water resistance for operation in harsh conditions.
In terms of battery power, it's equipped with two 18V LXT Lithium-Ion batteries for maximum power and run time, but without leaving the 18V LXT platform. Makita's 18V Lithium-Ion batteries have fast charge times, so they spend more time working and less time sitting on the charger.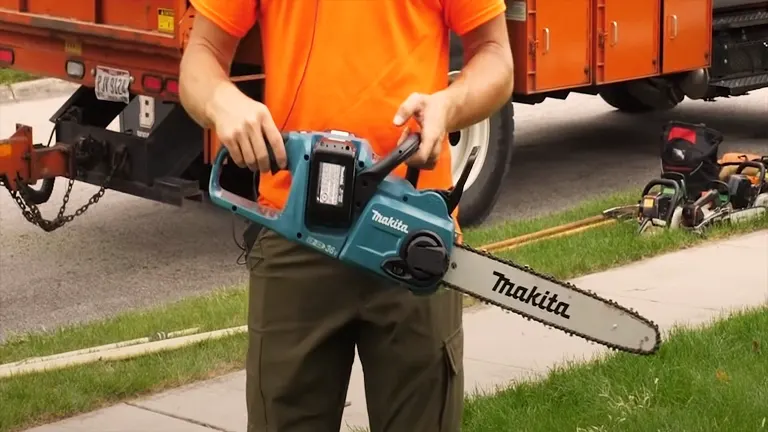 However, as with any power tool, whether it's the "best" for you depends on your specific needs and preferences. If you're looking for a cordless chainsaw that is powerful, relatively lightweight and has a long run time, the Makita XCU04CM is a strong contender. However, other brands like DeWalt, Milwaukee, and Husqvarna also offer high-quality cordless chainsaws that might suit your needs better, depending on your specific requirements.
Remember to consider factors like power, battery life, weight, noise level, and price when making your decision. Additionally, you should also consider safety features like kickback protection and chain brakes.
As of my knowledge cutoff in September 2021, it's always a good idea to check for recent reviews and updates in technology before making a final decision.
Here's a buyer's guide for the Makita XCU04CM 36V Chainsaw:
Power: The Makita XCU04CM is a battery-powered chainsaw, and its power output is measured in volts (V). It has a 36V battery, which provides enough power to handle most cutting tasks. However, if you have very large trees or tough branches to cut, you may want to consider a gas-powered chainsaw instead.
Bar length: The bar length is part of the chainsaw that actually cuts through the wood. The Makita XCU04CM has a 16-inch bar, which is suitable for most cutting tasks. If you need to cut larger trees or thicker branches, you may want to consider a chainsaw with a longer bar length.
Chain speed: The chain speed is measured in feet per second (FPS) and refers to how quickly the chain rotates around the bar. The Makita XCU04CM has a chain speed of 3,940 FPS, which is relatively fast and allows for efficient cutting.
Weight: The weight of the chainsaw is an important consideration, especially if you will be using it for extended periods. The Makita XCU04CM weighs 11.7 pounds with the battery installed, which is relatively lightweight compared to other chainsaws in its class.
Safety features: Chainsaws can be dangerous tools, so it's important to choose one with good safety features. The Makita XCU04CM has a built-in chain brake that stops the chain from rotating in the event of kickback. It also has a safety switch that prevents accidental startups.
Maintenance: Like all chainsaws, the Makita XCU04CM requires regular maintenance to keep it running smoothly. Make sure you choose a chainsaw with easy-to-access components, such as the air filter and spark plug, for easy maintenance. The Makita XCU04CM has a toolless chain tensioning system, which makes it easy to adjust the chain without any tools.
Price: The Makita XCU04CM is a high-end chainsaw, and its price reflects that. However, it's important to consider the long-term value of a chainsaw when making a purchase. A well-built and well-maintained chainsaw can last for many years, making it a good investment in the long run.
Buy your own: MAKITA XC04CM on Amazon
Buy your own: MAKITA XC04CM on Ace Hardware
HAPPY CUTTING!
Recent Posts