STIHL RM3 PRO Chain Review
Stihl will also release an RM3 PRO chain with reduced jolting tendencies and low vibrations, which usually entails a small reduction in capacity. None of this is new, Stihl has operated like this before and chains with "3" at the end are offered to customers who may not desire optimal cutting ability over a relatively non-aggressive chain that is easy to use and without surprises.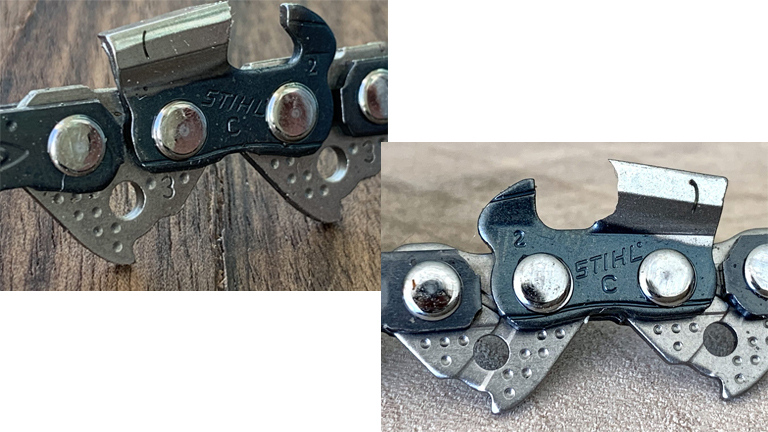 STIHL is a renowned brand for outdoor power equipment, including chainsaws and their components. Chains are a critical part of a chainsaw's performance and safety. They must be sharp, durable, and well-maintained to ensure efficient and safe operation.
The "PRO" designation in the product name suggests that this chain is designed for professional use or for users who demand high performance. This often implies that the chain is designed to be durable and perform well under heavy use.
STIHL chains are generally well-regarded for their quality and performance. They are known for their durability, sharpness, and the ease of finding replacements. They are designed to work seamlessly with STIHL chainsaws, which can result in better performance and longer lifespan.
However, without specific details or reviews on the STIHL RM3 PRO Chain, I would recommend researching the product further, checking user reviews, and comparing it to other chains that fit your specific needs and chainsaw model. Always consider your specific cutting requirements, the type of wood you're usually cutting, and your chainsaw's compatibility when choosing a chainsaw chain.
A new system with the PRO chain.
Stihl has introduced a new cutting system featuring a chain with a 0.325" pitch, which they call the PRO chain, along with a new sword called Light04. While the .325" chain with a 1.3 mm gauge isn't exactly new, the PRO chain is generating excitement and competition against other chains like the Husqvarna SP33g X-cut and the Oregon SpeedCut 95TXL, both of which are .325 with a 1.3 mm gauge.
According to Stihl, the newly developed PRO chain is designed primarily for use with the 50cc MS 261 and MS 271 saws, but it can be used with chainsaws that have power levels ranging between 2.2 and 3.0 kW. Like its competitors, the chain should be filed with a 4.8 mm round file, which is different from the Picco ⅜ that requires a 4.0 mm round file.
In Stihl's own tests, the new PRO chain has proven to be 20% more efficient at cutting upper directional cuts and up to 15% more efficient on ordinary cutting, compared to the previous RS .325. The lengths include 14", 16", and 18" with 60, 67, and 74 drive links on the chain, as well as a 20" option. While Stihl already offers 13" and 15" options, they will be phased out in favor of 14" length, and spare parts for the 13" and 15" systems will be available until 2024.
It's unclear whether Stihl plans to offer complete PRO chains with other lengths in the future. All PRO chains will be pre-stretched in the factory to reduce the tension of the new chain.
Decreased cutting width.
The new PRO chains from Stihl will leave a narrower track after cutting compared to the older chains. Stihl claims that the PRO chain will have a cutting width of 6.8 mm, which is slightly smaller than their Picco ⅜ chain with a width of 6.7 mm. Although Stihl is unable to achieve a smaller cutting width than the Picco chain, the difference from the older chain is significant, as it had a cutting width of 7.7 mm. We have done some initial testing ourselves and found the cutting width to be very good. We will conduct more detailed tests to compare the different chain types and analyze the differences. Reducing the cutting width is an important aspect as it can save power and fuel consumption.
Initial test of the RS/RM PRO.
We've been given the chance to try out the new Light04 system with PRO chains on an MS 261 saw in forestry. While we haven't conducted extensive testing yet, our initial impressions of the PRO chains are positive. As expected, the RS chain is more aggressive and better suited for fast work, while the RM chain is gentler and works well for cutting and removing twigs. Both have impressive cutting capacities and are comparable to Stihl's Picco ⅜ chain.
Overall, the system feels great – the sword is light, narrow, stable, and stiff, and the PRO chains are a pleasure to use. We're eager to conduct more tests and discuss the system with other users once it hits the market in February 2020.