Wood-Mizer LT15 Review: Tested by Forestry.com
I found this sawmill to be a highly versatile and easy-to-use option that strikes a great balance between performance, dependability, and affordability. In this review, I'll be sharing my thoughts on what sets the LT15 apart from other sawmills on the market, as well as outlining both its pros and cons. Plus, I'll offer my firsthand observations on how the sawmill performed based on my own experience using it.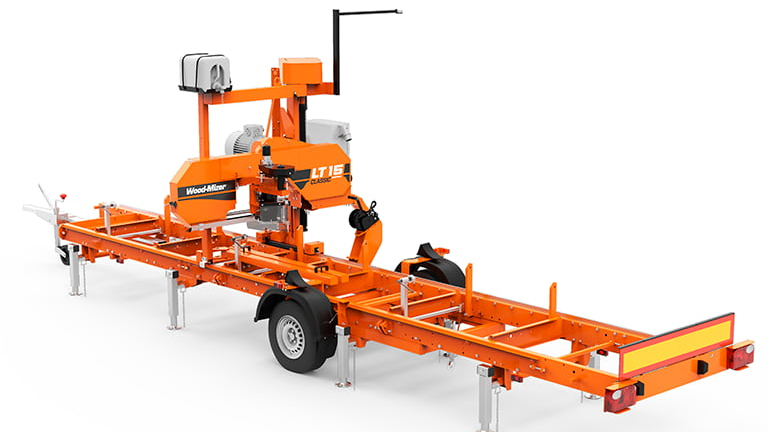 Performance and Features
The Wood-Mizer LT15 is designed for sawyers looking to maximize productivity and minimize setup time. It is capable of handling logs up to 28 inches in diameter and 17 feet 8 inches in length, making it suitable for a wide range of projects. With a reliable and powerful engine, the LT15 can easily tackle various wood species without compromising performance.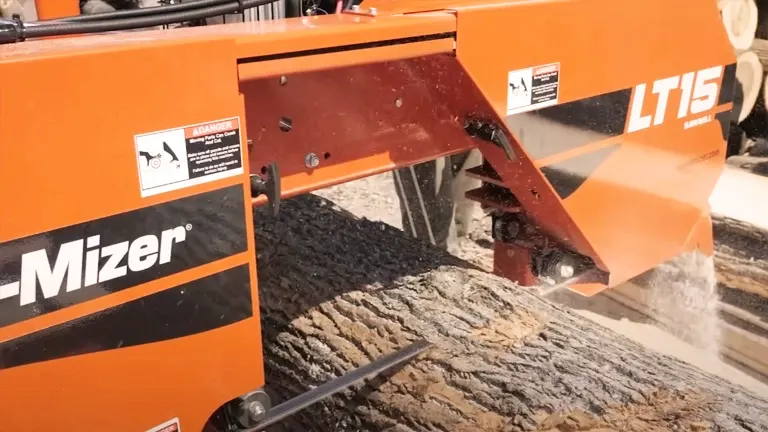 One feature that sets the LT15 apart from its competitors is its patented auto-locking sawhead, which ensures accurate cuts and reduces errors. The adjustable blade guide arm and easy-to-use controls make operating the LT15 a breeze, even for novice users.
Comparisons and Alternatives
The LT15's closest competitors include the Norwood LumberMate LM29 and the Hud-Son Hunter. While the Norwood LumberMate LM29 has a slightly larger log capacity at 29 inches in diameter, it comes at a higher price point. On the other hand, the Hud-Son Hunter is more budget-friendly but is designed for smaller projects with a maximum log capacity of 21 inches in diameter.
In my experience, the Wood-Mizer LT15 strikes the perfect balance between performance and affordability, making it an excellent choice for sawyers of all levels.
Benefits and Drawbacks
The Wood-Mizer LT15 offers several key advantages, including its user-friendly design, adaptability, and efficient performance. This sawmill is a great choice for both experienced professionals and hobbyists because of its adjustable features and dependable operation.
Nevertheless, there are a few downsides to keep in mind. The LT15 may not be suitable for processing extremely large logs or for heavy-duty usage, which may be a limiting factor in some cases. Additionally, while the LT15's price is competitive, it may not be an affordable option for some users who are on a tight budget.
Benefits
Drawbacks
Can handle logs up to 28 inches in diameter and 17 feet in length
Requires a flat, stable surface for setup
Portable and easy to assemble and disassemble
A manual winch system for log loading might be challenging for some
The gas-powered engine provides ample power for various cutting tasks
The initial investment might be considered for some
Straightforward operation, accessible for beginners
Excellent customer support and readily available replacement parts from Wood-Mizer
Potential for significant cost savings over time by milling your own lumber
Expansion capabilities to handle longer logs if needed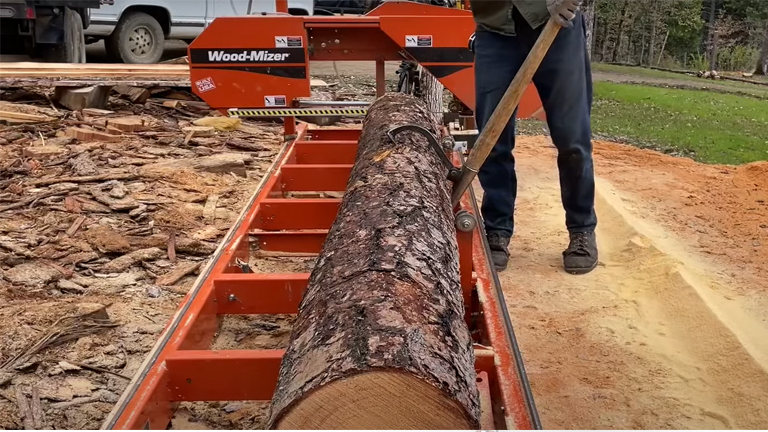 Evolution and Improvements
Throughout its history, Wood-Mizer has shown a commitment to constant innovation and refinement of its portable sawmill line. The evolution of the LT15 sawmill is a testament to this dedication, incorporating user feedback and technological advancements to improve its performance and user experience.
One of the key enhancements in the LT15 sawmill is the introduction of an auto-locking saw head. This feature simplifies the process of adjusting the height, ensuring consistent, accurate cuts every time. It's a significant upgrade that speaks to Wood-Mizer's understanding of user needs and industry demands.
Another noteworthy improvement is the adjustable blade guide arm. This feature allows for more precise control over the sawmill's operation, leading to improved accuracy and flexibility. It's an upgrade that underscores Wood-Mizer's commitment to providing versatile tools that can handle a variety of tasks.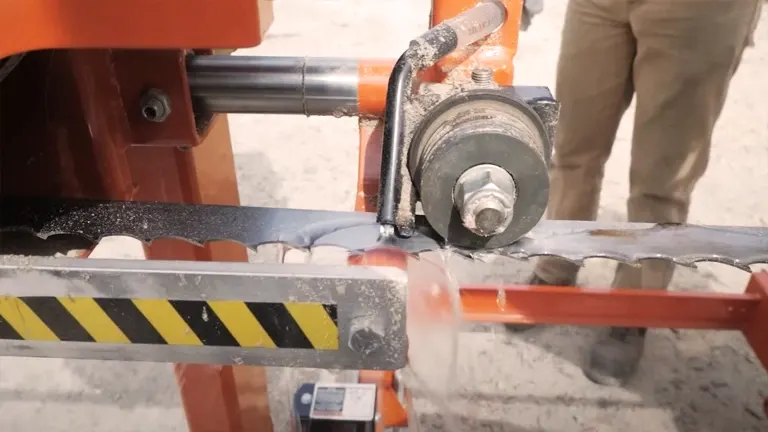 Moreover, the overall ease of use of the LT15 has been a focal point of its evolution. From its assembly to its operation, every aspect of the sawmill has been designed with user-friendliness in mind. This focus on simplicity without compromising performance has played a significant role in LT15's enduring popularity among users.
In summary, the evolution and improvements of the Wood-Mizer LT15 sawmill showcase the company's dedication to continuous refinement. By addressing user feedback and integrating new features, Wood-Mizer has managed to create a sawmill that is not only efficient and reliable but also user-friendly. This commitment to innovation and improvement is what keeps Wood-Mizer at the forefront of the portable sawmill industry.
Key Design Choices
Wood-Mizer has focused on creating a portable sawmill that is both versatile and easy to use. The inclusion of features like the auto-locking saw head and adjustable blade guide arm demonstrates the company's commitment to user satisfaction. The design choices not only improve the LT15's performance but also make it accessible to users of varying skill levels.
Conclusion
Based on my experience, I believe the Wood-Mizer LT15 is an excellent portable sawmill that delivers reliable performance and ease of use. Its unique features, such as the auto-locking saw head and adjustable blade guide arm, set it apart from its competitors and make it a top choice for sawyers of all levels. While there are a few minor drawbacks, such as the manual winch system for log loading and the necessity of a flat, stable space for setup, these are far outweighed by its benefits. The LT15's ability to handle sizable logs, its portability, and its expansion capabilities make it a worthy investment for anyone serious about milling their own lumber.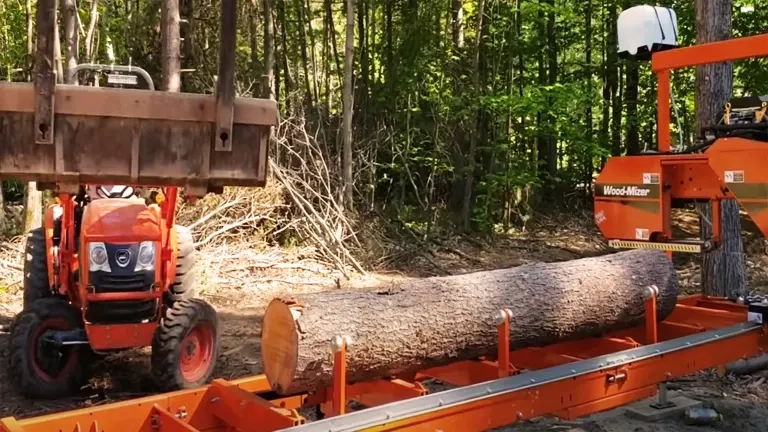 The gas-powered engine provides sufficient power for various cutting tasks, and the simplicity of its operations makes it accessible even for beginners. I also appreciate the excellent customer support and readily available replacement parts from Wood-Mizer, which add to the overall positive ownership experience.
Additionally, the potential for cost savings over time by milling your own lumber is a significant advantage. While the initial investment might seem hefty, the LT15's durability and performance make it a cost-effective choice in the long run.
In conclusion, the Wood-Mizer LT15 portable sawmill is a tool that, in my experience, delivers on its promises. Whether you're a professional sawyer or a hobbyist woodworker, the LT15 provides a combination of reliability, efficiency, and ease of use that's hard to beat.
Buyer's Guide
When it comes to portable sawmills, the Wood-Mizer LT15 stands out as an exceptional choice. This compact yet powerful mill is an investment that can turn logs into valuable lumber, ideal for small businesses and personal woodworking projects. Here's a unique buyer's guide to help you determine if the Wood-Mizer LT15 is the right fit for you:
Your Needs: The LT15 is a versatile mill that can handle logs up to 28 inches in diameter and 17 feet in length. If you're regularly dealing with logs of this size and plan to produce lumber for small to medium projects, the LT15 could be a perfect fit.
Space and Portability: Consider your workspace. The LT15, while portable, still requires a reasonable area for setup and operation. Ensure you have a flat, stable surface that can accommodate its size. It is also designed to be easy to assemble and disassemble, making it perfect for those needing to transport their mill to different locations.
Power Source: The LT15 comes with a gas-powered engine, which delivers ample power for all cutting tasks. If you're in a remote location without access to electricity, this gas-powered mill could be a great advantage.
Cutting Capabilities: With a maximum log diameter of 28 inches and maximum board width of 22 inches, the LT15 can handle a wide range of cutting tasks. It also features a manual winch for easy height adjustments, and the side supports help stabilize the log during the cutting process.
Ease of Use: Despite being a powerful machine, the LT15 is designed with simplicity in mind. Its operation is relatively straightforward, even for those who are new to using a sawmill.
Maintenance and Support: Wood-Mizer is known for its excellent customer support and service. When considering the LT15, factor in the availability of replacement parts and the level of after-sales support you'll receive.
Budget: While the LT15 is an investment, it's worth considering the potential return. By milling your own lumber, you can significantly reduce costs over time, making this a cost-effective solution for long-term use.
Future Needs: Consider your future needs as well. The LT15 is expandable, meaning you can add sections to the track to handle longer logs if needed. This could be a crucial factor if you anticipate your needs evolving over time.
The Wood-Mizer LT15 is a robust and reliable portable sawmill that combines power, portability, and precision into a compact package. It's an excellent choice for those looking to turn their logs into valuable lumber for personal or commercial use. As always, your individual needs and circumstances should guide your purchasing decision.
HAPPY SAWMILLING!
Recent Posts