Jacaranda Tree
The Jacaranda tree, known for its striking beauty and vibrant purple blossoms, is a beloved ornamental tree found in various parts of the world, particularly in tropical and subtropical regions. Its botanical name, Jacaranda mimosifolia, hints at its delicate, fern-like leaves that provide a stunning backdrop to the tree's star attraction – its profusion of lavender or violet-blue trumpet-shaped flowers.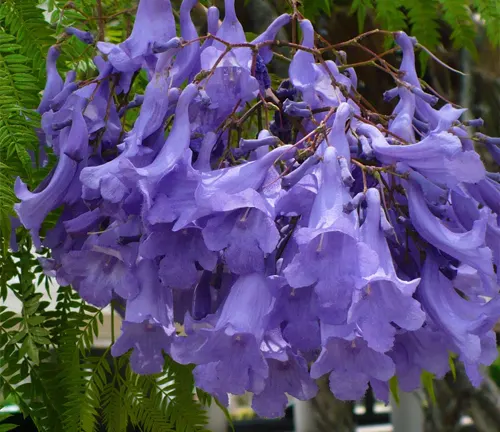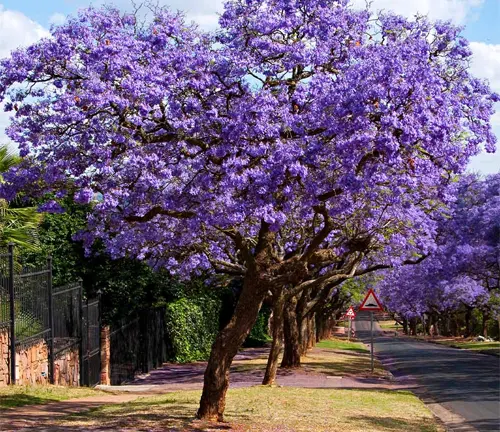 These blossoms typically grace the tree in spring or early summer, creating a breathtaking display of color that has earned it the nickname "purple haze" or "blue trumpet tree." The Jacaranda tree is often planted along streets, in parks, and in gardens, where its enchanting aesthetic qualities can be fully appreciated.
Native to South America, particularly Argentina and Uruguay, it has been introduced to various other parts of the world and has become a symbol of beauty and charm, making it a source of pride for many communities where it flourishes. Beyond its visual appeal, Jacaranda trees also provide shade and shelter for wildlife, making them a valued presence in urban and natural landscapes alike.
| | |
| --- | --- |
| Characteristics | Description |
| Scientific Name | Jacaranda mimosifolia |
| Common Names | acaranda, Blue Jacaranda, Blue Trumpet Tree, Purple Haze |
| Family | Bignoniaceae |
| Native Range | South America (Argentina and Uruguay) |
| Mature Height | 20-50 feet (6-15 meters) |
| Leaf Type | Deciduous, pinnately compound leaves with small, fern-like leaflets |
| Flower Color | Lavender or violet-blue trumpet-shaped flowers |
| Flowering Season | Spring to early summer |
| Foliage Color | Bright green |
| Growth Rate | Moderate |
| Preferred Climate | Tropical and subtropical regions |
| Soil Type | Well-drained soil |
| Sunlight Requirements | Full sun |
| Drought Tolerance | Moderate |
| Wildlife Benefits | Provides shade and shelter for birds and insects |
| Uses | Ornamental tree, often planted along streets and in parks and gardens |
Botanical Beauty of the "Jacaranda Tree"
The Jacaranda tree, scientifically known as Jacaranda mimosifolia, is an arboreal masterpiece that captivates with its botanical beauty. This species belongs to the Bignoniaceae family and is renowned for its striking appearance, particularly its elegant, fern-like leaves and the dazzling lavender or violet-blue trumpet-shaped flowers it bears. Native to South America, the Jacaranda tree has journeyed across the globe to enchant people with its visual allure. Its delicate foliage and stunning blossoms make it a cherished ornamental tree, earning it endearing nicknames such as "Blue Jacaranda" and "Purple Haze."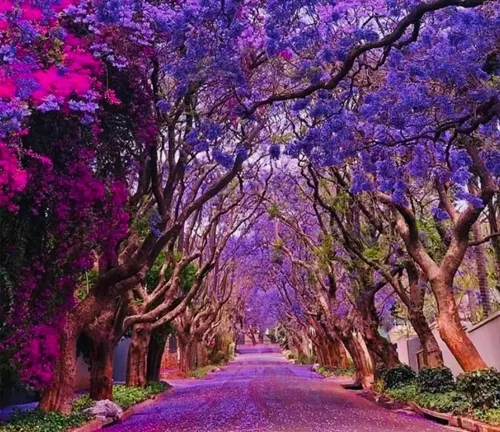 Woodland Elegance
One of the most captivating features of the Jacaranda tree is its woodland elegance. The tree's deciduous nature, with its pinnately compound leaves, imparts a touch of sophistication to any landscape. These small, fern-like leaflets form a lush canopy, providing welcome shade during the hot summer months. Moreover, the tree's magnificent flowers, which burst into bloom in spring or early summer, transform the environment into a dreamlike paradise. The sight of countless lavender or violet-blue blossoms against a backdrop of bright green leaves is nothing short of breathtaking.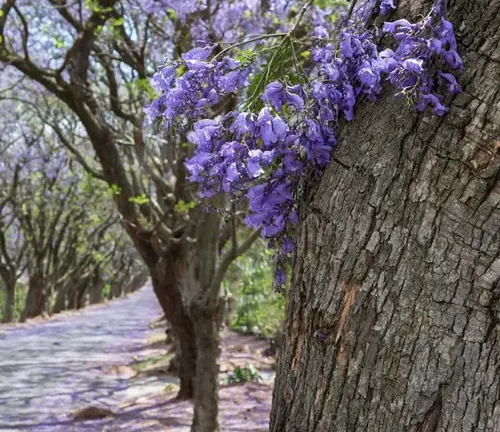 Ecological Importance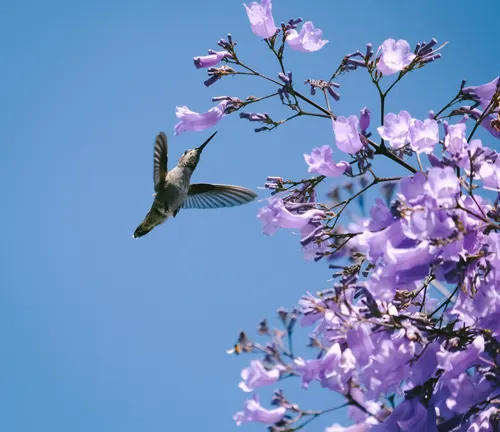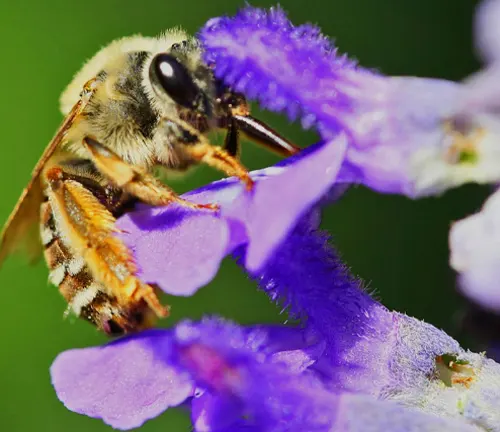 Beyond its aesthetic charm, the Jacaranda tree plays a significant role in the ecosystem. It offers valuable shelter and sustenance to wildlife, including birds and insects. The tree's branches provide perches for birds to rest and build nests, and its nectar-rich flowers attract pollinators like bees and butterflies. In this way, the Jacaranda tree contributes to the overall biodiversity of its surroundings and exemplifies nature's inter connected ness.
Cultivation and Conservation
Cultivating Jacaranda trees has become a popular horticultural practice in many regions around the world. Gardeners and landscapers cherish them for their beauty and adaptability. However, it's essential to conserve and protect these trees, especially in their native habitats, to ensure their continued presence. Initiatives focusing on conservation and responsible planting help preserve the natural beauty of the Jacaranda and its ecological importance.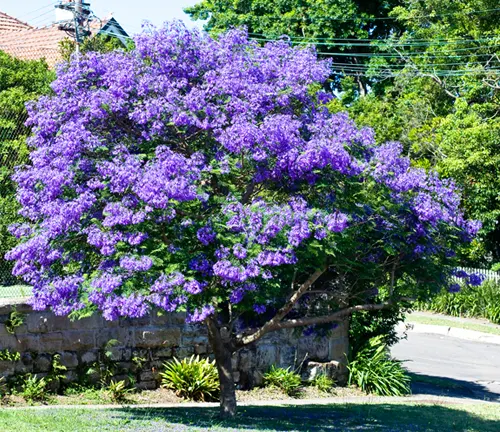 Fragrance
The Jacaranda tree not only delights the eyes but also enchants with its fragrance. The blossoms exude a subtle, sweet aroma that wafts through the air, creating a sensory experience that complements their visual appeal. This fragrant quality adds another layer of charm to these already enchanting trees.
Soil Stabilization
Aside from its visual and olfactory appeal, the Jacaranda tree also plays a role in soil stabilization. Its extensive root system helps prevent soil erosion, making it a valuable addition to landscapes, particularly in regions prone to heavy rainfall or erosion issues. By anchoring the soil, these trees contribute to the overall health of the environment.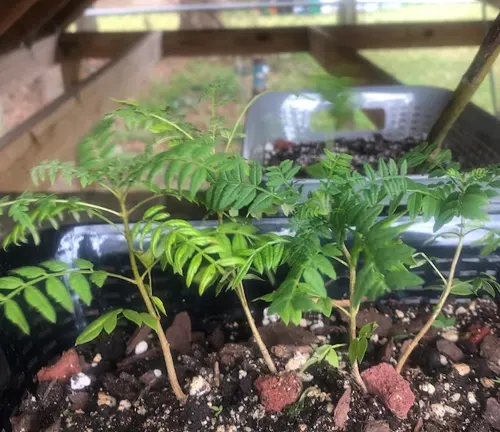 Common Uses
Jacaranda trees are commonly used for ornamental purposes. They grace urban streets, parks, and gardens with their vivid and picturesque presence. Their ability to thrive in tropical and subtropical climates makes them a popular choice for landscaping, where they bring joy and elegance to both public and private spaces. As they mature, they become emblematic landmarks in the communities they inhabit.
Benefits
The benefits of the Jacaranda tree are multifaceted. They offer visual delight, fragrant charm, and ecological importance. Beyond their ornamental value, they also provide habitat for wildlife, stabilize soil, and contribute to biodiversity. The cultivation and conservation of these trees ensure that their botanical beauty and ecological significance continue to enrich our lives and the environment. The Jacaranda tree stands as a testament to the harmonious relationship between nature and human appreciation, a testament to the enduring appeal of the natural world.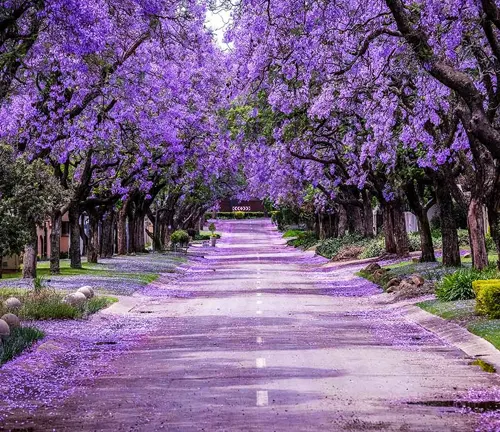 Different Species
Jacaranda mimosifolia
This is the most famous and commonly cultivated species, known for its stunning lavender to violet-blue flowers and fern-like leaves. It is native to South America, particularly Argentina and Uruguay.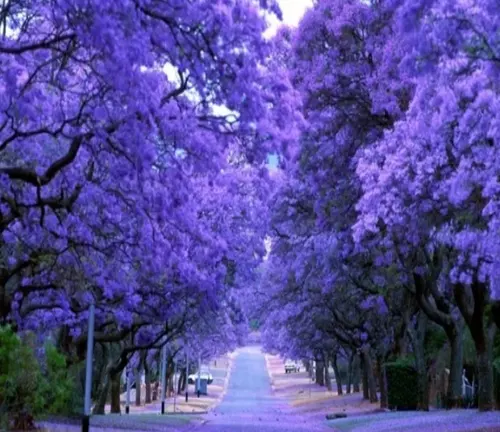 Jacaranda acutifolia
Also known as the Green Ebony tree, it is closely related to Jacaranda mimosifolia and shares similar characteristics. It has smaller leaflets and slightly smaller flowers, often with a lighter purple hue.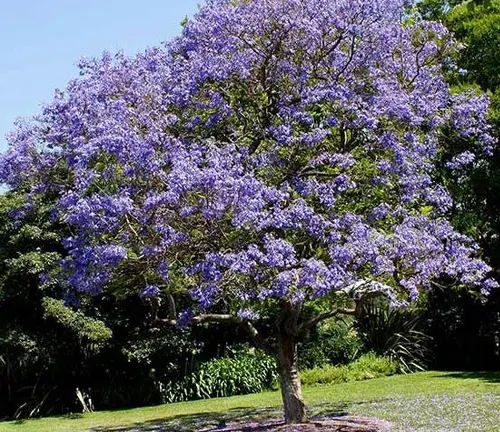 Jacaranda cuspidifolia
Native to Brazil, this species is characterized by its yellow or yellowish-white flowers, which distinguish it from the more common purple-flowered Jacaranda species.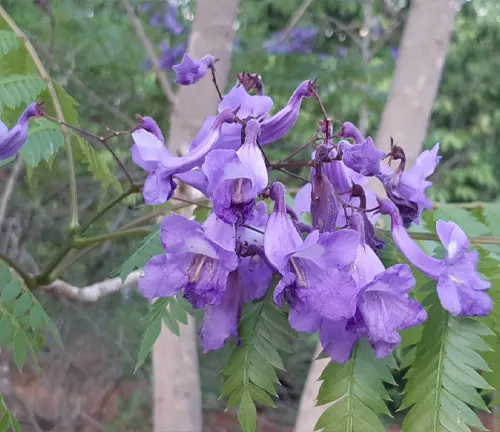 Jacaranda copaia
Found in Central America and parts of South America, this species has been used for timber production due to its strong and durable wood.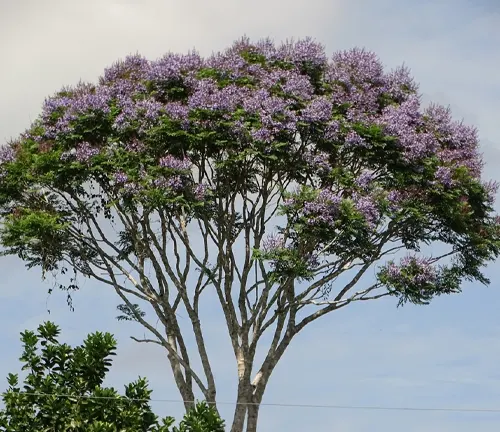 Jacaranda caerulea
Native to the highlands of Peru and Ecuador, this species features blue to violet-blue flowers and has been less commonly cultivated than Jacaranda mimosifolia.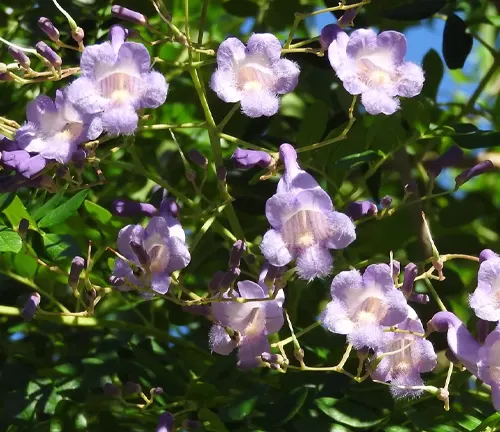 Jacaranda puberula
This species is found in various South American countries and is known for its hairy leaves and lavender-blue flowers. It's often used for ornamental purposes in regions where it is native.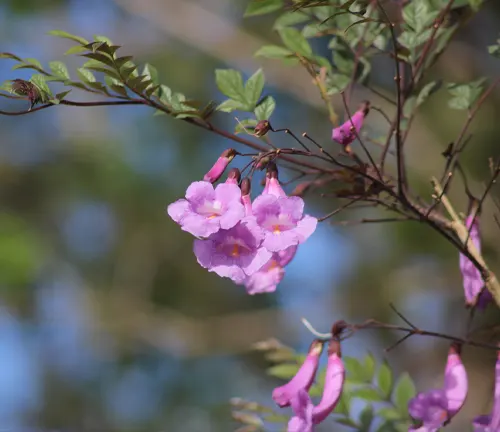 Jacaranda procera
Native to Madagascar, this tree is often referred to as the "Elephant Ear Tree" because of its large, round, and deeply lobed leaves. It produces pale blue to violet flowers and is primarily grown for its unique foliage.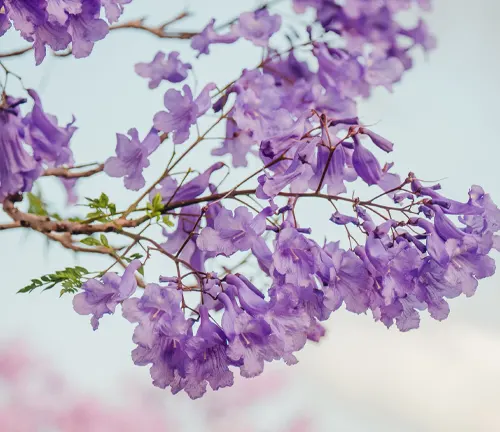 Jacaranda ovalifolia
Found in parts of South America, this species has oval-shaped leaflets and light purple-blue flowers.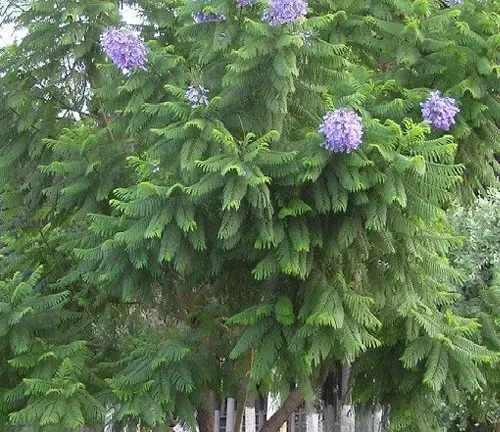 Frequently Asked Questions (FAQs)
What is a Jacaranda tree?
A Jacaranda tree is an ornamental tree known for its beautiful, lavender or violet-blue trumpet-shaped flowers and fern-like leaves. It is often grown for its aesthetic appeal.
Where are Jacaranda trees typically found?
Jacaranda trees are native to South America, particularly Argentina and Uruguay, but they are also cultivated in various parts of the world, especially in tropical and subtropical regions.
When do Jacaranda trees bloom?
Jacaranda trees typically bloom in spring or early summer, depending on the climate of their growing location. This is when they produce their iconic flowers.
What is the significance of Jacaranda trees in urban environments?
Jacaranda trees are often planted along streets, in parks, and in gardens to enhance the beauty of urban landscapes. They are appreciated for their vibrant colors and provide shade during hot seasons.
Are Jacaranda trees suitable for home gardens?
Yes, Jacaranda trees can be grown in home gardens in areas with the right climate. They make excellent ornamental trees, provided they have enough space to grow and receive adequate sunlight.
Do Jacaranda trees have a fragrance?
Yes, the blossoms of Jacaranda trees exude a subtle, sweet fragrance, adding to their overall charm.
How tall do Jacaranda trees typically grow?
Jacaranda trees can reach heights of 20 to 50 feet (6 to 15 meters) when fully mature, making them a medium-sized tree.
What type of soil do Jacaranda trees prefer?
Jacaranda trees thrive in well-drained soil and prefer full sun exposure. They are relatively drought-tolerant once established.
Do Jacaranda trees have any ecological importance?
Yes, Jacaranda trees provide habitat and food for wildlife, including birds and insects. Their roots also help stabilize soil and prevent erosion.
How can I care for a Jacaranda tree in my garden?
Proper care includes regular watering, pruning for shape and size control, and ensuring they receive enough sunlight. Consult with a local horticulturist or arborist for specific care guidelines in your region.
Are there different species of Jacaranda trees?
Yes, there are various species of Jacaranda trees with distinct characteristics. The most well-known is Jacaranda mimosifolia, but there are other species and related genera with varying flower colors and leaf structures.
Are Jacaranda trees protected or conserved in any way?
In some regions, there are conservation efforts to protect native Jacaranda species. It's important to support these initiatives and avoid harming or overharvesting Jacaranda trees in the wild.
Recent Posts