Wisteria Tree
The Wisteria Tree is a breathtaking and enchanting flowering plant known for its cascading clusters of fragrant, pendulous blossoms. It's not actually a tree but rather a woody vine that can be trained to grow in a tree-like form with a sturdy trunk.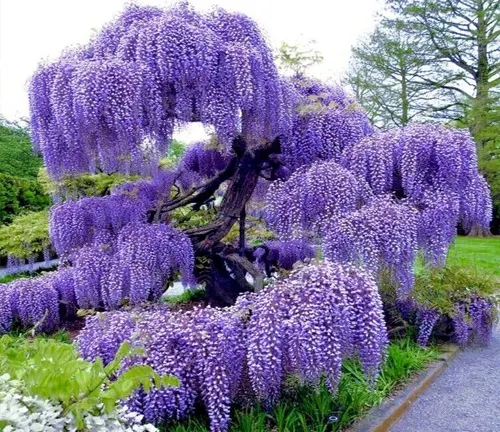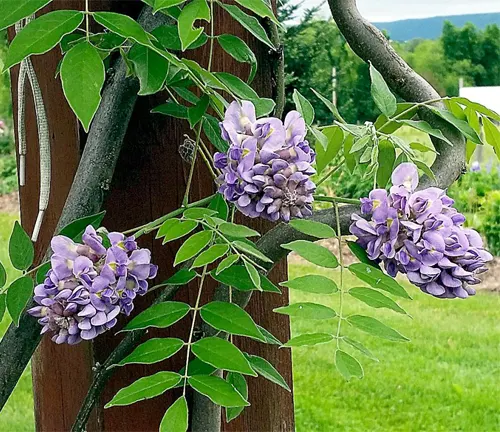 Wisteria belongs to the Fabaceae family and is native to China, Japan, and the eastern United States. Its stunning flowers come in a variety of colors, most commonly shades of purple, blue, and white, and they typically bloom in the spring or early summer.
Wisteria is celebrated for its romantic, ethereal appearance, making it a popular choice for arbors, pergolas, and garden trellises, where its vines create a dramatic, weeping effect. The sweet fragrance of wisteria flowers further adds to its allure, making it a favorite for gardens and landscapes. However, wisteria can be vigorous and sometimes invasive, so proper care and maintenance are essential to keep this captivating plant in check.
| | |
| --- | --- |
| Characteristics | Description |
| Scientific Name | Wisteria spp. |
| Common Names | Wisteria, Wisteria vine |
| Plant Type | Woody vine (trained to grow as a tree) |
| Family | Fabaceae (Legume family) |
| Native Range | China, Japan, eastern United States |
| Blooming Season | Spring to early summer |
| Flower Colors | Purple, blue, white (varies by species and cultivar) |
| Fragrance | Sweet and alluring |
| Growth Habit | Twining and climbing; can be trained to grow like a tree |
| Mature Height | Varies by species and pruning but can reach up to 30 feet (9 meters) or more |
| Leaves | Pinnately compound, with green, deciduous foliage |
| Sunlight | Full sun to light shade |
| Soil Type | Well-drained, moderately fertile soil |
| Maintenance | Pruning and regular care needed to manage growth |
| Use | Trellises, arbors, pergolas, and garden focal points |
| Special Notes | Wisteria can be invasive and may require periodic pruning to control its growth. It thrives in locations with proper support structures for its twining vines, and it is prized for its ornamental beauty and fragrance. |
Botanical Beauty of "Wisteria Tree"
Wisteria, a true botanical wonder, captivates all who encounter its enchanting beauty. This striking plant, often mistaken for a tree, belongs to the Fabaceae family and hails from China, Japan, and the eastern United States. While not a true tree, wisteria's climbing and twining nature can be trained to resemble one, creating a stunning focal point in gardens and landscapes. What truly sets wisteria apart is its resplendent clusters of pendulous blossoms that drape like nature's own chandeliers. These blooms come in a variety of hues, most notably shades of purple, blue, and white, casting a spell of ethereal charm over any environment.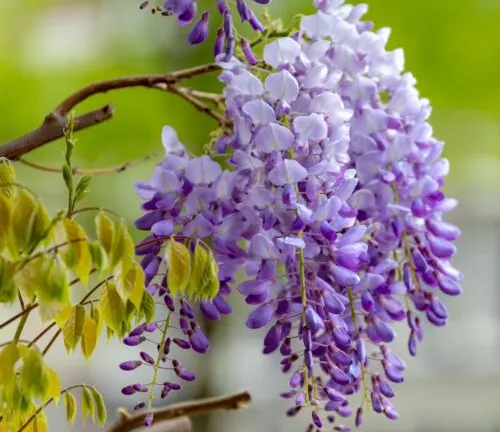 Woodland Elegance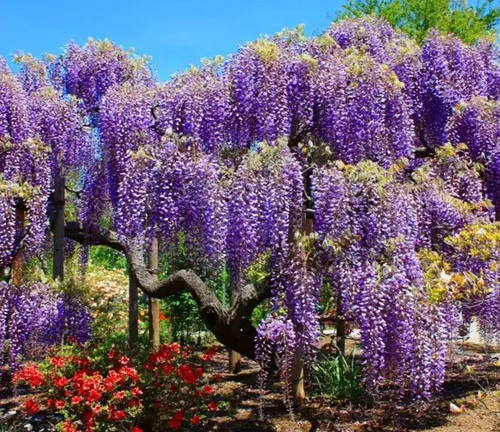 Wisteria epitomizes woodland elegance, with its graceful, cascading vines and abundant, fragrant flowers. The plant's leaves, pinnately compound and deciduous, provide a lush backdrop to its breathtaking blooms. Its beauty is further enhanced when wisteria is carefully pruned and trained to climb arbors, pergolas, and trellises, transforming these structures into living works of art. The wisteria's woody trunk and its ability to be shaped into a tree-like form add to its garden appeal, creating an inviting and dreamy atmosphere that beckons admirers to linger beneath its floral canopy.
Ecological Importance
Beyond its aesthetic allure, wisteria holds ecological significance. As a nectar source, it attracts pollinators such as bees and butterflies, supporting local ecosystems. Its rapid growth and dense foliage provide nesting opportunities for birds, contributing to avian biodiversity. In some regions, wisteria is considered invasive, displacing native vegetation, highlighting the need for responsible cultivation and maintenance practices.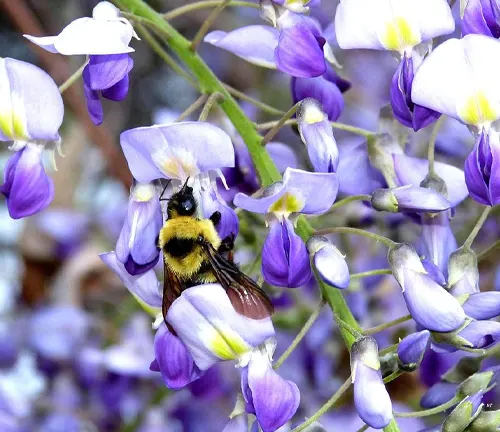 Cultivation and Conservation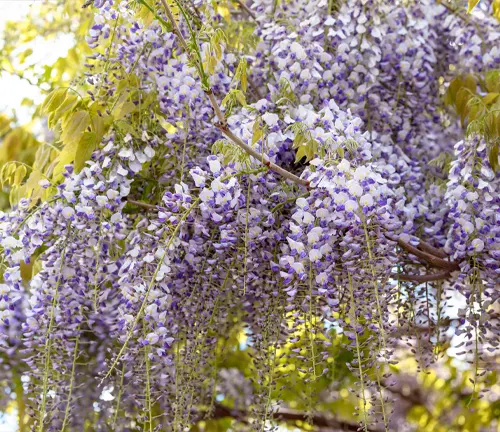 Cultivating wisteria requires attention and care, especially in managing its vigorous growth. Adequate support structures are essential to accommodate its twining vines and create the desired architectural effect. While wisteria is celebrated for its ornamental value, it is essential to be mindful of its invasive potential in non-native habitats, necessitating responsible management and conservation efforts to protect local flora.
Fragrance
One of the most enchanting aspects of wisteria is its fragrance. The sweet and captivating scent of wisteria blossoms adds a sensory dimension to its visual appeal. As the blossoms hang in clusters, a gentle breeze can carry their perfume throughout a garden, creating an intoxicating and romantic atmosphere.
Soil Stabilization
Wisteria's extensive root system aids in soil stabilization. Its robust growth helps prevent erosion, making it an ideal choice for landscaping projects in need of erosion control. This ecological service further underscores the plant's importance in maintaining a healthy and balanced environment.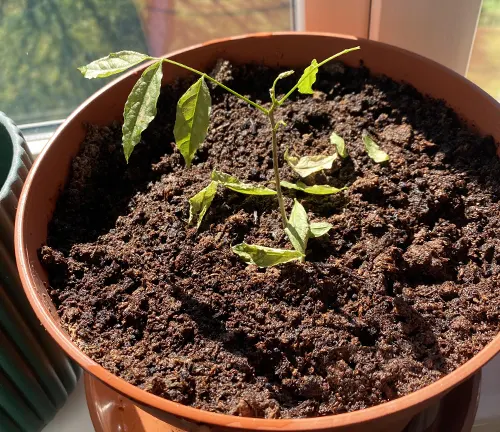 Common Uses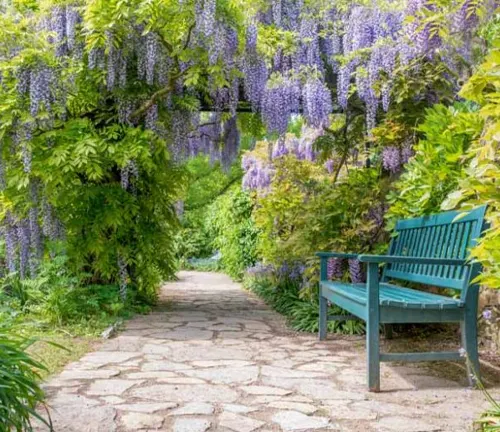 Wisteria is employed in various ways to enhance the beauty and functionality of outdoor spaces. Apart from its use in gardens and landscapes, wisteria is a favored choice for adorning fences, walls, and pergolas. In both residential and public settings, its graceful vines and vibrant flowers create inviting and memorable spaces for relaxation and leisure.
Benefits
The benefits of wisteria extend beyond its aesthetic contributions. Its ecological role as a pollinator attractant and soil stabilizer aligns with the principles of sustainable landscaping. By providing a haven for beneficial insects and birds, wisteria plays a part in nurturing local ecosystems. Its fragrance and visual appeal elevate the quality of outdoor spaces, promoting a sense of well-being and tranquility.
Different Species
Chinese Wisteria
(Wisteria sinensis)
Native to China, this species is one of the most popular wisterias in cultivation. It features long, pendulous clusters of fragrant flowers in shades of purple, blue, and white. Chinese wisteria is known for its vigorous growth and can reach impressive lengths.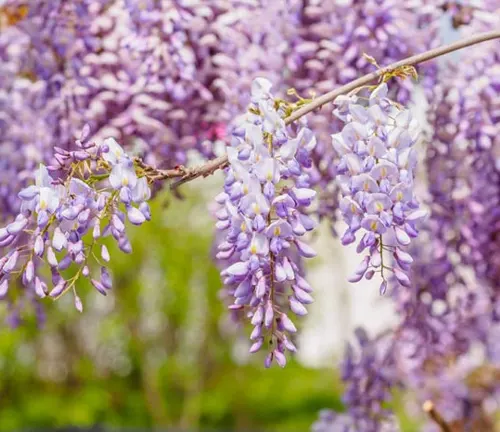 Japanese Wisteria
(Wisteria floribunda)
Hailing from Japan, this species is also widely grown for its stunning flower clusters. Japanese wisteria blooms in various colors, including lavender, blue, and white. Its flowers are generally shorter than those of Chinese wisteria, but they occur in more abundant clusters.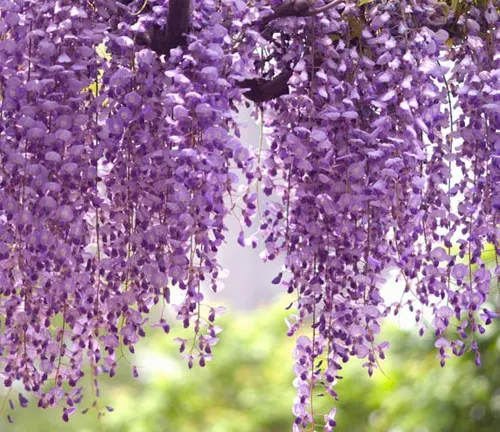 American Wisteria
(Wisteria frutescens)
This native species of the eastern United States is smaller and less aggressive than Chinese and Japanese wisterias. Its flowers are typically pale blue or violet, and it's appreciated for its adaptability to different growing conditions and its more restrained growth habit.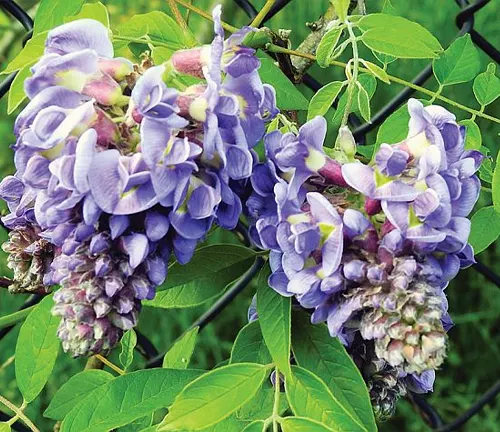 Silky Wisteria
(Wisteria venusta)
Native to the southeastern United States, silky wisteria is a less common species known for its silvery-haired leaves and pale blue to violet flowers. It's a smaller and more delicate wisteria compared to the Chinese and Japanese varieties.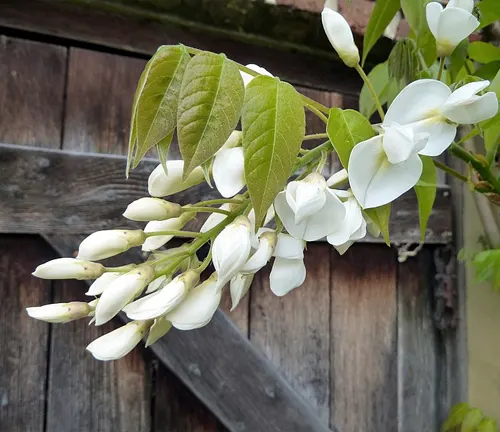 Kentucky Wisteria
(Wisteria macrostachya)
Another American native, Kentucky wisteria is often found in the southeastern United States. It produces fragrant, bluish-purple flowers in long racemes and is admired for its hardiness and adaptability to various growing conditions.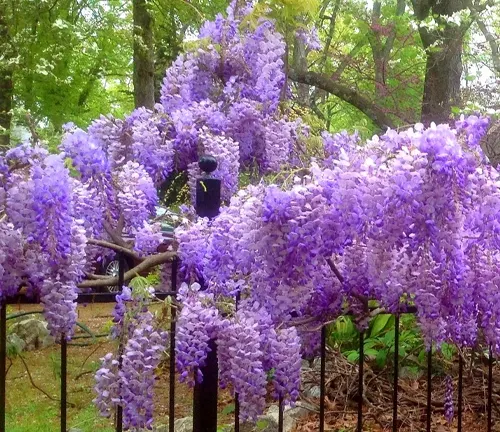 Blue Moon Wisteria
(Wisteria macrostachya 'Blue Moon')
This is a cultivar of the Kentucky wisteria. It's known for its exceptionally hardy and cold-tolerant nature. The 'Blue Moon' variety features fragrant, lavender-blue flowers and is a popular choice in colder regions.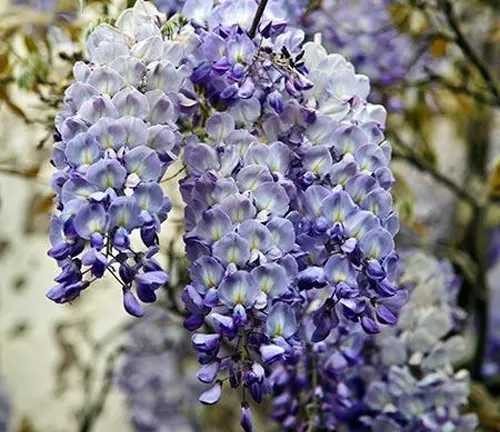 Black Dragon Wisteria
(Wisteria floribunda 'Kokuryu')
This cultivar of Japanese wisteria is famous for its deep purple, almost black, flowers. It's a striking and unique addition to wisteria collections, known for its intense color.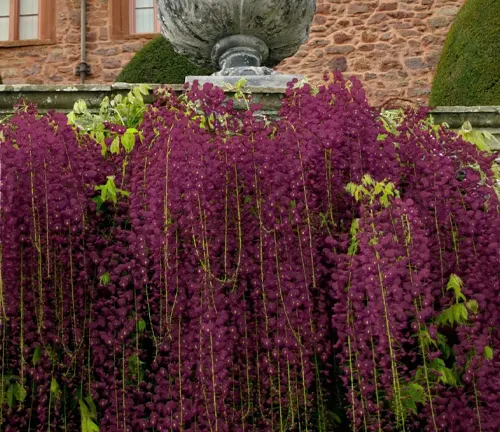 Alba
(Wisteria sinensis 'Alba')
Alba is a cultivar of Chinese wisteria, and as the name suggests, it produces pure white flowers. Its stark white blossoms provide a stark contrast to the more common violet and blue varieties.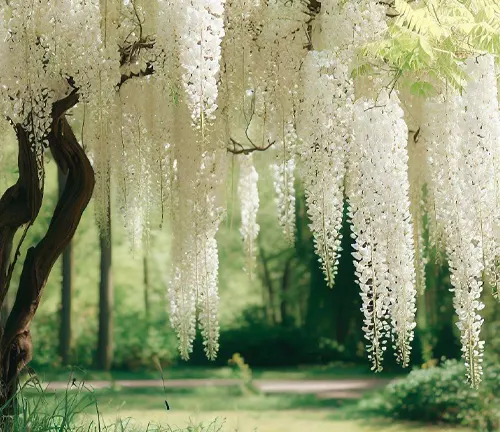 Frequently Asked Questions (FAQs)
What is a wisteria tree?
A wisteria tree is not actually a tree but a woody vine that can be trained to grow in a tree-like form. It belongs to the Fabaceae family and is known for its stunning, pendulous clusters of fragrant flowers.
Where is wisteria native to?
Wisteria is native to regions such as China, Japan, and the eastern United States. Different species can be found in these areas.
When does wisteria bloom?
Wisteria typically blooms in the spring to early summer, depending on the species and climate. The exact timing can vary.
What colors do wisteria flowers come in?
Wisteria flowers are most commonly seen in shades of purple, blue, and white. However, there are variations and cultivars that may have different colors.
Is wisteria fragrant?
Yes, wisteria is known for its sweet and captivating fragrance, making it a popular choice for gardens and landscapes.
How do you care for a wisteria tree?
Wisteria requires proper support structures like trellises, pruning to manage its vigorous growth, and well-drained, moderately fertile soil. It's essential to maintain and prune wisteria to keep it in check and ensure it thrives.
Can wisteria be invasive?
Yes, in some regions, wisteria can be invasive and displace native vegetation. It's crucial to manage its growth and be responsible when planting wisteria to prevent ecological disruption.
What is the ecological importance of wisteria?
Wisteria serves as a nectar source for pollinators like bees and butterflies and provides nesting opportunities for birds, contributing to local ecosystems.
How can wisteria be used in landscaping?
Wisteria is commonly used to enhance gardens, arbors, pergolas, and trellises. It can also be employed for soil stabilization and erosion control.
What are the benefits of planting wisteria?
Besides its aesthetic charm, wisteria contributes to the environment by supporting pollinators, stabilizing soil, and adding fragrance and tranquility to outdoor spaces. It can create a harmonious and inviting atmosphere.
Recent Posts