EGO Power+ CS1600 Review: My Journey with this Chainsaw
I've had the chance to try different chainsaws, each offering something distinct. Today, I'd like to share my experiences with a tool that has significantly impacted my work, the EGO Power+ CS1600. This isn't just another chainsaw, it's an instrument that has redefined my understanding of what such tools can offer. It's not about boasting professional expertise, but rather, it's about expressing genuine appreciation for a tool that has truly been transformative in the way I approach my tasks. This chainsaw, in essence, has brought a fresh perspective to my work.
Firstly, the 56V lithium-ion battery really stands out. It's not just about longevity; the power it delivers is truly impressive. Whether I was trimming small branches or sawing through larger logs, this chainsaw consistently held its own, offering robust and reliable performance.
The 16-inch bar length is a feature that offers a perfect blend of versatility and practicality. It's not too big to become cumbersome, but it's not too small to limit the scope of work. I've found it to be the ideal size for most of my cutting tasks.
The build quality of the EGO Power+ CS1600 is something that I truly admire. The feel of the chainsaw in my hands exudes durability and robustness, suggesting that it's built to last. This provides me with the confidence that it's a tool I can rely on for years to come.
One of my favorite features is the tool-less chain tensioning system. It's not just about the convenience of making quick adjustments on the fly, it's also about the ease with which it can be done. This feature has saved me a significant amount of time and hassle.
Lastly, safety is a paramount concern when using chainsaws, and the EGO Power+ CS1600 doesn't disappoint. The chain brake, in particular, is a feature I appreciate. It's a reassuring safeguard that allows for the confident use of the chainsaw in a variety of situations.
Let's delve further into this chainsaw.
Product Specifications
| Specification | Details |
| --- | --- |
| Motor | Brushless Motor |
| Cutting Capacity | 16 inches |
| Chain and Bar | 16-inch Oregon bar and chain |
| Battery Compatibility | EGO Power+ 56V lithium-ion batteries (2.5Ah, 5.0Ah, or 7.5Ah) |
| Chain Tensioning | Tool-less chain tensioning system |
| Weather Resistance | Designed for various weather conditions |
| Noise and Vibration | Reduced noise and vibration compared to gas-powered chainsaws |
| Safety Features | Chain brake, handguard, and kickback guard |
| Weight | Approximately 12 pounds (without battery) |
| Ergonomics | Comfortable grip for better control and maneuverability |
Performance and Versatility
When I talk about performance and versatility, the EGO Power+ CS1600 is a game-changer. It's not your average chainsaw – it's an electric powerhouse that delivers a punch comparable to many of its gas-powered peers. Fuelled by a 56-volt Lithium-Ion battery, the CS1600 sports a 16-inch Oregon bar and chain that cuts through softwood and hardwood like a hot knife through butter. Be it pruning branches or chopping firewood, this tool has never let me down.
One thing I appreciate about the EGO Power+ CS1600 is its clever design. It's significantly lighter than a number of gas chainsaws I've worked with, giving it an edge in maneuverability without skimping on performance. The weight distribution is balanced, ensuring it feels comfortable in hand, even after prolonged use.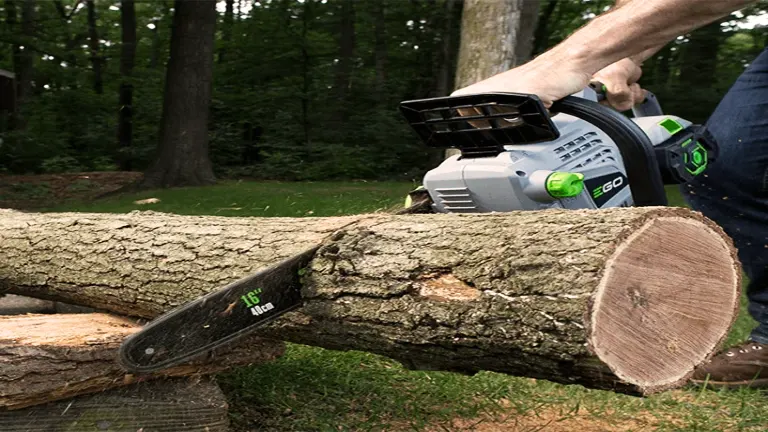 Noise is another factor where the CS1600 trumps its gas counterparts. It's significantly quieter, which not only enhances my comfort but also ensures that I can work without causing a ruckus for nearby folks or disturbing wildlife.
A common issue with electric chainsaws is battery life, but the EGO Power+ CS1600 stands tall. A full charge lasts through several hours of intermittent cutting, and with the rapid charger, I was back to full power in under an hour.
Against its peers in the electric chainsaw segment, the CS1600's performance, user-friendly design, and battery life make it a strong contender. It outshines the Ryobi RY40530 in terms of power and outlasts the Black+Decker LCS1020 in battery life.
Key Features
56V Lithium-Ion Battery: I found the battery power to be highly reliable, delivering consistent and strong performance across various cutting tasks.
16-Inch Bar Length: The bar length is perfect, neither too long nor too short, making it versatile for a range of cutting jobs, from light trimming to heavier sawing.
High-Quality Build: The sturdy build of this chainsaw gives me confidence in its durability and longevity.
Tool-less Chain Tensioning: This feature makes my life easier, allowing for quick adjustments, and improving efficiency and usability.
Chain Brake: As a user, I appreciate the added security this safety feature provides during operation.
Weather-Resistant Construction: I found that this chainsaw can handle various weather conditions, enhancing its durability and versatility.
Low Noise and Vibration: The reduced noise and vibration levels offer a more comfortable experience, especially during extended use.
Efficient Brushless Motor: This feature extends the runtime, provides smoother cuts, and promotes longer motor life, which I found to be incredibly beneficial.
Kickback Brake: I appreciate this safety feature. It immediately stops the chainsaw when improper contact is made, providing an extra layer of safety.
Reversible Bar: This feature impressed me as it ensures longer-lasting use and extends the life of the bar.
Pros and Cons
| Pros | Cons |
| --- | --- |
| High-powered performance equivalent to gas chainsaws, making it suitable for a wide range of tasks | Might feel heavy for users not accustomed to handling chainsaws, which could affect maneuverability |
| Operates much more quietly than gas chainsaws, reducing noise pollution and making for a more comfortable user experience | Priced higher than some other electric models, which could be a barrier for those on a tight budget |
| The battery charges rapidly, minimizing downtime and keeping productivity high | Replacement batteries can be costly, which could add to the overall ownership cost over time |
| Excellent weight distribution provides comfortable handling and reduces fatigue during extended use | The 16-inch bar length might be insufficient for users needing to tackle larger trees or logs |
| The brushless motor offers extended life and high efficiency | If the battery runs out mid-task and no backup is available, you'll have to wait for it to recharge |
| Eco-friendly, producing zero emissions during use | Dependence on battery availability and power can limit usability in remote locations without access to electricity |
| Easy to maintain with no need for fuel mixing or engine servicing | It's not as powerful as top-end gas chainsaws, which could limit its use for heavy-duty tasks |
| Weather-resistant construction allows for use in various conditions | The need to purchase additional batteries for longer tasks can increase the overall cost |
Final Verdict
From my firsthand experience, the EGO Power+ CS1600 is a standout choice for anyone seeking a robust, easy-to-handle, and environmentally-conscious chainsaw. It's a tool that doesn't compromise on power while delivering the convenience of an electric chainsaw. Of course, as with any piece of equipment, it's essential to weigh the specifics of your situation before making a decision.
For my requirements, the CS1600 ticked a lot of boxes. Its power and versatility were up to par for a variety of tasks, from cutting firewood to clearing storm damage. It's not just about the power, though. The lower noise levels were a real perk compared to gas chainsaws, making it a more comfortable experience for both me and those nearby.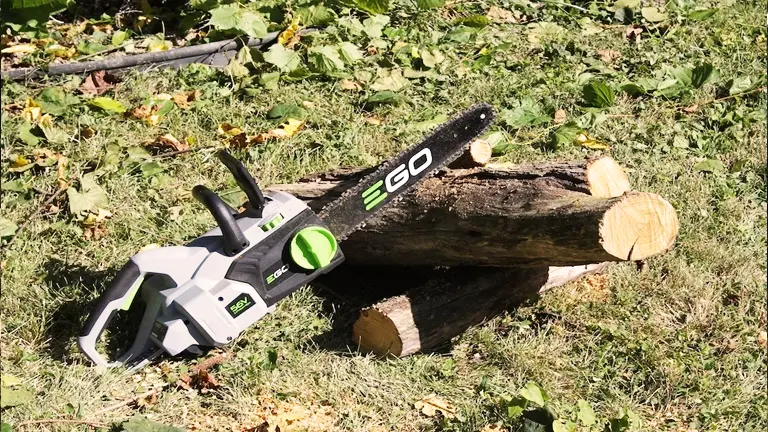 Another plus was the eco-friendliness. With zero emissions during use, the CS1600 is a choice you can feel good about. Not to mention, the maintenance is a breeze – no more fussing about fuel mixtures or tedious engine servicing.
However, the CS1600 isn't without its potential downsides. One thing to consider is the reliance on battery power. While the fast charging times are great, if the battery runs out mid-task and you don't have a backup, you'll be left waiting. Also, while the tool itself is reasonably priced, the cost of replacement batteries could add up over time.
Lastly, although its power is impressive for an electric chainsaw, it won't quite match up to the most robust gas chainsaws out there. If you're often tackling heavy-duty jobs, this is something to consider.
In the grand scheme of things, though, I found the EGO Power+ CS1600 to be a well-rounded tool. It combines the power and versatility needed for a variety of tasks with the convenience and eco-friendly benefits of an electric chainsaw. For many, including myself, the CS1600 hits that sweet spot of chainsaw performance.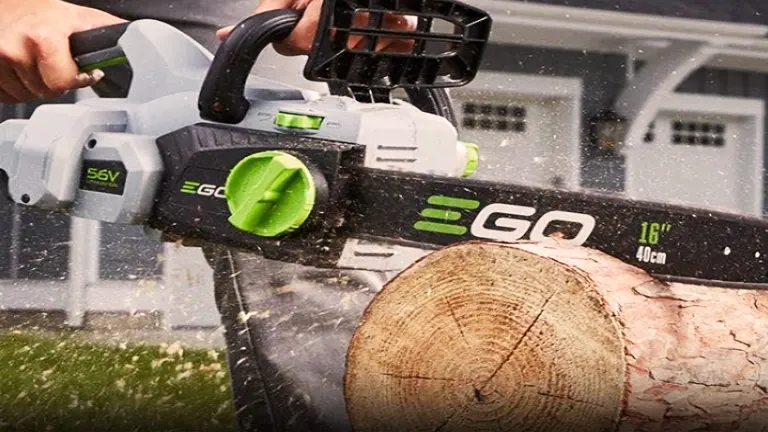 Buyer's Guide to the EGO Power+ CS1600 Chainsaw
1. Understand Your Needs – Before investing in any chainsaw, it's crucial to first understand your needs. Are you a professional needing a chainsaw for heavy-duty daily use, or are you a homeowner looking for a tool for occasional yard work? The EGO Power+ CS1600 is a versatile chainsaw, but it's particularly suited for light to medium-duty tasks.
2. Power Source – Consider the power source of your chainsaw. The EGO Power+ CS1600 is a battery-powered chainsaw, offering the convenience of cordless operation and lower noise levels compared to gas chainsaws. However, keep in mind that you'll need to keep the battery charged.
3. Budget – Take into account not just the upfront cost of the chainsaw, but also ongoing expenses. The EGO Power+ CS1600 is generally more affordable than many gas chainsaws, and you won't have to buy fuel. However, you may need to replace the battery over time.
4. Safety Features – Safety should be a top consideration. The EGO Power+ CS1600 comes with several safety features, including a chain brake and a low kickback chain.
5. Ergonomics – A chainsaw should be comfortable to hold and use. The EGO Power+ CS1600 has a well-balanced design and a comfortable grip, which can reduce fatigue during use.
6. Maintenance – Consider the maintenance requirements of the chainsaw. The EGO Power+ CS1600 has lower maintenance needs compared to gas chainsaws, with no need to mix fuel or perform engine servicing.
7. Environmentally Friendly – If you're concerned about the environment, the EGO Power+ CS1600 is a great choice. It operates with zero emissions, making it a more eco-friendly choice than gas chainsaws.
8. Brand Reputation – Finally, consider the reputation of the brand. EGO Power+ is known for its quality and innovation in the field of battery-powered outdoor equipment. The CS1600 chainsaw lives up to that reputation.
By considering these factors, you can make an informed decision about whether the EGO Power+ CS1600 is the right chainsaw for you
And, as always, safety first when dealing with chainsaws or any power tools. Enjoy your cutting journey!
Looking to buy the EGO Power+ CS1600? You can find it here!
Recent Posts