Elvex Chainsaw Chaps Review
As someone who's spent a good chunk of life among towering timbers and the symphony of chainsaws, I've strapped on quite a few brands of chainsaw chaps in my time. However, the Elvex Chainsaw Chaps have carved out a unique place in my experience. In this review, I'll share my first-hand experiences with these chaps, shedding light on their performance, design, and the pros and cons of making them your chainsaw safety companion.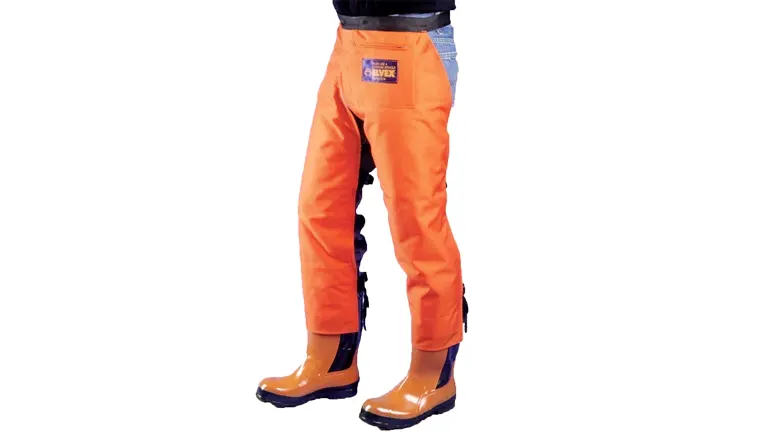 Product Specifications
Safety Standards Compliance: ASTM F1897, ANSI Z133.1, and OSHA 1910.266
Material: Polar Lightweight Chainsaw Protection
Design: Wrap-around for full leg protection
Weight: 2.2 pounds
Adjustability: Adjustable waist belt fits most sizes
Additional Features: Water and oil resistant
My Experience
From the get-go, I was impressed with the lightweight design of the Elvex Chainsaw Chaps. Weighing just 2.2 pounds, they are significantly lighter than many other chaps I've used, such as the Stihl Pro Mark Wrap Chaps. This lightweight design improves mobility and reduces fatigue during long working hours – a real boon for any chainsaw user.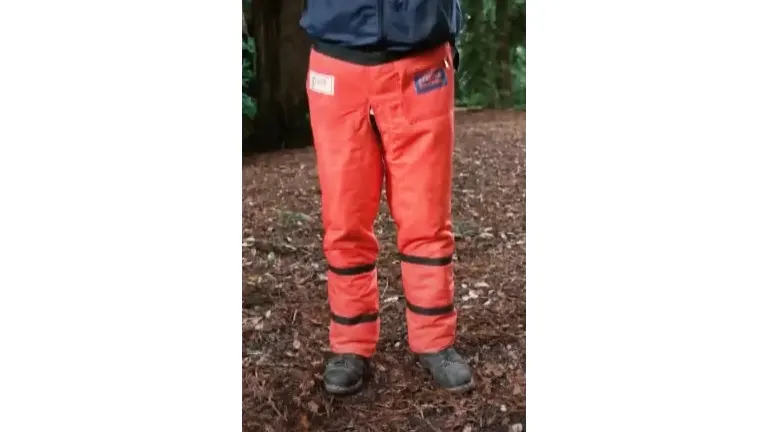 The Elvex Chaps boast Prolar Lightweight Chainsaw Protection, a material designed to clog the chainsaw's sprocket system upon contact, reducing the risk of serious injury. This innovative material, coupled with a full-leg wrap-around design, provided me with confidence in the chaps' ability to protect.
One thing that sets the Elvex Chaps apart is their use of the Prolar Safety Pad. This material is designed to jam the chainsaw upon contact, effectively stopping the chainsaw's chain from causing more damage. This feature, while common in high-quality chainsaw chaps, is particularly well-executed in the Elvex Chaps, providing me with an extra layer of confidence when I'm out working in the field.
Another factor I appreciate about the Elvex Chaps is their focus on comfort. Despite their robust protection, they don't compromise on wearer comfort. The outer shell is made of a durable, yet soft fabric that doesn't feel abrasive or uncomfortable against the skin, even after hours of use. This thoughtful balance between protection and comfort is a standout feature in my book.
Let's talk about the practicality of these chaps. They are equipped with a convenient pocket on the front, a feature often overlooked but greatly appreciated. This pocket is perfect for storing small tools, a log marking crayon, or a small notebook, saving you trips back and forth to your toolbox.
However, there's no such thing as a perfect product, and the Elvex Chaps are no exception. While the adjustable waist belt fits most sizes, larger individuals might find it a bit snug. This is something to consider if you require a larger size.
Comparisons and Competitors
Diving into comparison, the Elvex Chainsaw Chaps and the Oregon Apron Style Chainsaw Chaps present an interesting contrast. The full-coverage design of the Elvex Chaps makes me feel more shielded, but this comes at a slight cost to breathability. On those sweltering days, the Oregon Chaps, with their apron-style design, provide a bit more air circulation, something to keep in mind if you're working in warmer climates or just prefer a breezier feel.
Now, stacking up the Elvex Chaps against the Stihl Pro Mark Wrap Chaps, it's a tight race. The Elvex Chaps win in terms of lighter load, easing the burden on my legs during those long work hours. But, the Stihl Chaps come armed with additional protective layers, which might edge them ahead if maximum safety is your top criterion.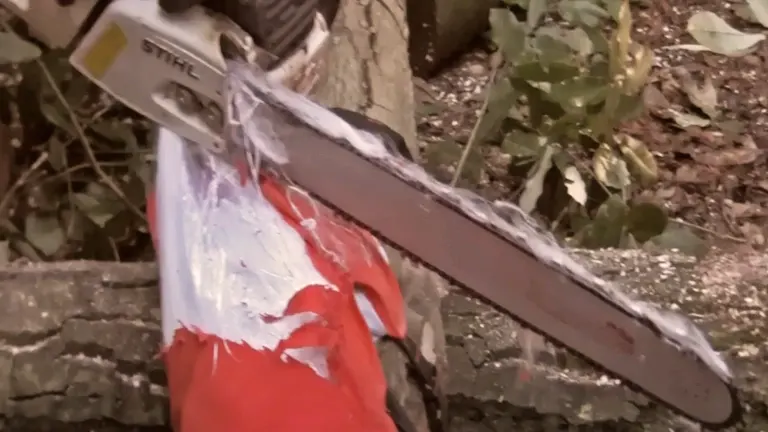 Pros and Cons
Pros
Cons
Lightweight Design: Weighing in at just 2.2 pounds, these chaps don't weigh me down during long hours of work.
Size Limitations: The adjustable waist belt is a bit snug for larger individuals. Something to keep in mind if you're on the larger side.
Robust Protection: The Prolar Lightweight Chainsaw Protection material is designed to jam the chainsaw upon contact, which gives me peace of mind about my safety.
Less Breathable: Compared to the apron-style chaps like the Oregon ones, the Elvex chaps can get a bit warm in hot conditions due to their wrap-around design.
Wrap-around Coverage: These chaps provide full leg protection, making me feel safer during my work.
Water and Oil Resistant: This feature has proven handy during messy jobs, keeping the chaps cleaner and in better condition.
Conclusion
They deliver reliable protection without weighing me down, which is quite an accomplishment in this category. Their all-encompassing wrap-around design leaves no room for compromise when it comes to my leg safety. Sure, they have their minor quirks, but when I weigh the positives against the negatives, the balance tilts significantly in favor of the positives.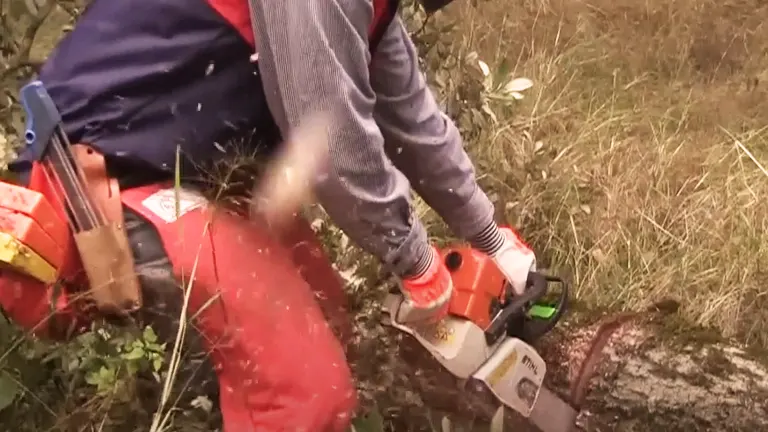 As I always say, regardless of the gear you're wearing, safety should be your primary concern when handling a chainsaw. It's not about the level of your experience, whether you're a grizzled professional or just revving up your first chainsaw. Proper and responsible handling of your chainsaw is non-negotiable.
Buyer's Guide: How to Choose the Best Chainsaw Chaps
When it comes to chainsaw safety, the right pair of chaps can make a significant difference. Here's a comprehensive buyer's guide to help you make an informed choice.
1. Safety Standards Compliance – Before purchasing chainsaw chaps, ensure they comply with recognized safety standards. Look for certifications like ASTM F1897, OSHA 1910.266, and ANSI Z133. Compliance with these standards guarantees that the chaps meet specific safety requirements.
2. Material and Protection – The best chainsaw chaps are designed with layers of protective material that can stop a chainsaw upon contact. Typically, the more layers, the better the protection. Look for chaps with multiple layers of cut-retardant material, like the Stihl Pro Mark Wrap Chaps which feature nine layers.
3. Coverage – Consider the coverage provided by the chaps. While some offer front protection, others like the Stihl Pro Mark Wrap Chaps, provide a wrap-around design that shields the entire lower body.
4. Size and Fit – Chaps should fit comfortably over your work clothes. Look for adjustable waist and leg straps to ensure a snug fit. Most manufacturers offer chaps in various lengths to accommodate different heights.
5. Comfort and Breathability – Working with a chainsaw can be physically demanding, and you don't want your safety gear to add to your discomfort. Look for chaps with features that enhance comfort, such as an open-back design for increased air circulation.
6. Durability – Choose chaps made from durable materials that can withstand tough conditions. Also, look for products with strong stitching and high-quality fastenings.
7. Weight – While weight contributes to the protective quality of the chaps, it can also impact comfort. Try to find a balance between sufficient protection and manageable weight.
8. Price – While you shouldn't compromise on safety to save a few dollars, consider your budget. Often, more expensive chaps provide additional features or better protection.
By considering these factors, you can find chainsaw chaps that provide the right balance of safety, comfort, and value for your specific needs. Remember, when it comes to safety equipment, quality should always be your top priority.
Looking to buy the Elvex Chainsaw Chaps? You can find them here
Happy logging, folks!
Recent Posts