Grizzly G0490X Jointer Review: A Cut Above the Rest
I'm excited to share my insights on the Grizzly G0490X – a remarkable 8″ x 76″ Jointer with Parallelogram Beds and Spiral Cutterhead. This jointer isn't just another tool in the workshop; it stands out for its precision, durability, and innovative features. In this comprehensive review, I'll delve into the nitty-gritty of its performance, explore its unique features, and compare it with other leading models in the market. Whether you're a seasoned woodworker or just starting out, understanding how the Grizzly G0490X stacks up against its competitors can be a game-changer for your projects. Let's dive in and discover what makes this jointer a must-have for any serious woodshop.
Quick Specifications
Motor: 3 HP, 240V, single-phase, 15A
Maximum Width of Cut: 8 inches
Maximum Depth of Cut: 1/8 inch
Maximum Rabbeting Depth: 1/2 inch
Cutterhead Diameter: 3-3/8 inches
Cutterhead Type: 4-row spiral
Insert Size, Type: 14 x 14 x 2mm, indexable carbide
Cutterhead Speed: 4800 RPM
Table Size: 8 inches x 76-3/8 inches
Fence Size: 36 inches L x 5 inches H
Minimum Stock Length: 10 inches
Minimum Stock Thickness: 1/2 inch
Dust Port Size: 4 inches
Overall Dimensions: 76-3/8 inches W x 24 inches D x 45-1/2 inches D
Approximate Shipping Weight: 556 lbs.
User Experience and Performance
Spiral Cutterhead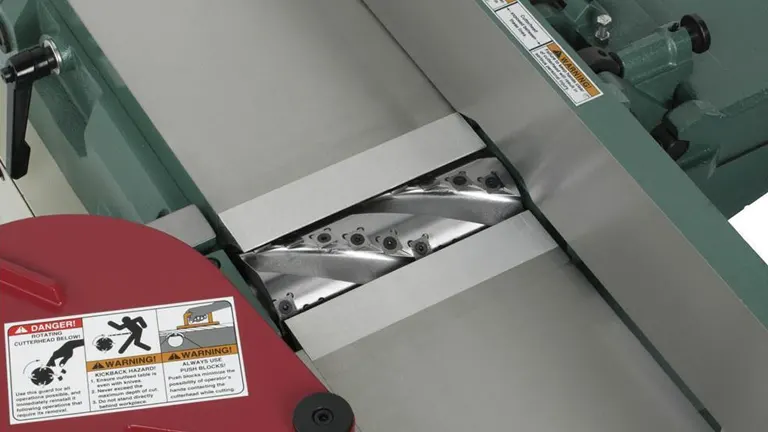 At the core of the Grizzly G0490X's excellence is its spiral cutter head, equipped with 40 carbide inserts. This innovative design is a true game-changer, drastically minimizing tearout and ensuring a smoother finish than traditional jointers can't match. The real magic for me was in the maintenance – the ease of replacing and rotating these inserts is a time-saver and a frustration eliminator. When faced with dull edges, a simple adjustment of the screws gives you a brand-new cutting edge. This feature alone elevates the G0490X from a mere tool to an indispensable workshop ally.
Precision and Capacity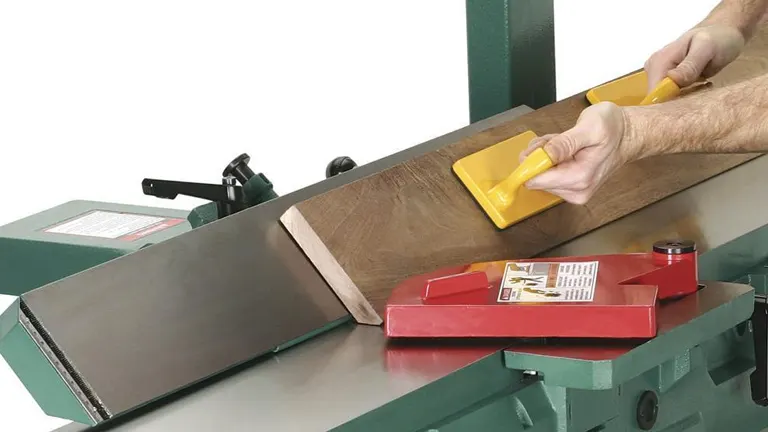 The G0490X's infeed table stretches over 43 inches, making the handling of longer stock a breeze. Its parallelogram design is the secret to maintaining precise table alignment, which is crucial for accurate jointing. The table's height is effortlessly adjustable, and the 5″ tall, centrally positioned fence makes jointing wide stock efficient and straightforward. In my hands-on experience, this jointer has been a paragon of reliability, consistently delivering precise cuts with an 8″ maximum width and a depth capacity of 1/8″.
Power and Speed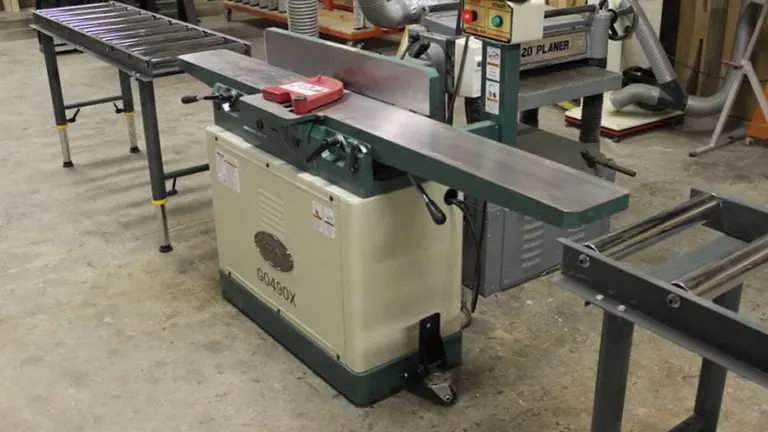 Armed with a robust 3 HP motor and a cutterhead speed of 4800 RPM, the G0490X is built to tackle even the most demanding tasks. This power and speed combination is a boon, whether you're a seasoned professional or an enthusiastic hobbyist. It's more than capable of meeting the diverse demands of a regular workshop, making it a versatile and powerful addition to any woodworking arsenal.
Comparison with Competitors
Unique Features
The Grizzly G0490X distinguishes itself in the market with its unique blend of features. The integration of a parallelogram table adjustment system alongside a spiral cutterhead in a single machine is a standout aspect, especially in its price range. This combination is not just about adding more features; it's about enhancing user experience and precision. While many jointers in the market offer either feature, the G0490X's synergy of both provides a level of performance and convenience that's hard to find elsewhere, particularly in this price bracket.
Value for Money
When placed alongside high-end models from brands like Powermatic or Festool, the G0490X holds its ground impressively. It brings to the table features comparable to these premium models, but at a more wallet-friendly price. This makes the G0490X not just a tool but a smart investment for both professionals and hobbyists. Its ability to deliver high-end performance without the high-end price tag positions it as an exceptional value-for-money option, offering the best of both worlds – premium features and affordability.
Evolution from Previous Models
Grizzly's commitment to innovation and meeting the evolving needs of woodworkers is evident in the G0490X. This model marks a significant advancement over its predecessors, primarily through two key upgrades: the introduction of the spiral cutterhead and the integration of the parallelogram design.
Spiral Cutterhead
The spiral cutterhead is more than just an improvement; it's a revolution in how wood is cut and finished. This feature dramatically enhances the quality of the cut, offering an unparalleled smoothness that traditional straight knife cutter heads can't match. For woodworkers, this means less time spent on finishing and sanding, and more time enjoying flawless results.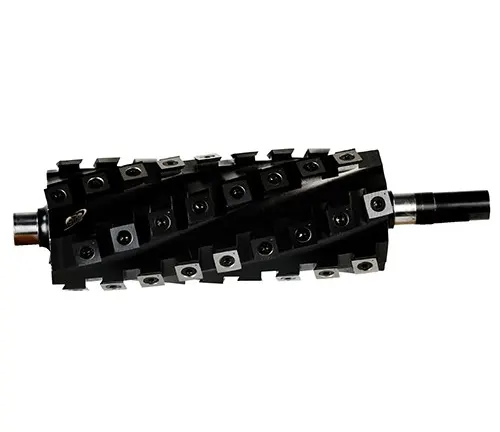 Parallelogram Design
The parallelogram design is another leap forward, focusing on precision and ease of use. This design allows for more accurate adjustments and a more stable cutting environment. It's a response to the modern woodworker's call for tools that are not only precise but also user-friendly and reliable over time.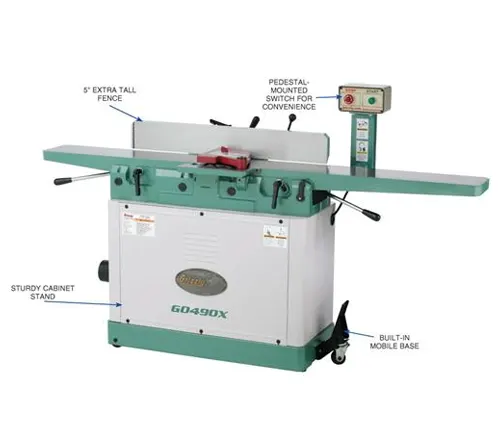 Together, these improvements position the G0490X not just as an upgrade over previous models, but as a new standard in woodworking tools. Grizzly has listened to the needs of woodworkers and responded with a machine that is both innovative and attuned to the demands of modern woodworking.
Pros and Cons of the Grizzly G0490X
Pros:
Superior Finish: The spiral cutterhead ensures a smoother finish, reducing the need for additional sanding.
Ease of Maintenance: Adjusting and replacing cutter inserts is straightforward, saving time and hassle.
Sturdy Construction: Precision-ground cast-iron tables offer durability and stability during operation.
Efficient for Long Stock: Its design and capacity make handling long pieces of wood more manageable.
Powerful Performance: Equipped with impressive power and speed, it can handle a variety of woodworking tasks with ease.
Cons:
Power Requirements: Needs a 240V outlet, which may not be standard in some workshops.
Portability: Weighing approximately 556 lbs, it's not easily moved without the built-in mobile base.
Conclusion
The Grizzly G0490X emerges as a formidable player in the woodworking tool arena. Its blend of superior finishing capabilities, user-friendly features, and robust construction makes it an excellent choice for both professional and hobbyist woodworkers. While its size and power requirements might pose minor challenges, these are small trade-offs considering the overall efficiency and quality it brings to the workshop. For those seeking a reliable, high-performing jointer that offers great value for money, the G0490X is undoubtedly a top pick, striking the right balance between functionality, quality, and cost.
FAQs
Can the Grizzly G0490X Handle Exotic Hardwoods Efficiently?
Yes, the Grizzly G0490X is equipped with a powerful 3 HP motor and a spiral cutterhead, making it highly capable of handling exotic hardwoods. The carbide inserts in the cutterhead maintain sharpness longer, even with harder wood types.
How Does the Parallelogram Design Benefit Woodworking Precision?
The parallelogram design allows for precise adjustment of the tables, maintaining closer tolerances and ensuring the tables remain parallel to each other. This is crucial for accurate jointing, especially on longer or wider boards.
Is the Grizzly G0490X Suitable for Beginner Woodworkers?
While the G0490X is a professional-grade tool, its ease of use and straightforward adjustments make it accessible for beginners who are serious about woodworking and want a machine that can grow with their skills.
What Is the Significance of the 4-Row Spiral Cutterhead?
The 4-row spiral cutterhead is significant for its smooth cutting action and reduced noise levels. The design also leads to less tearout and a smoother finish on the wood surface, compared to traditional straight knife cutterheads.
Can I Retrofit the G0490X with a Helical Cutterhead?
The G0490X already comes equipped with a spiral (or helical) cutterhead, one of its main selling points. This feature offers a substantial upgrade over traditional straight knife cutterheads and usually doesn't require retrofitting.
How Does the Dust Collection System Perform on the G0490X?
The G0490X features a 4-inch dust port, which, when connected to an appropriate dust collection system, efficiently removes chips and dust, keeping your workspace cleaner and safer.
Are Replacement Parts for the G0490X Readily Available?
Yes, Grizzly provides a comprehensive range of replacement parts that can be easily ordered online. The availability of parts is a strong point for Grizzly equipment, ensuring the longevity of the machine.
How Challenging Is the Assembly and Setup Process?
While the machine is heavy, the assembly is straightforward. The manual provides clear instructions, but due to the weight, it's advisable to have an extra pair of hands to help.
What Type of Maintenance Does the G0490X Require?
Regular cleaning, proper lubrication, and occasional alignment checks are the main aspects of maintenance. The carbide inserts on the cutterhead also need to be rotated or replaced when dull.
Can the G0490X Perform Bevel Cuts or Only Straight Jointing?
The G0490X's fence can be tilted, allowing for bevel cuts at 45°, 90°, and 135° angles, making it versatile for various jointing tasks.
Recent Posts