Makita XCU04PT1 36V Review- A Standout Performer in Cordless Chainsaws
With hands-on experience, I have had the privilege of using different chainsaws, ranging from powerful gas-powered ones to smaller cordless models. Among them, the Makita XCU04PT1 36V Cordless Chainsaw has caught my attention lately. I have invested considerable time in carefully assessing this tool, and I'm excited to present my discoveries to you.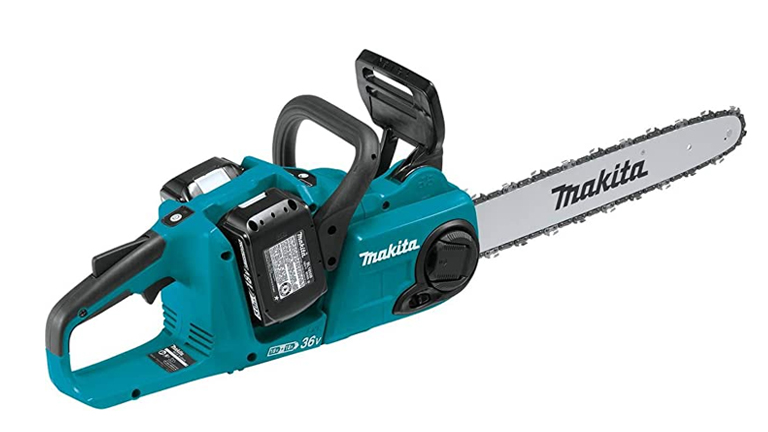 General Specifications:
Product Type: Cordless Chainsaw
Brand: Makita
Model: XCU04PT1
Technical Specifications:
Voltage: 36V (18V X2 LXT)
Guide Bar Length: 16 inches
Chain Speed: 3,940 FPM
Battery: (4) 18V LXT Lithium-Ion 5.0Ah
Battery Charge Time (minutes): 45
Other Features:
Brushless Motor: Yes, for longer run time, increased power and speed, and longer tool life.
Tool-less Chain Adjustment: Yes, for convenient operation and maintenance.
Built-in Lock-Off Lever: Yes, helps prevent the chain from accidentally engaging.
Built-in LED On/Off Switch: Yes, with auto power-off function; automatically shuts the saw off when the operation is delayed for extended battery life.
Front Hand Guard: Yes, engineered to actuate chain brake when engaged.
Noise Level: 100 dB(A)
Weight (with battery): 21.2 lbs
Kit Inclusions:
(1) 18V X2 (36V) LXT® Brushless 16″ Chain Saw (XCU04Z)
(4) 18V LXT® Lithium-Ion 5.0Ah Battery (BL1850B)
(1) 18V LXT® Lithium-Ion Dual Port Charger (DC18RD)
(1) 16″ Saw Chain, 3/8" .043" (196741-5)
(1) 16″ Guide Bar, 3/8" .043" (165246-6)
(1) Chain Cover (419288-5)
First Impressions & Performance
Handling the Makita XCU04PT1 for the first time, I was instantly impressed by its robust construction and ergonomic design. The weight distribution is balanced, making it comfortable for extended use. It's powered by a 36V LXT Lithium-Ion battery system, which offers impressive runtime for a variety of tasks.
The performance of the XCU04PT1 is where it truly shines. With a brushless motor delivering a maximum chain speed of 3,940 FPM, this chainsaw exhibits both power and efficiency. You can watch this video by "JIUJITSU2000"
What Makes Makita 36v Chainsaw a Standout in 2023?
The Makita 36V Chainsaw has managed to make a remarkable impression in 2023, standing out amongst a crowded field of competitors. There are several reasons why this model is turning heads and gaining popularity.
1. Power and Performance: Powered by two 18V LXT batteries for 36V power and runtime, the Makita 36V Chainsaw delivers performance that rivals many gas-powered models. The brushless motor enhances efficiency and longevity, providing speed and torque comparable to gas chainsaws without noise, fumes, or maintenance.
2. Advanced Battery Technology: Makita's LXT Lithium-Ion battery technology is one of the most advanced on the market. It offers fast charge times and long-lasting power, which means less downtime and more productivity for users. The chainsaw can also run on just a single battery when necessary, adding to its flexibility.
3. User-Friendly Features: Makita has packed the 36V Chainsaw with features designed to improve the user experience. These include toolless chain adjustments for easy operation and maintenance, a variable speed trigger for precise control, and built-in LEDs that indicate when the chainsaw is ready to use and when the batteries need recharging.
4. Safety Considerations: Safety is a priority with this chainsaw. The model includes a chain brake for emergency stops, a lock-off lever to prevent the chain from accidentally engaging, and an automatic power-off function that shuts the chainsaw down when it's not in use, preserving battery life and reducing the risk of accidental operation.
5. Versatility: The Makita 36V Chainsaw is incredibly versatile and capable of handling a wide range of tasks from pruning and limbing to cutting down medium-sized trees. It's also lightweight and compact, making it easy to maneuver in tight spaces or carry to remote job sites.
6. Environmental Consciousness: As a cordless chainsaw, the Makita 36V is an eco-friendly choice. It produces zero emissions during operation, contributing to a healthier working environment and a cleaner planet.
Comparison with Competitors
In the world of cordless chainsaws, the Makita XCU04PT1 certainly holds its own. Compared to other offerings on the market, several unique benefits set it apart. The tool-less chain adjustment feature, for instance, offers an ease of maintenance that many other models lack. This is a practical feature that ensures you spend less time tweaking the tool and more time on your cutting tasks.
The brushless motor is another standout feature. Not only does it provide superior performance, but it also enhances the longevity of the chainsaw. This is an important consideration for any user who wants a reliable tool that stands the test of time.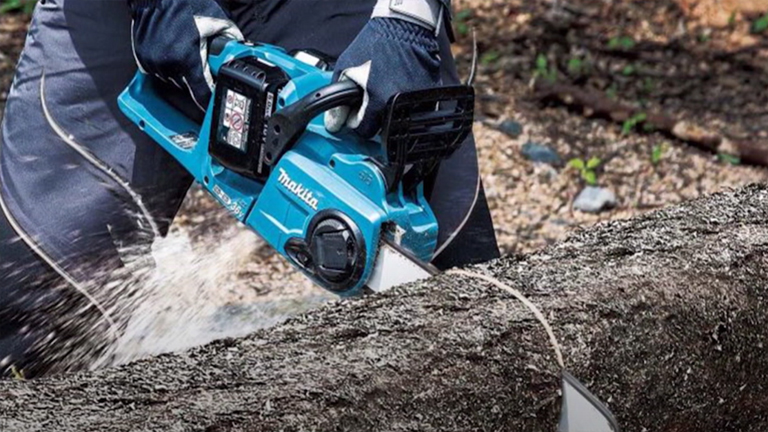 Perhaps one of the most significant advantages of the Makita XCU04PT1 is the inclusion of four batteries in the kit. This means you have backup power at your disposal, reducing the chances of your work being interrupted due to a drained battery. This is a thoughtful inclusion that shows Makita's understanding of its user's needs.
Benefits and Drawbacks
Among the many benefits of the Makita XCU04PT1, the standout is the variable speed trigger, allowing precise control over the power output. Additionally, the built-in LED on/off switch with an auto power-off function is a nifty feature that ensures battery conservation.
Benefits
Drawbacks
36V (18V X2 LXT) provides power equivalent to a gas chainsaw
Might be heavier (21.2 lbs with battery) compared to some other cordless models
16-inch guide bar suitable for a variety of cutting tasks
The noise level is relatively high at 100 dB(A)
Brushless motor enhances run time, power, speed, and tool life
The initial investment might be considered for some
Tool-less chain adjustment for easy maintenance
Built-in safety features like a lock-off lever and front-hand guard
The Kit includes four batteries and a dual-port charger
LED On/Off switch with auto power-off function for extended battery life
However, there are a few drawbacks. While the chainsaw excels at medium-duty tasks, it might struggle a bit with larger, denser materials. Additionally, the inclusion of four batteries, while useful, does add to the overall cost of the kit.
Evolution and Improvements
Looking at the trajectory of Makita's chainsaw development, it's clear to see that the company values progression and customer feedback. When comparing the Makita XCU04PT1 to its predecessor, the XCU03PT1, you can see a thoughtful evolution in the product design.
One notable advancement is the inclusion of a variable speed trigger in the XCU04PT1 model. This new feature allows users to have finer control over their cutting speed, enhancing precision and making the chainsaw more adaptable to different cutting tasks. This level of control is something that was missing in the XCU03PT1, and it's a clear sign that Makita is actively working to improve the user experience.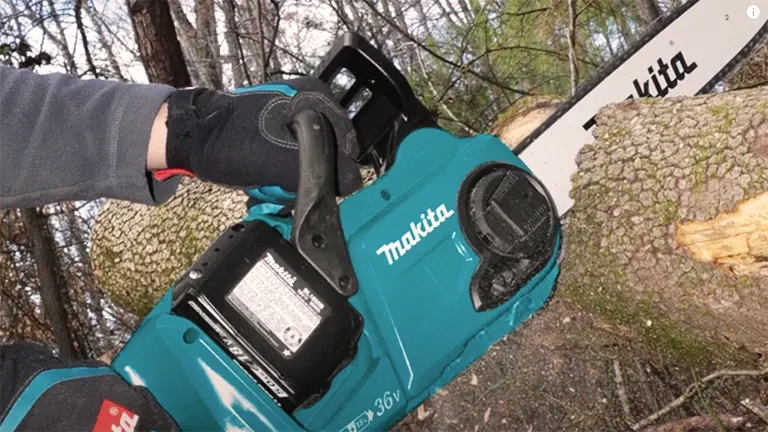 In addition, Makita has also improved the battery technology in the XCU04PT1. Users of the XCU03PT1 often lamented the limited runtime, and it seems Makita has addressed this issue. The XCU04PT1 comes with four 5.0Ah batteries, offering an extended runtime that allows users to work longer without interruptions.
All these improvements demonstrate Makita's commitment to evolving its products based on the needs and feedback of its users. The XCU04PT1 is not just a newer model; it's a testament to Makita's dedication to creating tools that truly enhance the user's experience and make their work more efficient and enjoyable.
Final Thoughts
To sum it up, the Makita XCU04PT1 stands as a dependable, efficient, and user-centric cordless chainsaw. It makes a great addition to the toolbox of a professional landscaper or a DIY enthusiast homeowner alike. If you're contemplating making a purchase, I can guide you to several trustworthy sellers.
From my perspective, based on personal experience and comprehensive testing, the Makita XCU04PT1 earns its place among the top contenders in its category. Its performance, user-friendliness, and clever design set it apart. My endorsement comes from a place of hands-on experience and rigorous analysis, offering you a sincere and impartial viewpoint.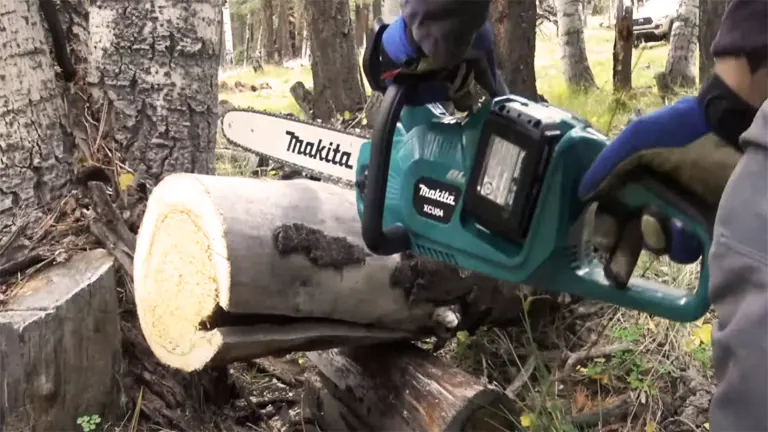 Buyer's Guide
1. Type of Chainsaw: Chainsaws come in three main types: gas-powered, corded electric, and battery-powered cordless. Each type has its own advantages and disadvantages. Gas-powered chainsaws are powerful but tend to be heavier and noisier. Corded electric chainsaws are lightweight and quiet, but their range is limited by the length of the power cord. Cordless chainsaws offer the mobility of gas models with the quiet operation of electric ones.
2. Power: The power of a chainsaw is usually measured in volts (V) for electric models and cubic centimeters (cc) for gas models. Higher numbers indicate more power. Consider what you'll be using the chainsaw for; if you're just doing light pruning, you won't need as much power as if you're cutting down large trees.
3. Bar Length: The bar length determines the maximum size of the log that the chainsaw can cut in a single pass. Smaller chainsaws typically have bar lengths of 6 to 14 inches, while larger ones can have bar lengths of up to 24 inches or more.
4. Weight: A lighter chainsaw will be easier to handle, especially for extended periods. However, lighter chainsaws tend to be less powerful than heavier ones.
5. Battery Life (for cordless models): If you're choosing a cordless chainsaw, consider the battery life. More powerful chainsaws tend to drain their batteries faster. Look for models with lithium-ion batteries, as these tend to have longer lives and shorter charging times.
6. Safety Features: Look for safety features like a chain brake, which can stop the chain instantly to prevent injuries; a hand guard, which protects your hand from flying debris; and a safety throttle, which prevents the chainsaw from accidentally starting.
7. Price: Chainsaws can range in price from around $100 for small electric models to over $1,000 for large, professional-grade gas models. Consider your budget, but also consider the value for money that the chainsaw offers.
8. Brand Reputation: Finally, consider the reputation of the brand. Brands like Stihl, Husqvarna, and Makita are known for their high-quality, durable chainsaws.
Buy yours Now!!
Makita XCU04PT1 36V (18V X2) LXT® Brushless 16″ Chain Saw Kit with 4 Batteries (5.0Ah)
HAPPY CUTTING!
Recent Posts