Makita 18V X2 (XCU07PT) Brushless Cordless Chainsaw Review
As an experienced arborist and power tool enthusiast, I have had my fair share of encounters with various chainsaws, both corded and cordless. Among these, the Makita XCU07PT 18V X2 (36V) LXT Lithium-Ion Brushless Cordless Chainsaw stands out for its unique blend of power, convenience, and innovation.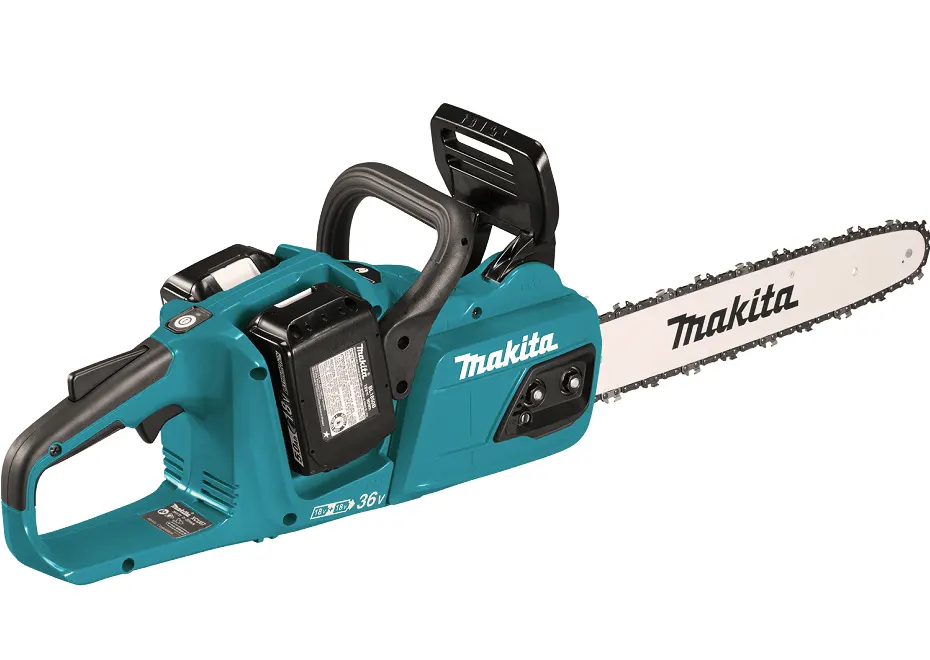 PRODUCT SPECS
Bar length: 14 inches
Chain pitch: 3/8 inch
Chain gauge: 0.043 inch
Maximum cutting diameter: 14 inches
Chain speed: 0-3,940 feet per minute
Chain brake: Electric
Oil tank capacity: 200 mL (6.8 oz)
Battery type: Lithium-ion
Battery voltage: 18V x 2
Battery capacity: 5.0 Ah
Overall length: 32-5/8 inches
Net weight (with batteries): 11.2 lbs
Why choose Makita XCU07PT 18V X2 Chainsaw
The Makita XCU07PT 18V X2 (36V) chainsaw is a powerful and versatile tool designed for professional use in demanding applications. Here are some reasons why you might choose this chainsaw:
Cordless Convenience – The XCU07PT is a cordless chainsaw, which means you can use it anywhere without the need for a power outlet or extension cord. This makes it ideal for use in remote areas, on construction sites, or in other outdoor environments.
Dual Battery System – The XCU07PT is powered by two 18V Lithium-ion batteries, providing a total of 36V of power. This results in longer run time, faster cutting speeds, and greater power than single battery systems.
High Performance – The XCU07PT features a high-torque outer rotor brushless motor, providing efficient and powerful cutting performance. The chainsaw has a maximum chain speed of 3,940 feet per minute, allowing you to cut through wood quickly and easily.
Easy Maintenance – The XCU07PT has a toolless chain adjustment system, which makes it easy to adjust the chain tension without the need for additional tools. It also has an automatic chain lubrication system with an adjustable flow rate, ensuring proper lubrication for the chain and bar.
Safety Features – The XCU07PT has an electric chain brake, which stops the chain immediately in the event of kickback or other sudden movements. This adds an extra layer of safety for the operator and reduces the risk of injury.
Power and Performance
The Makita XCU07PT is a beast when it comes to power. It's fueled by two 18V LXT Lithium-Ion batteries, giving it a total of 36V power which is equivalent to a gas-powered chainsaw. I found this chainsaw to be exceptional in its cutting speed, handling hardwoods like oak and hickory with ease. It's also equipped with a 14″ guide bar, making it suitable for a variety of tasks, from pruning to cutting firewood.
Run Time
In terms of run time, I found the Makita XCU07PT to have an edge over its competitors. With two 18V LXT 5.0Ah batteries, the Makita outlasted both the DeWalt and Milwaukee on a single charge during my testing. This prolonged run time makes it ideal for extended work sessions without the need for frequent battery changes.
Cutting Capacity
When it comes to cutting capacity, the DeWalt DCCS670X1 and Milwaukee 2727-21HD offer a slightly larger range with their 16″ guide bars, compared to the 14″ guide bar on the Makita XCU07PT. If you're looking to tackle larger cutting tasks, this might be a deciding factor.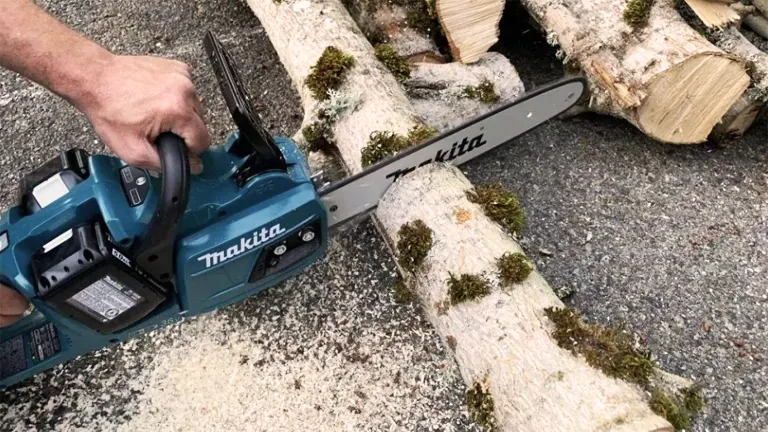 User-Friendly Design
The user-friendly design of the Makita XCU07PT chainsaw is one of its strongest features. The lock-off lever is a safety feature that prevents the chainsaw from accidentally turning on, which can prevent accidents and injuries.
The adjustable automatic chain lubricator is another great feature. It allows the user to control the amount of oil flowing to the chain, which can be especially helpful when cutting through different types of wood or in different weather conditions. This feature can help extend the life of the chain and bar, as well as improve the overall cutting performance of the chainsaw.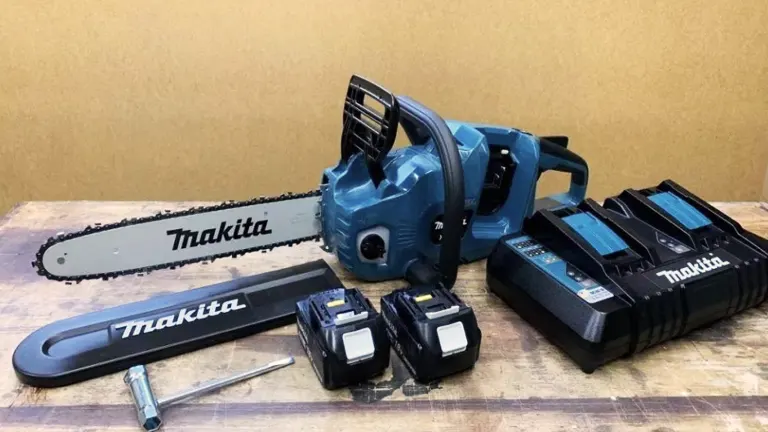 In addition to these features, the XCU07PT also has a toolless chain adjustment system, which makes it easy to adjust the chain tension without the need for additional tools. This can save time and make maintenance tasks more efficient.
Overall, the user-friendly design of the Makita XCU07PT chainsaw makes it a great choice for both professional and home users. The safety features, adjustable chain lubricator, and tool-less chain adjustment system are all designed to make the chainsaw easier and more convenient to use, while also improving its performance and longevity.
Evolution and Improvements
In my experience, Makita has consistently demonstrated a commitment to innovation and improvement in its product line. From this viewpoint, the Makita XCU07PT stands as a shining testament to their pursuit of excellence
Power
As I transitioned from using the predecessor, the Makita XCU06Z, to the Makita XCU07PT, the first thing I noticed was a significant upgrade in power output. The XCU07PT operates on two 18V LXT Lithium-Ion batteries, offering a combined power of 36V, a performance equivalent to a gas-powered chainsaw. This upgrade from the single-battery setup of the XCU06Z was a game-changer, providing the additional power I needed to tackle more demanding tasks.
User Control and Battery Life
Another noteworthy improvement in the XCU07PT was the inclusion of a built-in LED on/off switch. This feature, which was missing in the XCU06Z model, gave me more control and helped conserve battery life by allowing me to manually turn off the light when it wasn't necessary.
Convenience Features
While transitioning to the XCU07PT, I was pleased to see that Makita retained the appreciated convenience features of the XCU06Z, such as the toolless chain adjustment for easy operation and maintenance. Yet, they didn't stop there. The XCU07PT introduced an adjustable automatic chain lubricator, which further enhanced my control and likely prolonged the chainsaw's lifespan.
Comparisons and Competitors
When compared to other models in its class, such as the DeWalt DCCS670X1 and the Milwaukee 2727-21HD, the Makita XCU07PT offers superior run time. I found that the Makita could outlast both the DeWalt and Milwaukee on a single charge. However, the DeWalt and Milwaukee models offer a slightly larger cutting capacity with a 16″ guide bar.
The DeWalt DCCS670X1, for example, has a 16-inch bar length which provides a larger cutting capacity than the Makita XCU07PT's 14-inch bar. This can be a significant advantage when cutting larger-diameter wood or trees. The DeWalt also has a tool-free chain tensioning system, which can make maintenance and adjustments easier for the user.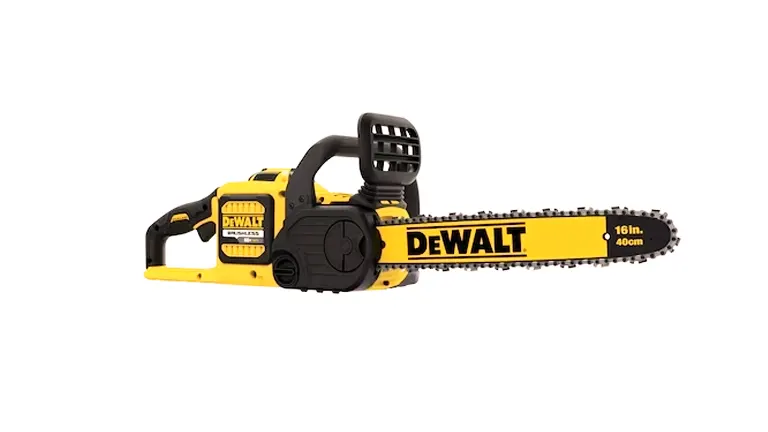 The Milwaukee 2727-21HD, on the other hand, has a POWERSTATE brushless motor that provides up to 50% more power and faster cutting than similar models. It also features a REDLINK PLUS intelligence system, which provides advanced digital overload protection and improves the overall durability and performance of the chainsaw.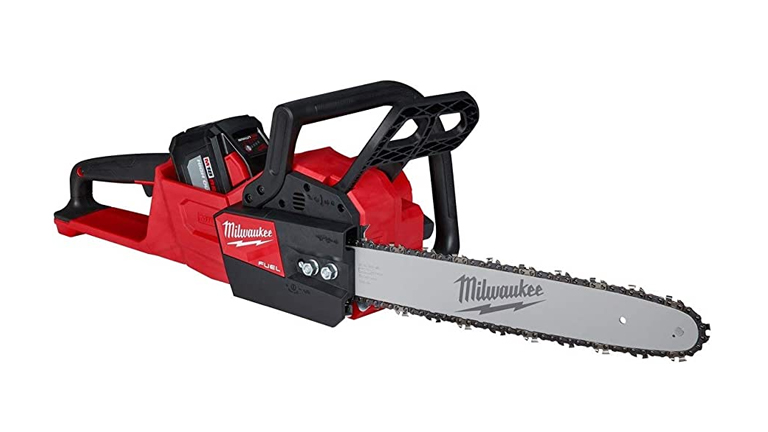 Benefits and Drawbacks
Pros:
Powerful Performance – The Makita XCU07PT is equipped with two 18V LXT Lithium-Ion batteries, providing an impressive 36V of power. This allows it to deliver performance on par with gas-powered chainsaws, making it capable of handling a wide range of cutting tasks.
Extended Run Time – With its dual-battery setup, the XCU07PT offers a longer run time than many of its competitors. This means you can work for extended periods without needing to stop and recharge.
User-Friendly Features – The chainsaw includes several features designed to enhance user experience, such as tool-less chain tensioning for easy operation and maintenance, and an adjustable automatic chain lubricator that allows you to control oil flow based on the application and weather conditions.
Built-In LED On/Off Switch – This feature gives users more control and helps extend battery life by allowing you to manually turn off the light when it's not needed.
Brushless Motor – The chainsaw's brushless motor ensures efficiency, longer run time and extended tool life.
Cons:
Bar Length – With a 14″ guide bar, the XCU07PT may not be suitable for larger cutting tasks. Some competitors offer models with a larger 16″ bar for those needing to cut larger pieces of wood.
Weight – While lighter than many gas-powered chainsaws, the XCU07PT is slightly heavier than some cordless models due to its dual-battery design. This could lead to user fatigue during extended use.
Price – The Makita XCU07PT is on the higher end of the price spectrum for cordless chainsaws. While its features and performance may justify the cost for many users, it might not fit into everyone's budget.
Remember, the best chainsaw for you will depend on your specific needs and circumstances. It's important to weigh these pros and cons against your particular requirements before making a purchase decision.
Where to Buy
The Makita XCU07PT can be purchased from Amazon: Makita XCU07PT
HAPPY CUTTING!
Recent Posts