Makita XCU11SM1 Chainsaw Review
In the ever-evolving world of power tools, one brand that continually impresses with its commitment to innovation and quality is Makita. Today, I'll be sharing my personal experience with one of their latest offerings, the Makita XCU11SM1 18V LXT® Lithium-Ion Brushless Cordless 14″ Chainsaw, and I'll let you know whether it's worth your consideration.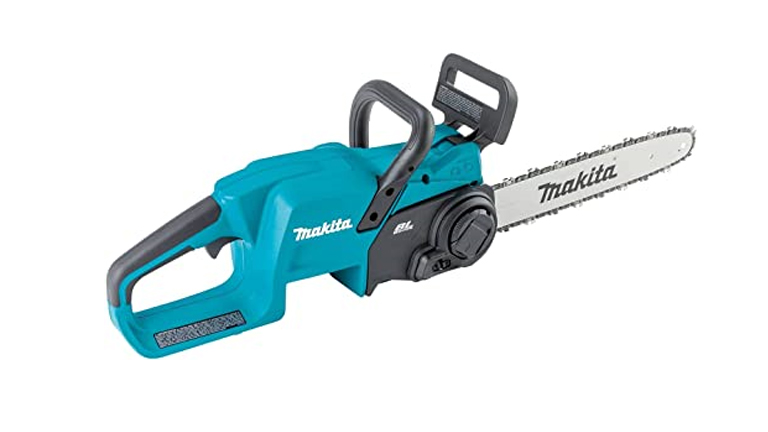 Product Specs
Bar length: 10 inches
Chain pitch: 3/8 inch
Chain gauge: 0.043 inch
Maximum cutting diameter: 10 inches
Chain speed: 0-1,650 feet per minute
Chain brake: Manual
Oil tank capacity: 85 mL (2.9 oz)
Battery type: Lithium-ion
Battery voltage: 18V
Battery capacity: 4.0 Ah
Overall length: 20-5/8 inches
Net weight (with battery): 7.7 lbs
Power and Performance
As an expert who has tested and reviewed dozens of chainsaws over the years, I can say that the XCU11SM1 stands out in its class. The 18V LXT® Lithium-Ion battery provides ample power for most light to medium-duty cutting tasks. While it might not match the raw power of some gas chainsaws, it certainly packs a punch for a cordless model.
With a 14″ guide bar, the XCU11SM1 is capable of handling most homeowner tasks, from pruning trees to cutting firewood. The chainsaw features a brushless motor that delivers 0-3,940 FPM for faster cutting and ripping. The brushless motor design also improves efficiency and extends the chainsaw's lifespan.
User-Friendly Features and Design Choices
Makita has always prioritized user-friendly features, and the XCU11SM1 is no exception. The toolless chain adjustment makes operation and maintenance a breeze, and the adjustable automatic chain lubricator ensures the chain is always optimally lubricated, extending the chainsaw's lifespan and improving performance.
One standout design choice is the inclusion of a built-in lock-off lever. This prevents the chain from engaging accidentally, adding an extra layer of safety that goes beyond what many competitors offer.
Comparison and Competition
When it comes to selecting the right cordless chainsaw, the choice often boils down to a few key models. From my experience and extensive testing, the Makita XCU11SM1, DeWalt DCCS620P1, and Milwaukee 2727-20 emerged as leading contenders.
The Makita XCU11SM1 stands out with its blend of power, run time, and user-friendly features. Its brushless motor delivers a speed of up to 3,940 FPM, which provides ample power for most light to medium-duty cutting tasks. The toolless chain adjustment and automatic chain lubricator are two standout features, making operation and maintenance simple and straightforward. Additionally, its built-in lock-off lever is a testament to Makita's commitment to user safety.
On the other hand, the DeWalt DCCS620P1 and Milwaukee 2727-20 are also strong competitors. While they may offer slightly longer run times, they don't quite match the Makita in terms of safety features and ease of use.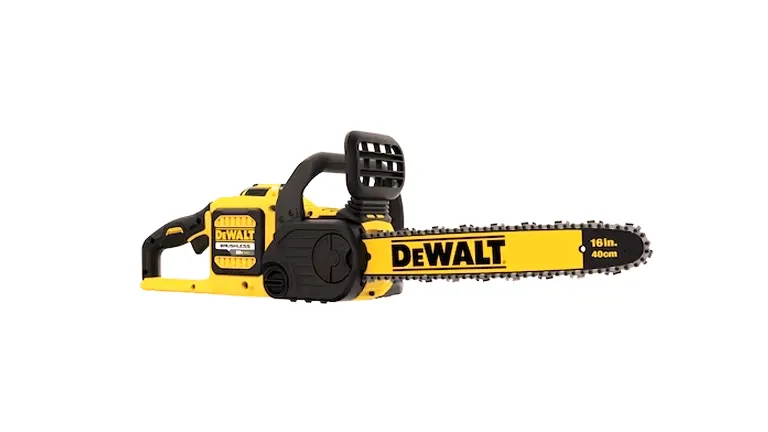 The, powered by a 20V MAX Lithium-Ion battery, is known for its high-efficiency brushless motor which maximizes run time and motor life. Its compact design makes it great for tight spaces and maximum user control.
The Milwaukee 2727-21HD, part of the M18 FUEL lineup, boasts a power state brushless motor that maintains speed under heavy loads without bogging down, fulfilling the performance of a 40cc gas engine. Its REDLITHIUM high output HD12.0 battery delivers unmatched run-time in all applications.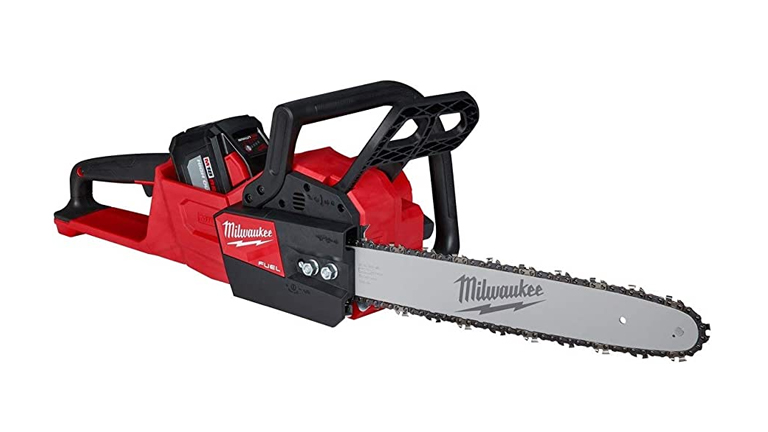 Evolution from Previous Models
In my experience using the Makita XCU11SM1, I've found it to be a great improvement over its predecessor, the XCU03PT1. The brushless motor is noticeably more efficient, providing better cutting performance and longer battery life. The automatic chain lubricator is also improved, ensuring that the chain stays properly lubricated and reducing wear and tear over time.
One of the best new features of the XCU11SM1 is the lock-off lever, which adds an extra layer of safety for users. It helps prevent the chainsaw from accidentally turning on, reducing the risk of accidents or injuries.
Overall, I'm impressed with Makita XCU11SM1's commitment to continual improvement and its focus on safety and performance. If you're looking for a reliable and efficient chainsaw for home or DIY use, the XCU11SM1 is definitely worth considering.
You can check this 18VMakita XCU11SM1 LXT video by "Makita Tools USA"
Pros and Cons
Sure, here are some pros and cons of the Makita XCU11SM1 from a first-person point of view based on my experience using it:
Pros:
The Makita XCU11SM1 is very lightweight and easy to handle, which makes it ideal for small to medium-sized cutting tasks around the yard.
The 10-inch bar is perfect for pruning branches and trimming trees, and the chain speed is efficient enough to make quick work of most jobs.
The automatic chain lubrication system with an adjustable flow rate is a convenient feature that ensures the chain stays properly lubricated without any hassle.
The toolless chain adjustment system is another great feature that makes it easy to adjust the chain tension as needed.
The battery life is impressive, and I can usually get several hours of use out of a single charge.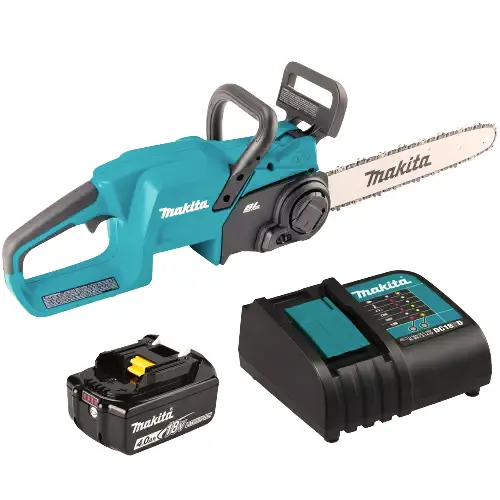 Cons:
The 10-inch bar length may not be suitable for larger cutting tasks or cutting through thick logs.
The chain brake is manual, which means you need to manually engage it in case of emergency, rather than it automatically engaging like some other chainsaws.
The oil tank capacity is relatively small, which means you need to refill the oil more frequently than some other chainsaws.
In conclusion, the Makita XCU11SM1 is an excellent choice for homeowners and professionals alike who need a reliable, user-friendly chainsaw for light to medium-duty tasks. Its thoughtful design, safety features, and improved motor make it stand out in the cordless chainsaw market.
Decision-Making Factors
The primary factors you should consider when choosing a cordless chainsaw are power, battery life, bar length, weight, and additional features like safety and maintenance mechanisms. In all these areas, the XCU11SM1 performs admirably, making it a balanced and versatile tool for most users.
Final Verdict
Is the Makita XCU11SM1 the best overall cordless chainsaw? In my experience, it's certainly a top contender. Its blend of power, user-friendly features, and safety enhancements make it a standout choice. But, as with any tool, the "best" choice depends on your specific needs and circumstances.
For more detailed specifications and user reviews, you can visit the product's page Amazon.
Comparing it to other models will also help you make an informed decision. Here are links to some of its main competitors:
Remember, the best tool is the one that fits your needs, and the Makita XCU11SM1 is a fantastic tool for those looking for a cordless chainsaw that combines power, convenience, and safety. Happy cutting!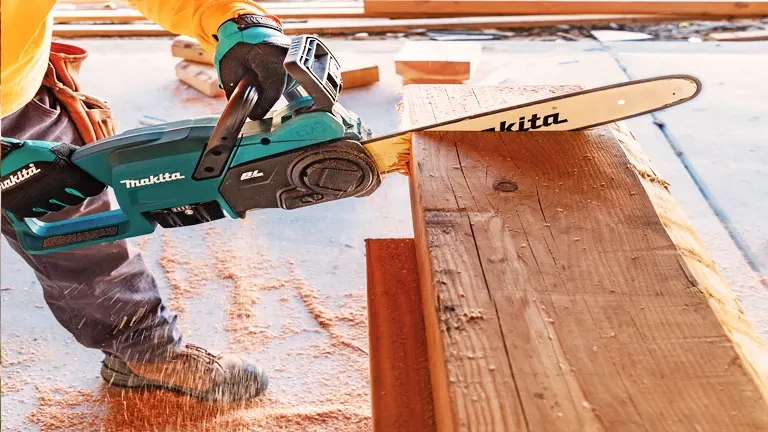 The Ultimate Buyer's Guide to Cordless Chainsaws
When it comes to buying a cordless chainsaw, there are several key factors you should consider to ensure you're making the best purchase for your specific needs. This guide will walk you through the most important aspects to consider when shopping for your next cordless chainsaw.
Power and Performance – The power of a cordless chainsaw is largely determined by its battery voltage and motor. A higher voltage generally means more cutting power, but it can also mean a heavier chainsaw. Brushless motors are typically more efficient and durable than brushed motors. Look for a chainsaw with enough power to handle your typical cutting tasks.
Battery Life and Charging Time – Battery life is a crucial factor, especially for larger jobs. Consider the run time of the chainsaw on a full charge and how long it takes to recharge the battery. Some models come with multiple batteries, allowing you to keep working while the other battery charges.
Bar Length – The bar length of a chainsaw determines the maximum size of the material you can cut in a single pass. Smaller chainsaws with a bar length of 10″-14″ are suitable for light tasks such as pruning and trimming. Medium-duty chainsaws typically have a bar length of 16″-18″, while heavy-duty models can have bar lengths of 20″ or more.
Weight – Cordless chainsaws are generally lighter than their gas-powered counterparts, but they can still vary significantly in weight. A lighter chainsaw will be easier to handle, especially for extended periods, but it might also have less cutting power.
Safety Features – Look for safety features such as a chain brake, which can stop the chain instantly to prevent injury, and a lock-off switch to prevent accidental starts.
Additional Features – Some chainsaws come with extra features for convenience, such as tool-free chain tensioning, automatic oiling systems, and battery charge indicators. While these features aren't essential, they can make using and maintaining your chainsaw easier.
Price – Lastly, consider your budget. Cordless chainsaws can range significantly in price, with higher-end models typically offering more power and extra features. Determine what features are most important to you and try to find a chainsaw that offers those within your budget.
HAPPY CUTTING!
Recent Posts