Milwaukee M18 FUEL Chainsaw Review
Having used many chainsaws over the years, I've grown to appreciate the distinctive qualities of each one. Today, I'll be sharing my thoughts on the Milwaukee M18 FUEL Chainsaw. This tool, part of Milwaukee's M18 lineup, has gained popularity for its impressive capabilities. It's a cordless electric chainsaw powered by an 18V Lithium-Ion battery, boasting a performance comparable to a 40cc gas-powered model. We'll explore its features, evaluate its performance, and see how it measures up to the competition. So, let's dive right into it.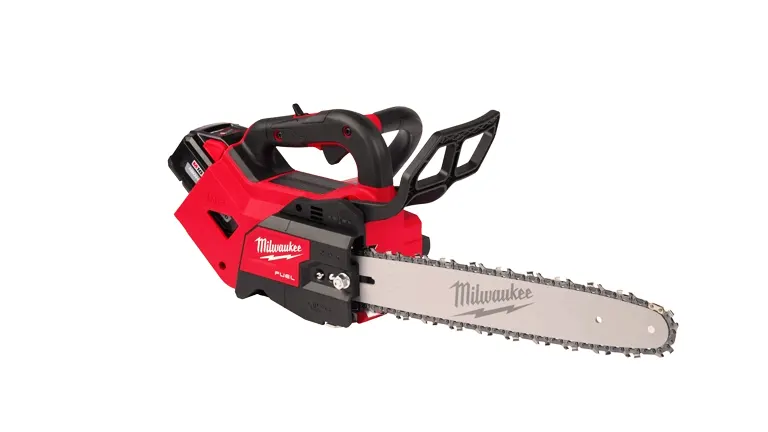 Performance and Features
The M18 FUEL Chainsaw, part of Milwaukee's impressive M18 line-up, is a cordless electric saw powered by an 18V Lithium-Ion battery. This battery supplies consistent power that closely rivals a 40cc gas-powered chainsaw, making it an excellent choice for heavy-duty cutting tasks. With the ability to make up to 150 cuts per charge on a 6×6 cedar material, this tool certainly delivers on performance.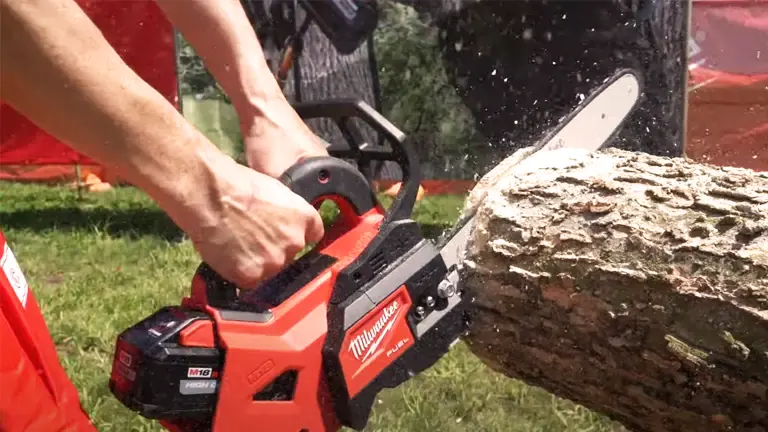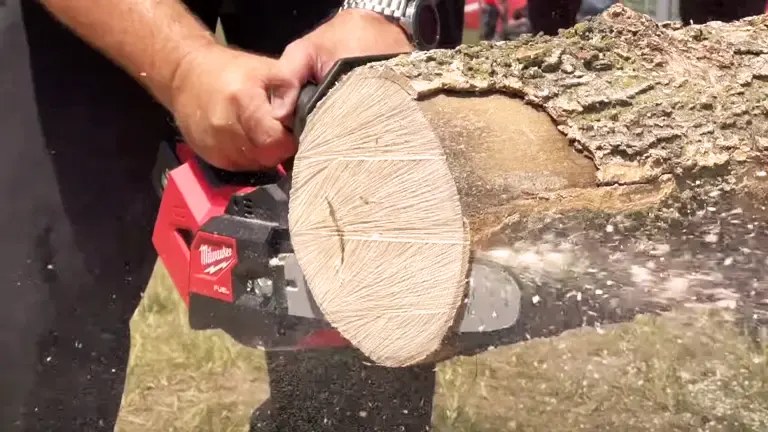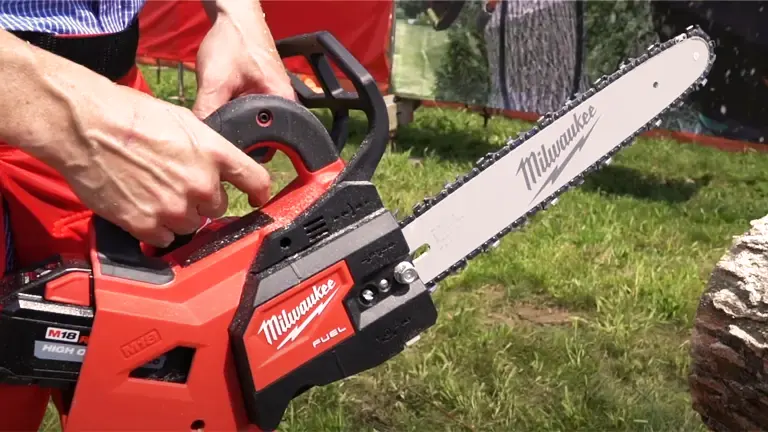 The M18 Chainsaw features a 16-inch Oregon bar and chain with a 0.043-inch gauge – this is a reputable brand known for its durability and cutting efficiency. This chainsaw also stands out with its automatic oiler feature and easy-to-adjust chain tensioning system, ensuring a smooth, efficient cutting experience.
POWERSTATE Brushless Motor
The proprietary POWERSTATE Brushless Motor. This brushless motor is designed to deliver the power of a 40cc gas engine, making it highly capable of a variety of cutting tasks. This also contributes to longer motor life and more efficient power usage.
REDLINK PLUS Intelligence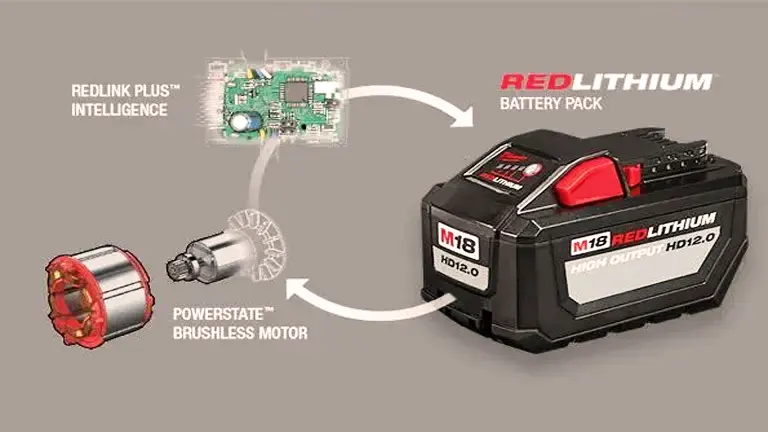 This feature ensures optimal performance of the tool under load and prevents damage to the tool or battery due to overheating or overloading. It provides advanced digital overload protection for the tool and battery, uniquely enhancing the tool's performance under load.
M18 REDLITHIUM HIGH OUTPUT HD12.0 Battery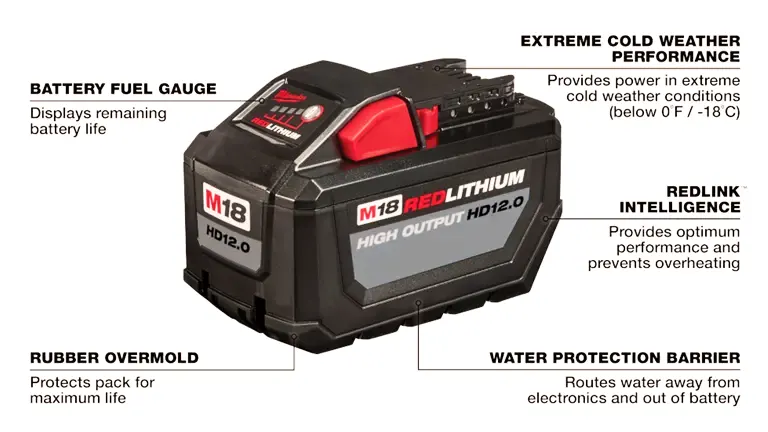 This high-capacity battery offers superior pack construction, electronics, and performance to deliver more work per charge and more work over the life of the pack than any other battery on the market. It allows the chainsaw to make up to 150 cuts in 6×6 cedar on a single charge.
16-inch Oregon Bar and Chain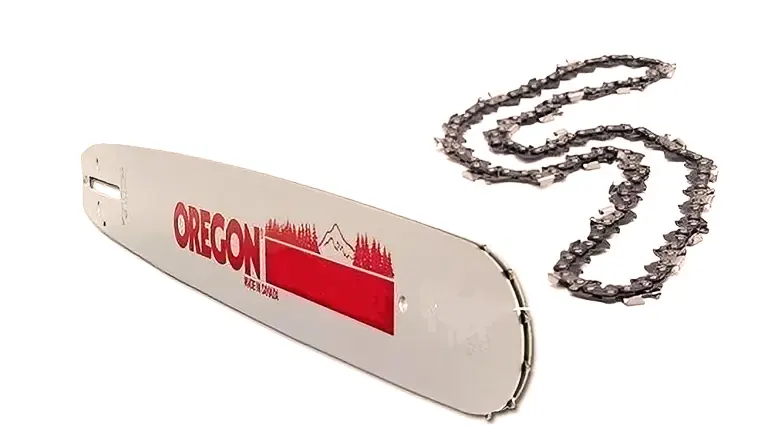 Versatile 16-inch bar and chain that is suitable for a wide range of cutting tasks. Oregon is a trusted brand known for its durable and efficient chains.
Variable Speed Trigger
Offers full control over the power output, allowing you to adjust the speed based on the task at hand.
Advancements from Previous Models
Milwaukee has evolved significantly from its previous chainsaw models with the M18. For instance, the M18's POWERSTATE Brushless Motor provides up to 2X faster-cutting speed than previous models, and the REDLINK PLUS Intelligence ensures optimal performance by preventing damage to the tool and battery during heavy applications.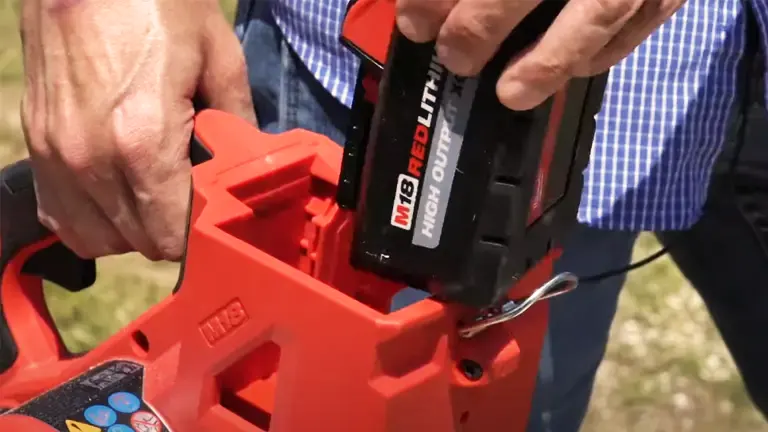 Comparison to Competitors
When compared to competitors, the M18 outperforms many in its class. While other brands like DeWalt, Makita, and Ryobi offer similar battery-powered chainsaws, the M18's longer run time, faster cutting speed, and efficient power usage set it apart. For a comprehensive comparison, you can check out this.
Let's delve into how the Milwaukee M18 FUEL Chainsaw measures up against its competitors.
DeWalt DCCS670X1
The DeWalt DCCS670X1 is a formidable competitor, powered by a 60V MAX Lithium-Ion battery. Like the M18, it features a 16-inch Oregon bar and chain. However, while the DeWalt model boasts a tool-free chain tensioning system and bar tightening knob, it does not match up to the M18 in terms of cutting speed and runtime.
Makita XCU03PT1
Makita's XCU03PT1 is another competitor in the cordless chainsaw market. It operates on two 18V LXT Lithium-Ion batteries, giving it an impressive run time. Notably, it features an electronically controlled BL motor, which efficiently uses energy to match torque and RPM to the changing demands of the application. Nevertheless, the Milwaukee M18 still outperforms in terms of overall power and cut capacity.
Ryobi RY40530
Ryobi's RY40530, a 40V 14-inch brushless chainsaw, also deserves a mention. This model features a brushless motor for increased power and efficiency, an automatic oiler, and an easy-to-use chain tensioning system. However, with a smaller bar and less overall power than the M18, it's more suited to lighter-duty tasks.
Overall, while these competitors each have their strengths and unique features, the Milwaukee M18 FUEL Chainsaw still holds its own with its superior power, cutting speed, and efficient power usage. It's a great all-around performer, whether you're dealing with heavy-duty professional tasks or at-home yard work.
| Chainsaw Model | Power Source | Bar Length | Cutting Speed | Automatic Oiler | Tool-Free Chain Tensioning | Runtime | Price |
| --- | --- | --- | --- | --- | --- | --- | --- |
| Milwaukee M18 FUEL | 18V Lithium-Ion Battery | 16 inches | High (2x faster than previous models) | Yes | Yes | Up to 150 cuts per charge on a 6×6 cedar | High-End |
| DeWalt DCCS670X1 | 60V MAX Lithium-Ion Battery | 16 inches | Moderate | Yes | Yes | Lower than M18 | Mid-Range |
| Makita XCU03PT1 | Two 18V LXT Lithium-Ion Batteries | 14 inches | Moderate | Yes | Yes | Similar to M18 | High-End |
| Ryobi RY40530 | 40V Lithium-Ion Battery | 14 inches | Moderate-Low | Yes | Yes | Lower than M18 | Low-End |
Please note that the "Price" category is quite generalized and could vary based on the retailer and specific deals at the time of purchase. Always check with your preferred merchant for the most accurate and up-to-date pricing.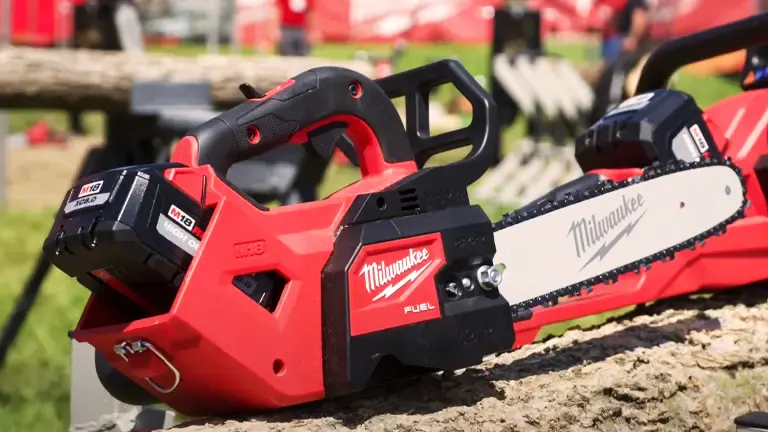 Pros and Cons
Pros:
1. Powerful Cutting Performance: The M18 FUEL Chainsaw delivers power equivalent to a 40cc gas-powered chainsaw. This makes it capable of tackling a range of tasks, from simple pruning to cutting through thick logs.
2. Long Battery Life: The M18's 18V Lithium-Ion battery provides up to 150 cuts per charge on a 6×6 cedar, which is impressive for a cordless chainsaw. This long battery life reduces the frequency of recharging and increases work efficiency.
3. User-Friendly: This chainsaw features an automatic oiling system and tool-free chain tensioning. This ease of use makes it an excellent choice for both professionals and homeowners.
4. Durability: Milwaukee is known for its sturdy and durable tools, and the M18 FUEL Chainsaw is no exception. The metal housing and high-quality construction ensure this chainsaw can withstand heavy-duty use.
Cons:
1. Weight: The M18 FUEL Chainsaw is relatively heavy. At around 13.9 lbs with the battery, it can lead to user fatigue during prolonged use, especially for those not used to handling such weight.
2. Price: The Milwaukee M18 FUEL Chainsaw is at the higher end of the price range for cordless chainsaws. While its performance and features justify the price, it may be a significant investment for some.
3. Noisy: Although quieter than a gas-powered chainsaw, the M18 is still quite noisy compared to other cordless models. This might be a factor if noise is a concern in your workspace.
4. Battery and Charger Sold Separately: The tool-only version of the M18 FUEL Chainsaw does not come with a battery or charger. If you don't already have compatible Milwaukee M18 batteries and a charger, this will be an extra expense.
Here's a video review of the Milwaukee M18 FUEL by Shop Tool Reviews:
Final Verdict
In conclusion, the Milwaukee M18 FUEL Chainsaw is an impressive tool that competes well against both cordless and gas chainsaws in its class. Its excellent performance, user-friendly features, and the backing of Milwaukee's reputable brand make it a worthy investment. It's best suited for those seeking a powerful, reliable chainsaw for heavy-duty cutting tasks, and who value the convenience of cordless operation.
Whether you're a homeowner looking to manage your property or a professional in need of a reliable tool, the M18 could be an excellent choice. For purchasing options, you can check out these stores:
Amazon: Milwaukee M18 FUEL Chainsaw
Acme Tools: Milwaukee M18 FUEL Chainsaw
eBay: Milwaukee M18 FUEL Chainsaw
Recent Posts