EGO Power+ CS1804 Chainsaw Review: A Powerful and User-Friendly Cordless Chainsaw
When I got my hands on the EGO Power+ CS1804 18-inch 56V Battery Chainsaw Kit, I was eager to test it out and share my insights. In this blog post, I'll provide an in-depth review of the CS1804, discussing its features, performance, and how it stacks up against its competitors.
Unboxing and First Impressions
The EGO Power+ CS1804 Chainsaw Kit comes with an 18-inch chainsaw, a 5.0 Ah 56V lithium-ion battery, and a rapid charger. Right off the bat, I was impressed by the build quality and design of the chainsaw. It felt sturdy and well-balanced in my hands, and the brushless motor promised efficient performance.
Performance and Handling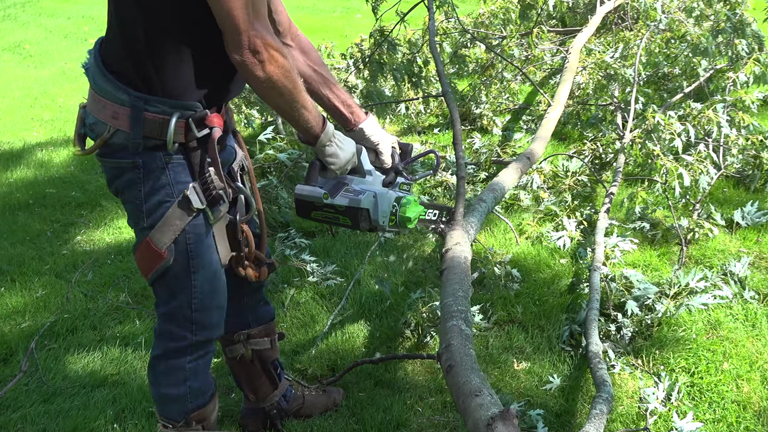 I tested the EGO Power+ CS1804 on a variety of tasks, including trimming branches, cutting firewood, and even felling small trees. The chainsaw performed admirably in all these tasks, with impressive cutting speed and power. The brushless motor and 56V battery provided enough power to rival gas-powered chainsaws of similar size.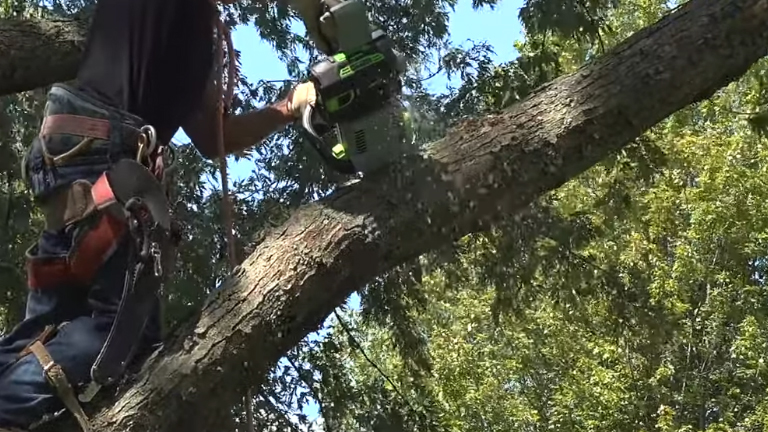 The battery life was another standout feature. I managed to get around 2 hours of continuous use on a single charge, and the rapid charger replenished the battery in just 40 minutes. This makes the CS1804 suitable for extended periods of work without worrying about frequent recharging.
User-Friendly Features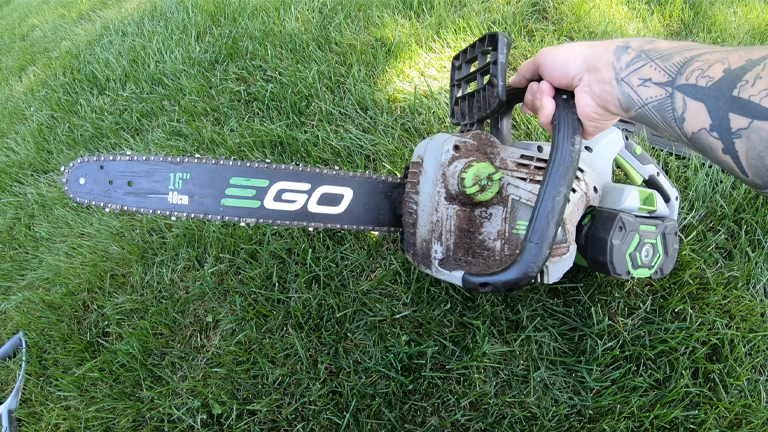 One of the most significant advantages of the EGO Power+ CS1804 is its ease of use. The tool-free chain tensioning system allowed me to make quick adjustments without needing any additional tools. The automatic chain lubrication system ensured that the chain remained well-oiled throughout my testing.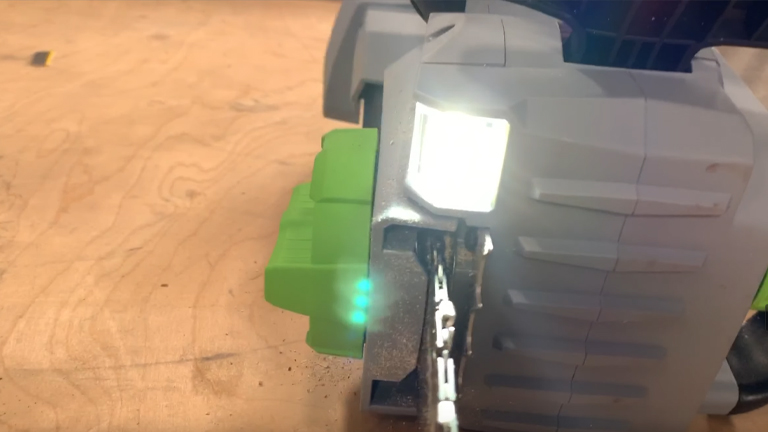 Additionally, the chainsaw was noticeably quieter than its gas-powered counterparts, which is great for residential areas or when working for extended periods. The reduced noise levels, combined with the lack of fumes from a gas engine, made the overall experience more pleasant and environmentally friendly.
Pros and Cons
Pros
Cordless convenience: Being free from gas and cords has made it incredibly convenient for me to use this chainsaw anywhere on my property without worrying about fuel or power sources.
Powerful performance: Despite being battery-powered, the EGO Power+ CS1804 has consistently impressed me with its ability to handle various cutting tasks, from trimming branches to cutting firewood.
Quiet operation: I've found the chainsaw to be much quieter than traditional gas-powered models, making it more pleasant to use and reducing the disturbance to my neighbors.
Lightweight and easy to handle: The CS1804 is easy to maneuver and comfortable to use, even during extended cutting sessions, thanks to its lightweight design and ergonomic handles.
Fast charging: The included rapid charger quickly recharges the 56V battery, reducing downtime and allowing me to get back to work faster.
Eco-friendly: I appreciate that this chainsaw is more environmentally friendly compared to gas-powered models, producing zero emissions during operation.
Cons
Battery life: While the battery life is generally sufficient for most of my cutting tasks, it can be limiting during longer or more intensive projects. I've found it helpful to have a spare battery on hand.
May struggle with larger trees: Although the CS1804 has been capable of handling most of my cutting needs, it might not be the ideal choice for consistently felling large trees or heavy-duty professional use.
Initial cost: The EGO Power+ CS1804 comes with a higher price tag compared to some other chainsaws, but in my experience, the convenience, performance, and eco-friendly aspects justify the investment.
Competitors and Alternatives
The EGO Power+ CS1804 faces competition from other cordless chainsaws, such as the Greenworks Pro 80V 18-inch Chainsaw and the DeWALT 20V MAX XR Chainsaw. While the Greenworks Pro offers a slightly higher voltage battery, I found that the EGO Power+ CS1804 delivered more consistent power and longer runtime. The DeWALT 20V MAX XR is a more compact option, but it may not have the power needed for more demanding tasks.
Conclusion
Overall, the EGO Power+ CS1804 18-inch 56V Battery Chainsaw Kit is a powerful and user-friendly cordless chainsaw that's perfect for homeowners and professionals alike. Its performance, ease of use, and eco-friendly operation make it a top choice for anyone looking to upgrade from a gas-powered chainsaw or seeking a capable cordless option.
To learn more about the EGO Power+ CS1804 and see it in action, check out this video review by "Tommy L. Garage".
For those who need a lighter chainsaw or have less demanding tasks, the DeWALT 20V MAX XR Chainsaw might be a better fit. However, for most users seeking a powerful, reliable, and easy-to-use cordless chainsaw, the EGO Power+ CS1804 is an excellent choice.
In conclusion, the EGO Power+ CS1804 is a powerful and user-friendly cordless chainsaw that I can wholeheartedly recommend. Its combination of performance, convenience, and eco-friendly operation make it a standout option in the world of cordless chainsaws. Whether you're a homeowner or a professional arborist, the EGO Power+ CS1804 is a solid investment that will serve you well for years to come.
Buyer's Guide
Power Source: EGO Power+ is known for its line of cordless, battery-operated tools. Ensure the CS1804 is indeed battery-powered, and consider how this fits your needs. Battery-powered chainsaws are more portable and quieter than their gas counterparts, but they may not provide the same level of power for heavy-duty tasks.
Battery Life and Recharge Time: One of the major considerations when purchasing a battery-powered chainsaw is the battery life and the time it takes to fully recharge. EGO Power+ products generally use 56V lithium-ion batteries, but the specific Ah (Ampere-hour) rating will affect the tool's runtime.
Bar Length: The bar length of the chainsaw will determine the size of wood it can comfortably cut. Longer bars can handle larger-diameter wood, but are also heavier and can be more difficult to handle. Check the bar length of the CS1804 and make sure it's appropriate for your typical usage.
Safety Features: Look for information on safety features such as chain brakes, low kickback bars and chains, and safety guards. EGO Power+ tools usually have these, but it's essential to confirm.
Weight: A lighter chainsaw will be easier to handle, particularly for extended use. Check the weight of the CS1804 model and ensure it's manageable for you.
Warranty: EGO Power+ often offers a 5-year limited warranty for tools and a 3-year limited warranty for batteries. Confirm the warranty details for the CS1804.
Price: Compare the price of the CS1804 with other models in the EGO Power+ line as well as similar models from other brands. Ensure you're getting good value for your money.
Reviews: Look at reviews from other buyers to get an idea of any common issues or particularly positive points. Check both professional reviews and user reviews on multiple platforms.
Accessories: Check what accessories come with the chainsaw. This might include a battery and charger, chain oil, a carrying case, or safety equipment.
Ease of Use: Consider features like tool-free chain tensioning, automatic oiling, and ergonomic design that can make the chainsaw easier to use.
Remember, the right chainsaw for you will depend on your specific needs and usage. Always use chainsaws with the correct safety equipment and follow the manufacturer's instructions for use and maintenance.
For more information about EGO Power+ CS1804 check out these sellers:
or Check our listing
Happy cutting!
Recent Posts