Men's Durand 2 Mid-Height Waterproof Hiking Boots Review
As an avid hiker and boot enthusiast, I've had the pleasure of putting my feet in countless boots over the years. Few have managed to impress quite like the Men's Durand 2 Mid-Height Waterproof Hiking Boots. In this comprehensive review, we'll take an intimate look at these boots, detailing their benefits, drawbacks, unique features, and how they stack up against the competition.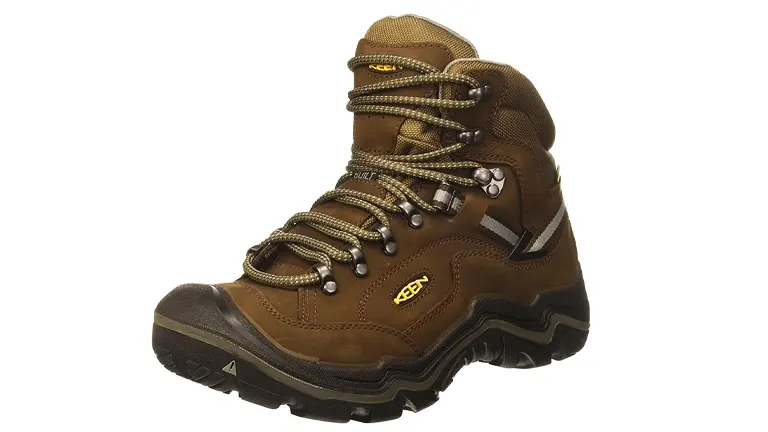 Materials
Upper: The boot upper is made from waterproof nubuck leather. Nubuck is top-grain cattle leather that has been sanded or buffed on the grain side to give it a slight nap of short protein fibers, producing a velvet-like surface.
KEEN.DRY Waterproof, Breathable Membrane: This proprietary waterproof, breathable membrane lets vapor out without letting water in.
Midsole: The midsole is crafted from a dual compound rubber and EVA foam. The EVA provides lightweight cushioning and comfort, while the rubber ensures durability.
Outsole: The outsole of the boots is constructed from rubber, providing excellent grip and durability on a variety of surfaces.
Footbed: The footbed, also referred to as the insole, is a dual-density EVA footbed. This ensures comfort and support during prolonged wear.
Mesh Lining: The boots have a breathable mesh lining, which aids in moisture-wicking and overall foot comfort.
Cleansport NXT™ for Natural Odor Control: This is a technology used in the boots to control odor naturally.
Unmatched Comfort and Performance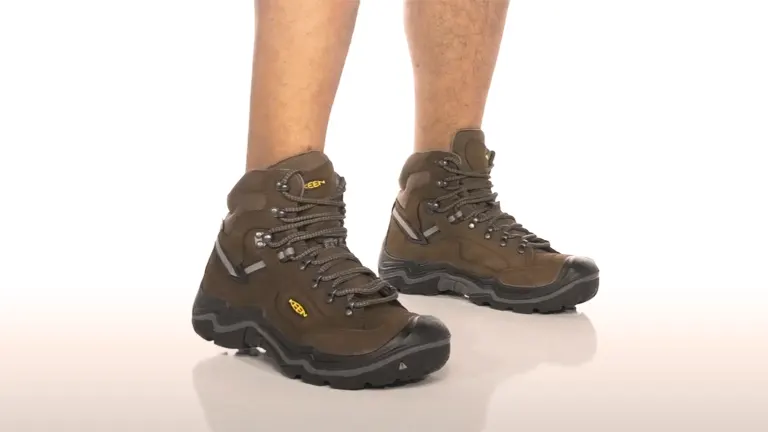 Having logged hundreds of miles in these boots, I can confidently say that comfort is where the Durand 2 shines. Thanks to the dual-density EVA (Expanded Polyethylene Vinyl Acetate) footbed and PU (Polyurethane) midsole, these boots cushion your feet like a dream, even on rocky terrains. The waterproof, breathable membrane keeps your feet dry, and the premium leather holds up well against wear and tear. Overall, for comfort and durability, I'd give the Durand 2 an impressive 9/10.
Setting the Bar High
When it comes to the world of hiking boots, the Durand 2 Mid Height Waterproof Hiking Boots are a standout, both in terms of quality and innovation. I've walked miles in various boots, but the Durand 2 seems to resonate with my needs in ways others have fallen short.
Take, for example, the ankle support. Hiking often involves traversing uneven terrain, and anyone who's rolled an ankle knows the value of solid support. The Durand 2 outperforms competitors like the Salomon Quest 4D 3 GTX, providing extra stability, especially beneficial on those extended treks or when carrying heavier loads. It's the kind of backing you need when the trail gets tough.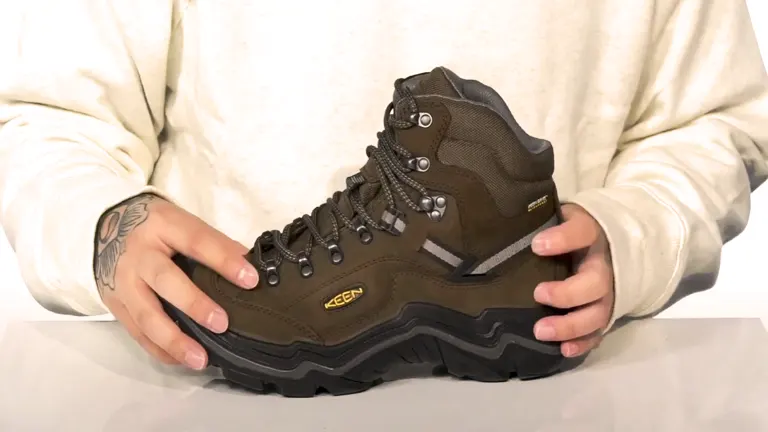 But what truly sets these boots apart is their distinctive KEEN.DRY waterproof membrane. We all know that dreaded feeling of a sudden downpour soaking our boots midway through a hike. But with the Durand 2, you'll find your feet staying dry and comfy. Unlike many waterproof boots that can feel like you're walking in a miniature sauna, these manage to be breathable, ensuring your feet aren't drenched in sweat.
In short, the Durand 2 hiking boots effortlessly balance functionality with comfort. They're not just a piece of gear; they're a trustworthy companion for your adventures, whether it's a short day hike or a long backpacking journey.
Making the Right Choice
When it comes to choosing the right hiking boot, it all comes down to individual needs and conditions. The Durand 2 is an excellent all-rounder, perfectly balancing comfort, durability, and performance. However, for hikers seeking a more lightweight boot for short, casual hikes, options like the Merrell Moab 2 Vent might be a better fit.
Evolution and Innovation
Drawing from my own experiences, I can attest to the leaps and bounds KEEN has made from the original Durand to the Durand 2. Like many of you, I had the privilege of hitting the trails in the first edition, and while they were dependable boots, the Durand 2 has evolved to meet the ever-growing demands of modern hikers.
An exciting innovation lies in the sole of these boots. The dual-compound rubber outsole is a fresh feature that directly impacts the boot's performance on the trail. Let's face it, hiking often means traversing slippery rocks, muddy paths, or loose gravel, and having a reliable grip can be the difference between a successful hike and an unfortunate mishap.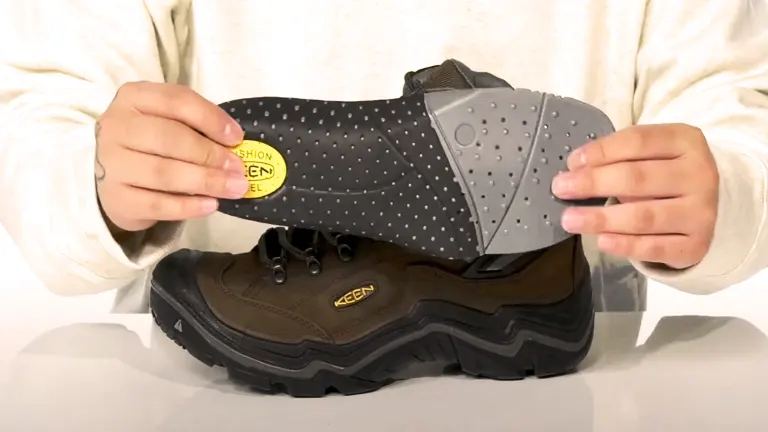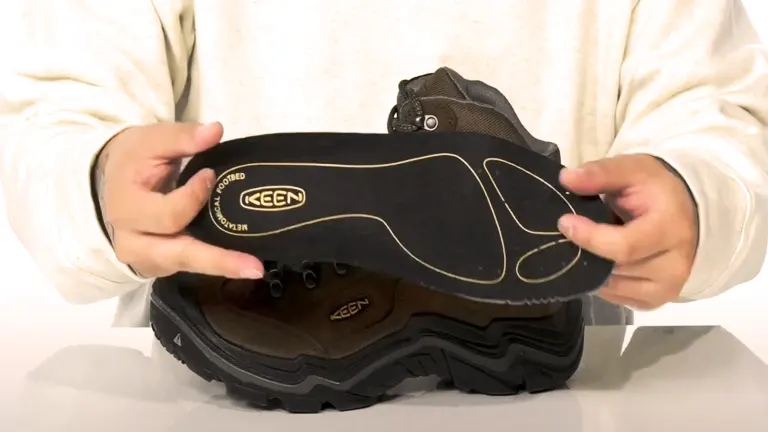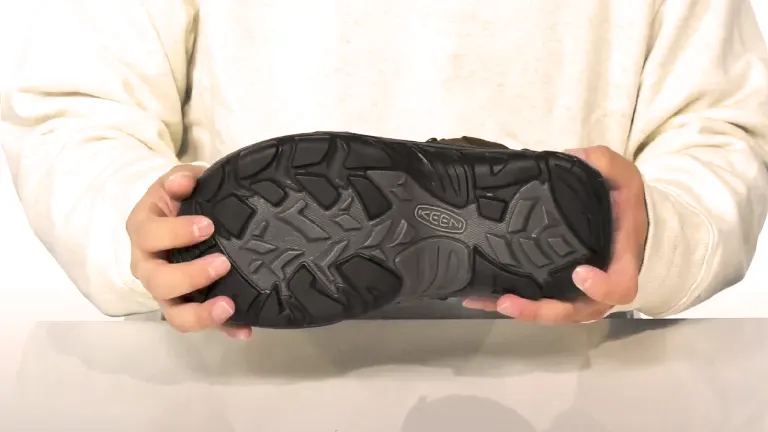 On my first hike with the Durand 2, the difference was palpable. The boot seemed to 'stick' better to the ground, providing an enhanced feeling of stability. It gave me a boosted sense of confidence while navigating wet, uneven terrain – a noticeable improvement over the original Durand.
So, whether you're a fan of the original or looking to upgrade your hiking boots, the Durand 2 comes packed with thoughtful improvements, enhancing your hiking experience and offering a more secure, confident stride on any trail.
Pros and Cons
Pros
Cons
Superior Ankle Support: Thanks to its mid-height design, it provides excellent support, reducing the risk of ankle rolls on tricky terrain.
Size Variation: Like many hiking boots, the Durand 2 tends to run slightly small, so consider ordering a half-size up.
KEEN.DRY Technology: The integrated waterproof, breathable membrane keeps feet dry in wet conditions.
Price: The Durand 2 sits at the higher end of the hiking boot market. The quality and durability justify the cost, but it may be a factor for budget-conscious consumers.
Improved Grip: The dual-compound rubber outsole offers a better grip, providing confidence on all terrains.
Weight: While not the heaviest on the market, the Durand 2 isn't the lightest option either. Those preferring ultra-lightweight boots may find these a bit hefty.
Durability: Made with premium, environmentally preferred leather, these boots are designed to last, resisting wear and tear even in demanding conditions.
Breaking In: Some users may experience a brief break-in period before the boots fully adapt to their foot shape.
Comfort: The metatomical footbed design cradles the foot's natural contours, providing comfort throughout long hikes.
The Final Say
Having spent considerable time with these boots, I can say without a doubt that the Durand 2 is a worthy investment for any serious hiker. Remember, the best boot is the one that fits not just your feet, but also your hiking goals and the conditions you'll face on the trail.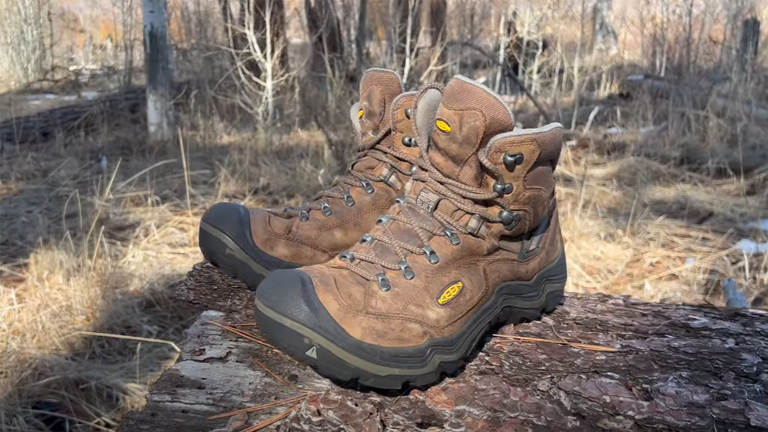 Whether you're planning your next epic adventure or just looking for a reliable boot for those weekend hikes, the Men's Durand 2 Mid Height Waterproof Hiking Boots is a fantastic choice that won't disappoint.
Note: As a user and not the manufacturer, the views expressed in this article are based on personal experience and independent research. Always consider your unique needs when selecting your hiking boots.
Recent Posts