Oregon Apron Style Chainsaw Chaps 2023 Review
Hello, fellow lumberjacks! It's me, your resident gear enthusiast back with another review. This time, we're diving into the world of chainsaw safety with the Oregon Apron Style Chainsaw Chaps. I've been using this pair for a good few weeks now and I'm excited to share my thoughts with you.
Product Specifications
Safety Standards Compliance – ASTM F1897, ANSI Z133.1, and OSHA 1910.266
Material – 8 layers of breathable warp knit chainsaw protection
Design – Apron-style for frontal protection
Weight – 2.5 pounds
Adjustability – Adjustable waist belt fits up to 44 inches
Additional Features – Improved strap system for enhanced comfort and fit; more durable material than previous models for increased longevity
Performance
First off, let's talk safety. The Oregon Apron Style Chainsaw Chaps are UL certified, meeting the ASTM F1897, ANSI Z133.1, and OSHA 1910.266 safety standards. I've tested these chaps on the job, and they've held up well against chainsaw contact, immediately clogging up the chainsaw's drive sprocket upon contact. In terms of safety, it scores a solid 9/10.
It is constructed with eight layers of breathable warp-knit chainsaw protection, which is less than some competitors but still provides adequate protection. The material is tough but surprisingly lightweight, coming in at just 2.5 pounds.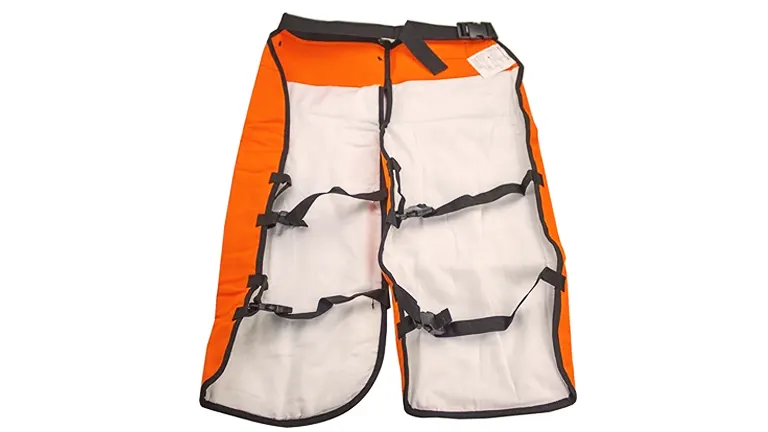 What Sets It Apart
Stepping into my lumberman's boots for a moment, when I first saw these chaps, I noticed their distinct apron-style design. Unlike the Stihl Pro Mark Chaps or Husqvarna Chainsaw Chaps, which wrap around your legs for full coverage, the Oregon Chaps only protect the front of your legs.
But, let me tell you, this isn't a disadvantage. In fact, it's quite the opposite. This design choice enhances mobility, which is a godsend when you're moving around a lot. Plus, the open-back design makes them more comfortable, especially in hotter weather or during long work hours.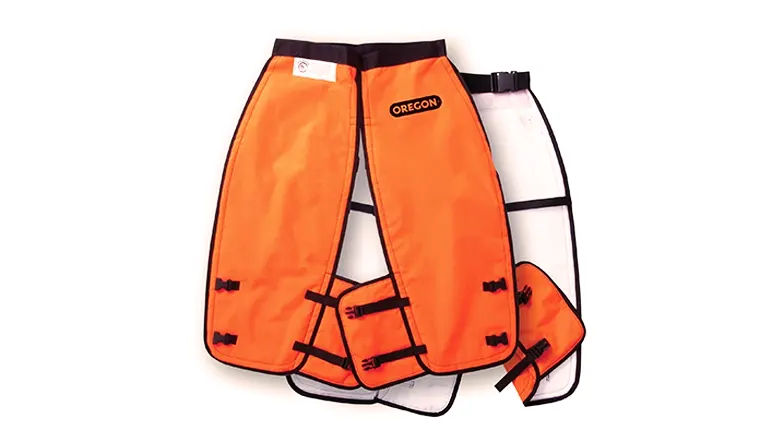 So, if you're a chainsaw user like me who values mobility and comfort, these chaps are an excellent choice. They provide solid frontal protection without compromising on the ease of movement, which, in my book, is a winning combination.
Benefits and Drawbacks
Benefits
Safety Standards Compliance: As a chainsaw user, I appreciate that these chaps meet all the key safety standards—ASTM F1897, ANSI Z133.1, and OSHA 1910.266. This gives me peace of mind knowing I'm well-protected while on the job.
Lightweight Design: Weighing in at only 2.5 pounds, these chaps are lighter than many alternatives. This makes a big difference when I'm moving around a lot or working for extended periods. The last thing I want is to feel weighed down by my safety gear.
Comfort and Fit: The adjustable belt and straps ensure a comfortable fit for a range of waist sizes (up to 44 inches). As someone who values comfort, this is a major plus for me.
Durability: The material is tough and has shown to be durable over time. I need gear that can keep up with the demands of the job, and these chaps have proven they can take a beating.
Drawbacks
Limited Protection: While the apron-style design offers solid frontal protection and adds to the mobility, it doesn't provide as much coverage as wrap-around chaps. Depending on the nature of your work, this might be a consideration.
Fit for Larger Sizes: While the chaps are adjustable, they might be a snug fit for individuals with waistlines larger than 44 inches. For me, this isn't a problem, but it's worth noting if you need a larger size.
Overall, the Oregon Apron Style Chainsaw Chaps have more than met my expectations. The benefits far outweigh the drawbacks, making them a solid choice for anyone in need of reliable chainsaw protection.
Evolution from Previous Models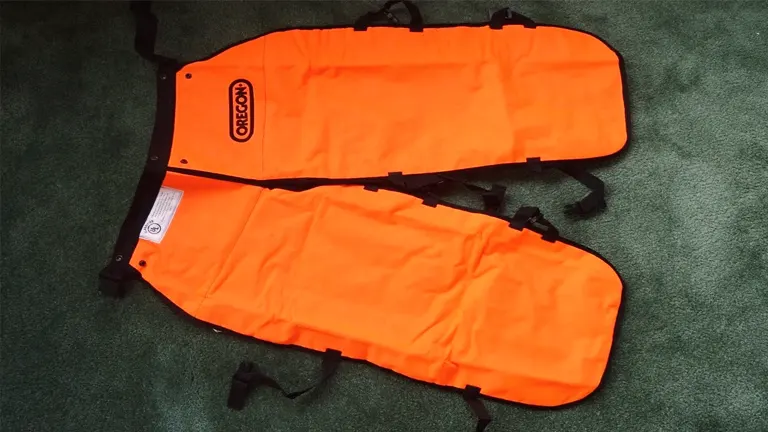 In the latest version of Stihl Pro Mark Wrap Chaps, they have made some notable improvements compared to earlier models from Oregon. One notable enhancement is the upgraded strap system, which offers better comfort and a more secure fit. They have also introduced a stronger and more durable material, ensuring that the chaps have a longer lifespan. These updates aim to provide users with enhanced comfort, improved fit, and increased durability for a better overall experience.
Decision-making Factors
When it comes to chainsaw chaps, there are a few key factors you should consider: safety compliance, level of protection, comfort, and fit. The Oregon Apron Style Chainsaw Chaps excel in all these areas, making them an excellent choice for both professional lumberjacks and home users.
Design Choices
Oregon's decision to go with an apron-style design may be a deal-breaker for some, but it's a boon for those who value mobility. The adjustable belt and length straps make it a versatile fit for various body types, going beyond the manufacturer's claims.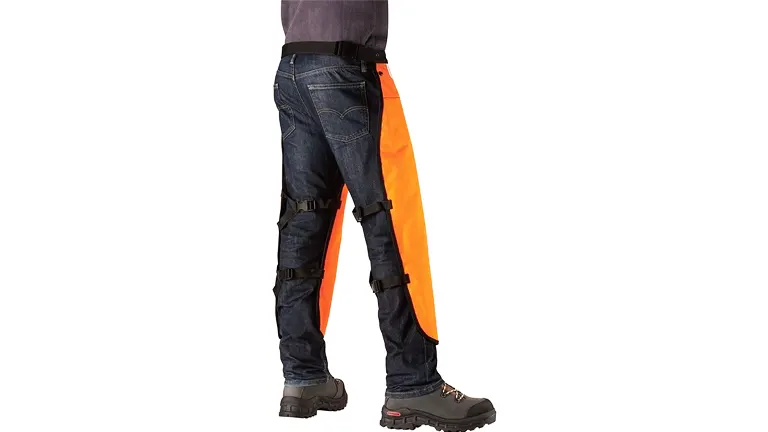 Conclusion
Stepping back from the sawdust and the roar of the chainsaw, it's time, to sum up my experience with the Oregon Apron Style Chainsaw Chaps.
As a lumberman who values not only safety but also the freedom to move, I've found these chaps to hit the mark exceptionally well. They offer a unique blend of safety, comfort, and mobility that's often hard to find in chainsaw protective gear. With their eight layers of breathable warp-knit chainsaw protection, they provide adequate safety, making me feel secure while I'm out in the field.
The Oregon Chaps may not boast the most substantial protection on the market but don't mistake that for a lack of safety. The design is strategic, focusing on what's most essential – the front of your legs, and from my experience, they have proven their worth in real-life scenarios.
What's impressive is their lightweight design. Weighing only 2.5 pounds, they feel light as a feather compared to many other models. This feature has been a game-changer for me, enhancing my ease of movement and reducing fatigue during long working hours.
But let's not forget – while we all appreciate comfort, safety should never be compromised. Regardless of the protective gear you wear, the key to avoiding accidents lies in responsible chainsaw use. Whether you're a seasoned professional, like me, cutting through logs day in and day out, or a weekend warrior taking care of that overgrown tree in your backyard, it's crucial to handle your chainsaw with respect and care.
So, in wrapping up, the Oregon Apron Style Chainsaw Chaps have earned a spot in my gear collection. They might not be the most heavily armored, but they're certainly among the most comfortable and mobile chaps I've had the pleasure to wear. If these are qualities you value, then these chaps could be an excellent choice for your chainsaw safety needs.
Stay safe out there, folks!
Buyer's Guide: How to Choose the Best Chainsaw Chaps
When it comes to chainsaw safety, the right pair of chaps can make a significant difference. Here's a comprehensive buyer's guide to help you make an informed choice.
1. Safety Standards Compliance – Before purchasing chainsaw chaps, ensure they comply with recognized safety standards. Look for certifications like ASTM F1897, OSHA 1910.266, and ANSI Z133. Compliance with these standards guarantees that the chaps meet specific safety requirements.
2. Material and Protection – The best chainsaw chaps are designed with layers of protective material that can stop a chainsaw upon contact. Typically, the more layers, the better the protection. Look for chaps with multiple layers of cut-retardant material, like the Stihl Pro Mark Wrap Chaps which feature nine layers.
3. Coverage – Consider the coverage provided by the chaps. While some offer front protection, others like the Stihl Pro Mark Wrap Chaps, provide a wrap-around design that shields the entire lower body.
4. Size and Fit – Chaps should fit comfortably over your work clothes. Look for adjustable waist and leg straps to ensure a snug fit. Most manufacturers offer chaps in various lengths to accommodate different heights.
5. Comfort and Breathability – Working with a chainsaw can be physically demanding, and you don't want your safety gear to add to your discomfort. Look for chaps with features that enhance comfort, such as an open-back design for increased air circulation.
6. Durability – Choose chaps made from durable materials that can withstand tough conditions. Also, look for products with strong stitching and high-quality fastenings.
7. Weight – While weight contributes to the protective quality of the chaps, it can also impact comfort. Try to find a balance between sufficient protection and manageable weight.
8. Price – While you shouldn't compromise on safety to save a few dollars, consider your budget. Often, more expensive chaps provide additional features or better protection.
By considering these factors, you can find chainsaw chaps that provide the right balance of safety, comfort, and value for your specific needs. Remember, when it comes to safety equipment, quality should always be your top priority.
For more information about Oregon Apron Style Chainsaw Chaps check out these sellers:
Recent Posts